Disclosure: *This post may include affiliate links. As an affiliate, I earn from qualifying purchases.


Sparkly spider cookies for Halloween.
spider cookies
Here's an easy-cookie-decorating idea for Halloween: sparkly spider cookies. I love decorating with sprinkles. They cover up every imperfection. And I'm terribly imperfect.
I'm also dreadfully afraid of spiders. These are the only spiders I can possibly be near.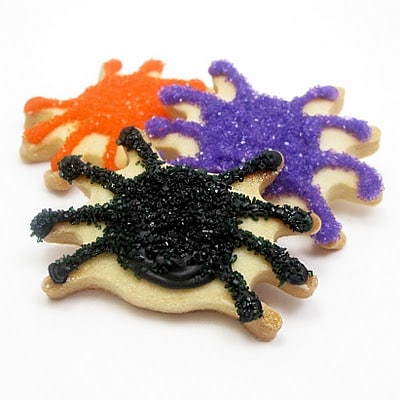 how to make sparkly spider cookies
you will need
Spider cookie cutter
Food coloring (black, orange, and purple)
3 disposable decorating bags
3 couplers
3 size "3" decorating tips
Rubber bands
Sprinkles or sanding sugar (black, orange and purple)
Small, shallow bowls
Prepare cookie dough according to the recipe, roll out and cut out your spider cookies. Bake according to the recipe and let cool completely.
Prepare royal icing according to the recipe. Divide and tint black, orange and purple. Prepare decorating bags with couplers and size "3" tips, fill with each color, and close tightly with rubber bands.
Pour each color of the sprinkles into separate shallow bowls. Work with one cookie at a time. Pipe a circle of icing on the cookie, then pipe back and forth to fill the circle with icing. Pipe 8 legs. Hold the cookie at the sides, overturn and dip the entire iced top of the cookie into a coordinating color of sprinkles. Place the cookie right-side up on a baking tray. Let the cookies dry overnight.