Disclosure: *This post may include affiliate links. As an affiliate, I earn from qualifying purchases.


Chocolate spiders for Halloween! Spider pops, if you will. Easy to make.
chocolate spiders on a stick
I don't know what I'm thinking, making chocolate spiders. I'm horribly, terribly arachnophobic. I was even scared to google the word "arachnophobic" to make sure I was spelling it correctly, because I was afraid to accidentally see pictures of spiders. Seriously, terribly arachnophobic.
If my 4-year old wasn't such a wimp, I'd make her kill spiders for me. Instead, I usually just stand far away and push the long hose of the vacuum towards any spider that makes it past my door. Not that I like any creepy crawly, but I don't have the same shudder with others as when I see, or even think, about those eight-legged creatures. Oh my god, I have to stop typing this paragraph or I'll scratch myself silly.
Luckily, these chocolate spiders pops evoke no such reaction. And they took me mere minutes to make. And my daughter LOVES them. This is an idea I stole from myself. I use this method in my book, not for spiders, but for something else which I'll keep top secret. (Sugarlicious, to be released in 2012, you'll hear much more about this. Way more.)
Need more spiders? Check out these Oreo Cakester spiders, or this spider chocolate bark. Here are some sparkly spider cookies.
I also made a few extra off a stick to use as cupcake toppers. (Those are mini cupcakes by the way, not gigantic super scary huge spiders.)
how to make chocolate spiders
you will need:*
chocolate chips
disposable decorating bag
lollipop sticks
candy eyes
scissors
baking tray
wax paper
*Use any kind of chocolate you like, semi-sweet, milk, dark, vegan, whatever. Find the decorating bags, lollipop sticks and candy eyes in the craft store.
Fill a decorating bag with chocolate chips, about 1/2 full. Microwave at 70 percent power for 1 minute, then at 30 second intervals, massaging the chocolate chips periodically, until the chips are almost completely melted. Massage the chips in the bag until totally melted.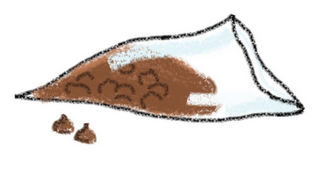 Line a baking tray with wax paper. Snip 1/4 inch from the tip of the decorating bag, twist at the top and pipe a dot of chocolate (about the size of a nickel). Lay a lollipop stick on top, pipe another chocolate dot on top (about the size of a quarter). Pipe 8 legs.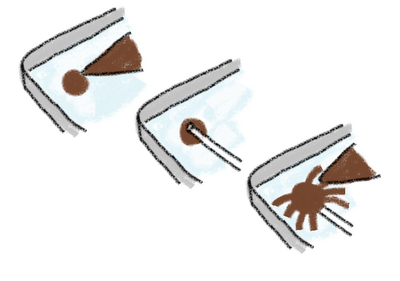 After you pipe all your spiders, go back and add candy eyes. Stick the tray in the fridge for a couple hours or until well set.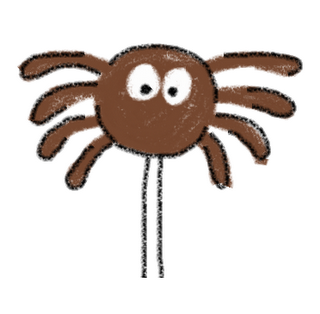 TIPS: Chocolate is a little messy to pipe, not like royal icing. Don't worry about precision or drags or bumps. These'll still look like spiders with drags and bumps. Also, these are somewhat fragile, so great to hand out to kids or to prop in a block of Styrofoam at a party, but I wouldn't go waving them around like mad, using them as weapons or trying to wrap them in bags.