Disclosure: *This post may include affiliate links. As an affiliate, I earn from qualifying purchases.


Fall marshmallow pops — easy apple and pumpkin marshmallow pops.
apple and pumpkin marshmallow pops
These Fall marshmallow pops, or apple and pumpkin marshmallow pops, take mere seconds to make.
They are easy easy easy. I mean, really easy. Sprinkles and store-bought candy do the work for you.
If you like these, check out these easy pumpkin cupcakes. Or make fall marshmallow art.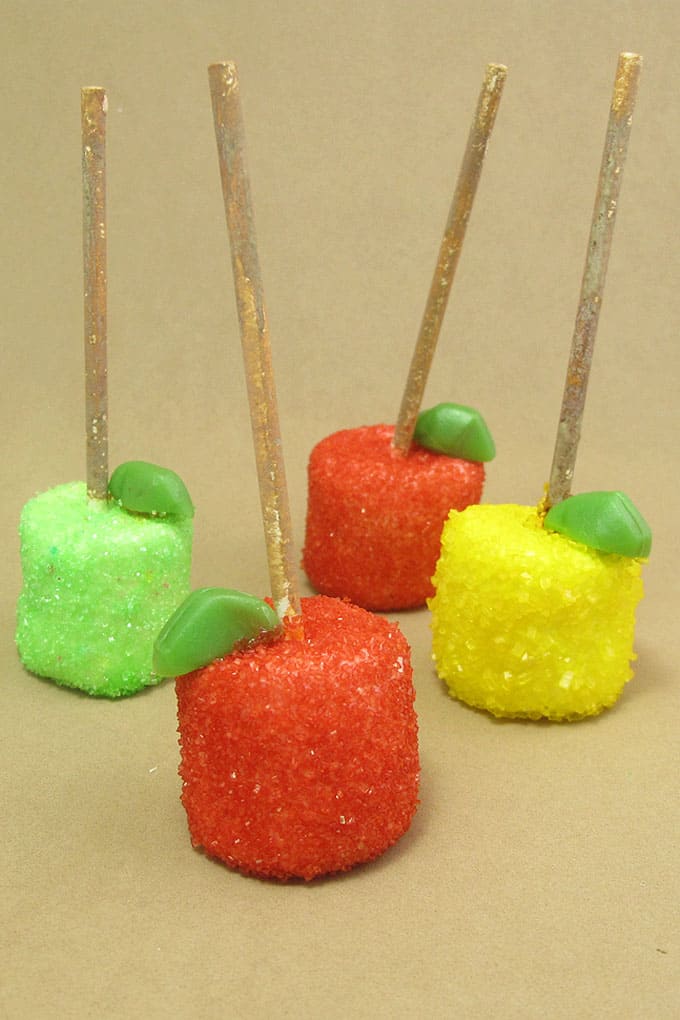 How to make Fall marshmallow pops
Marshmallows
4-inch lollipop sticks
Orange, red, green and/or yellow sprinkles or sanding sugar
Bowl of water
Paper towels
Spearmint leaves gumdrops or green fruit candy
Scissors
Wax paper
Paint brush
Green and white food coloring
Light corn syrup
what to do
For pumpkins, have ready: A bowl of water, paper towels, orange sprinkles, an empty bowl or plate and a piece of wax paper.
Skewer a marshmallow with a lollipop stick. Holding the lollipop stick, submerge the marshmallow in the bowl of water and quickly remove.
Dab the marshmallow on the paper towel to remove excess, then hold the marshmallow over the empty bowl or plate and generously shake the orange sprinkles over the marshmallow to completely coat.
Sit the marshmallow on a piece of wax paper to dry.
With the paint brush, mix a drop of green and a drop of white food coloring on a piece of wax paper. If necessary, add a drop or two of water to thin. Carefully paint the lollipop sticks green, and let dry.
Use scissors to snip a piece of gumdrop and rest on top of the marshmallow. If the candy doesn't stick on its own, add a dab of light corn syrup to use as glue.
For apples, follow the same how-tos, but switch up the sprinkle colors to red, yellow or green.
And for these, instead of the Spearment leaf gum drops, I snipped Fruit Gushers in half (so the inside gushed when I did that, but it helped the candy stick to the top of the marshmallow.) Also, I painted the stick brown instead of green.
It just occurred to me I stole this idea from myself. Yep. Shame on me. But it means you get a tiny, sort of, sneak peek at my new book. I have a craft veeeeeery similar to these in there. That's all I'm going to say now, though.