Disclosure: *This post may include affiliate links. As an affiliate, I earn from qualifying purchases.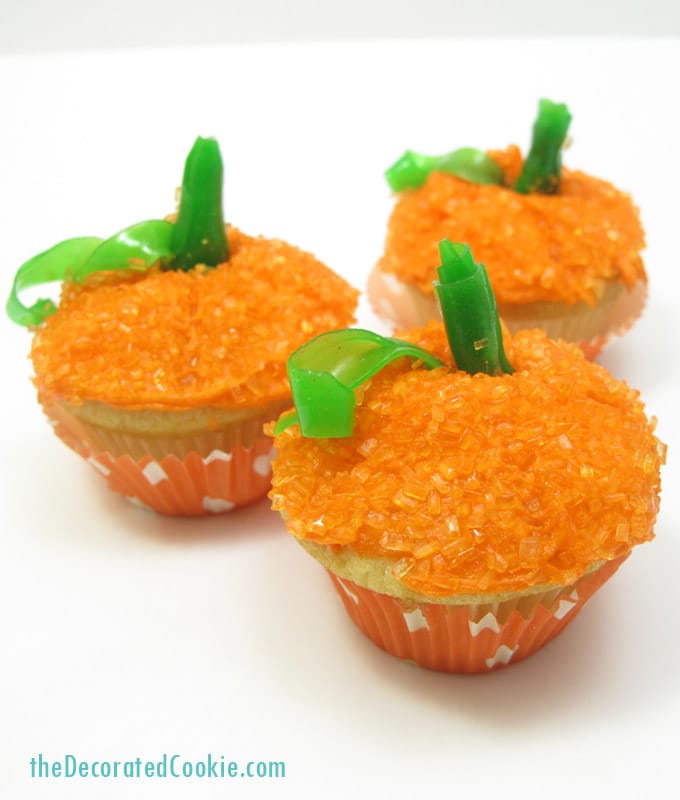 These mini pumpkin cupcakes will fit right in at any Fall event or for Thanksgiving dessert. Use your favorite recipe or boxed mix for the cupcakes. I originally made these for Reader's Digest.
If you like these, be sure to check out all of my fall treats and Thanksgiving ideas.
how to make mini pumpkin cupcakes
you will need:
Mini cupcakes
Mini baking cups (orange or fall theme)
Frosting
Orange food coloring
Orange sprinkles
Scissors
Green fruit roll-ups
Prepare mini cupcakes in printed or orange baking cups. Let cool completely. Tint frosting orange. Working with one cupcake at a time, frost the cupcake with a knife or spatula, and immediately dip in orange sprinkles, generously coating the top.
Unroll a green fruit roll-up. To make the stems, use the scissors to cut a rectangle about 1 ½ by 1 inch. Starting at a short side, roll stems and set aside. Snip strips from the green fruit roll-up about ¼ inch by 2 ½ inches. Twist and curl the strips and place on the cupcakes, securing one end at the center by pressing a stem into the cupcake.