Disclosure: *This post may include affiliate links. As an affiliate, I earn from qualifying purchases.


Create Fall marshmallows with food coloring pens.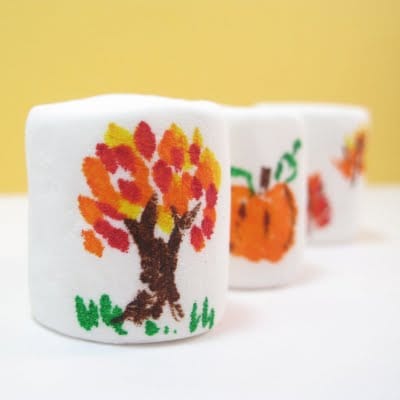 Fall marshmallows
I still have a gutted kitchen (and lots of dust and boxes), but I thought I would share a fall wedding shower gift idea. My trend is to purchase a gift from the registry and personalize it with sweets.
I'm almost too predictable with this pattern. I bought my friend this a beautiful vase from her Crate and Barrel registry and, in honor of her Halloween-day wedding, filled it with a layer of orange jelly beans, a layer of lime green jelly beans, and topped with fall marshmallows.
Given aforementioned gutted kitchen, painted marshmallows are about the only thing I could create.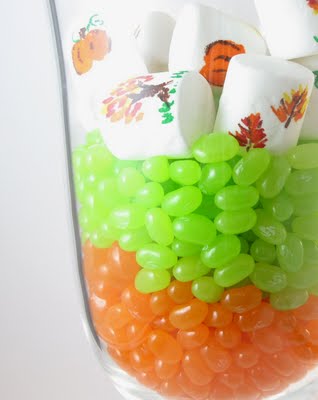 For how-tos on marshmallow art, check out this post on how to use edible writers. I used Americolor gourmet writers, found HERE.
To draw pumpkins: Draw the pumpkin first with the orange marker. Use the brown marker to draw the stem, and the brown to draw highlights on top of the pumpkin. Use the tip of the green to draw curly cue vines. Let colors dry about ten minutes between each color used.
To draw fall trees: Draw the trunk with the brown marker. To make leaves, make dots with the red, orange and yellow markers. Use the tip of the green marker to make grass.
To draw leaves: Draw the veins and stem with the brown marker and let dry about ten minutes. Sketch red around the veins and stem, then sketch orange or yellow around the red.