Disclosure: *This post may include affiliate links. As an affiliate, I earn from qualifying purchases.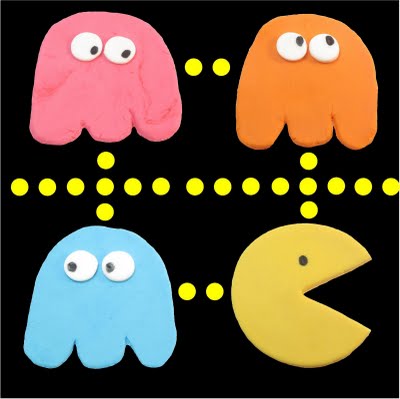 fondant Pac-Man toppers
Since I already had yellow, pink, blue and orange fondant prepared, these fondant Pac-Man toppers, aka relics of my childhood ,were a cinch to make. I had no red fondant, so poor Blinky was ignored in favor of PacMan, Inky, Pinky and Clyde.
I had some Pacman skills back then, but they were not as refined as thy might've been, as I could only practice at my friend's house. She had Atari. We had Intellivision. As you may recall, Intellivision had Pitfall, Frogger, and BurgerTime, but sadly, no Pacman.
Sans kitchen, my fondant characters are without a cookie or cake home, but here are some suggested uses for fondant decorations: Use them to decorate cupcakes or cakes (after they stiffen, you can place them on the frosting). Or, cut a cookie the same shape, spread with frosting or icing and top the cookie with the fondant characters.
how to make pac-man and ghost fondant decorations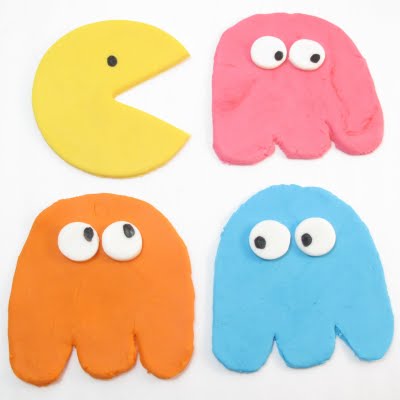 you will need:

*

white rolled fondant
wax paper
rolling pin
black gourmet writer
knife
circle cookie cutter (2 1/2 inches)
small circle cutter (1/2 inch)
yellow, pink, blue, orange and red food coloring
this pacman template
cakes, cupcakes or cookies

*Fondant is available at any major craft store. You may also find food coloring and edible pens there, but I use Americolor brand soft gel pastes and gourmet wri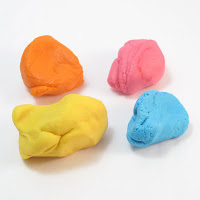 ters, available on the internet. You can adjust the sizes of your characters, but I used a 2 1/2 inch circle for Pacman. You can click the link above to get my template for a ghost of comparable size. I used a 1/2 inch circle cutter to cut out the ghosts' eyes.
TIP:
If fondant gets too sticky and difficult to manage, let sit at room temperature uncovered for about 15 minutes! Also, let your characters stiffen for a couple hours before using to decorate cookies or cakes.

fondant pacman:
Knead a few drops of yellow food coloring into a handful of white rolled fondant very well. Roll about 1/8″ thick between two pieces of wax paper. Cut out 2 1/2 inch circle. With knife, cut out wedge for mouth. Draw dot for eye with black gourmet writer.


fondant ghost:
Knead a few drops of pink, blue, orange or red coloring into a handful of white rolled fondant very well. Roll about 1/8″ thick between two pieces of wax paper.
Print and cut out this pacman template, lay template on rolled-out fondant and cut around template with a knife. Pat the edges to smooth.
Roll out white fondant between wax paper and cut out two 1/2-inch circles for each ghost. Wet the back of each mini fondant circle with your finger and adhere to the ghost. Draw eyes on the white circles with the black marker. Have each ghost look in a different direction.