Disclosure: *This post may include affiliate links. As an affiliate, I earn from qualifying purchases.


Unicorn food idea: This 3-ingredient, healthy, strawberry-yogurt unicorn smoothie is a magical win.
how to make healthy unicorn smoothies
OK, you all KNOW I'm totally on board with the unicorn food craze, right? Not only do I have a #DailyUnicorn feature over on my facebook page, but my oldest daughter has been super-duper into rainbows and unicorns for years.
I've already made her unicorn cookies, unicorn marshmallow pops, and unicorn chocolate bark. But I do think the sugary treats are getting out of hand.
(You know when I say things are getting out of hand, the sugar must really be overloaded.) Extreme unicorn milkshakes? They look pretty, but, egads! My teeth hurt thinking about them.
So here is your alternative: Healthy unicorn smoothies. Delicious, pink, strawberry-yogurt smoothies. This smoothie is so good, I sucked it down in one gulp.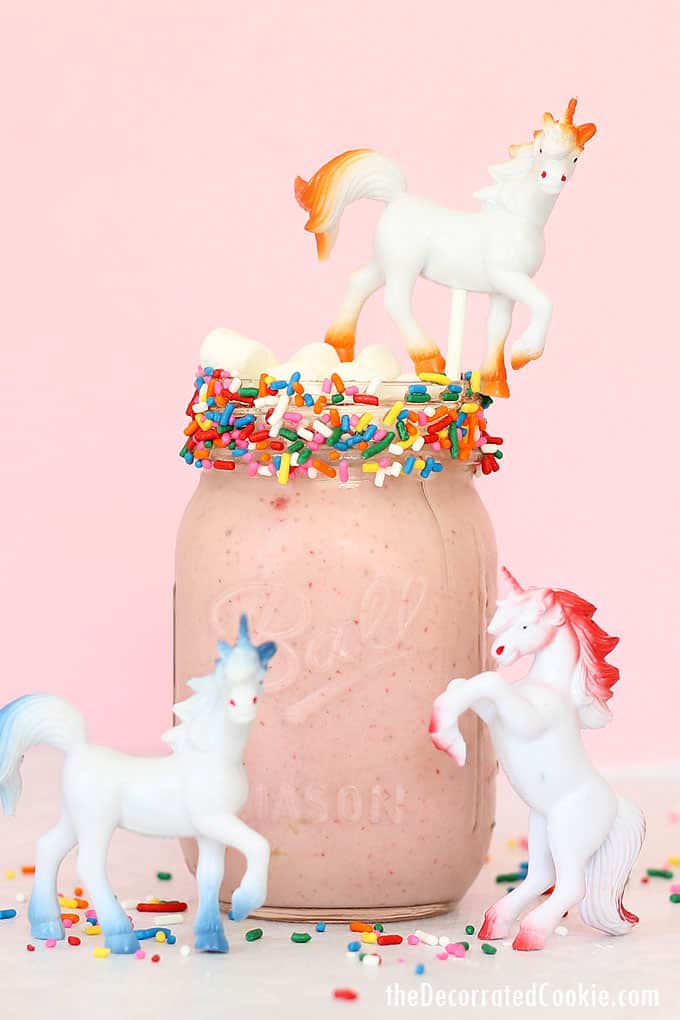 And on the topic of unicorn food… You know what I can't seem to get past? Calling any rainbow-themed food "unicorn" food.
Unless there is an actual unicorn represented, I think it should just be called "rainbow food." I'm over-thinking, huh? But to keep my practice consistent with my argument, I added these unicorn toys on-a-stick. They are super-easy to make, and I'll show you below.
Need more unicorn food ideas? Check out my awesome roundup of unicorn food ideas. (As in, actual unicorns, not rainbows.)
A few notes on these unicorn smoothies:
I use vanilla yogurt (regular, not Greek) so I don't have to add any additional sugar to the smoothie.
The sprinkles and marshmallows are optional, of course. But without added sugar in the smoothie… just a little extra treat.
The recipe below will make one good-size smoothie.
Find the unicorn toys at amazon.
how to make healthy unicorn smoothies
for the smoothie, you will need:
1 banana
1 cup frozen whole strawberries
1 cup Vanilla yogurt
Blend all of the above! That's it.
for the unicorn decoration, you will need:
honey
paint brush
sprinkles
Brush the rim of a glass (I used a mason jar) with honey and roll in sprinkles.
for the unicorn on-a-stick, you will need:
unicorn toys
6-inch or 8-inch lollipop sticks (depending on height of glass)
drill
Fit the drill with a bit the same diameter as the lollipop sticks. Carefully drill a hole in the underside of a unicorn toy. Gently wiggle the stick to fit in the drilled hole.
to assemble:
Pour the smoothie into the prepared glass, top with mini marshmallows and additional sprinkles (optional), and add the unicorn toy.
Yield: 1 smoothie
healthy unicorn smoothies
This 3-ingredient, kid-friendly healthy, strawberry-yogurt UNICORN SMOOTHIE is delicious. For breakfast, a snack, any time. Video recipe.

Prep Time 15 minutes

Total Time 15 minutes
Ingredients
1 banana
1 cup frozen whole strawberries
1 cup vanilla yogurt
honey
sprinkles
mini marshmallows
unicorn toy
drill
lollipop stick
Instructions
Prepare the glass by brushing honey on the rim and rolling in sprinkles. Prepare the unicorn stick by drilling a hole in the toy's underside. Insert a lollipop stick.
To make the smoothie, blend the banana, strawberries, and yogurt.
Pour the smoothie in the prepared glass. Top with marshmallows, additional sprinkles, and the unicorn stick.
Nutrition Information:
Yield:
1
Serving Size:
1
Amount Per Serving: Calories: 485Total Fat: 5gSaturated Fat: 2gTrans Fat: 0gUnsaturated Fat: 2gCholesterol: 11mgSodium: 162mgCarbohydrates: 103gFiber: 7gSugar: 81gProtein: 14g