how to decorate apple cookies for back to school, teacher appreciation, or fall
apple cookies
It's teacher appreciation week, folks. That means I just made 80 little, individually-wrapped apple cookies for the staff at my daughters' school, because when you have a blog called "the decorated cookie," it comes with the gig.
Luckily, decorated cookies are the best gift ever. Why? They are delicious, they are personalized, and they don't cause clutter (you know, because you eat them). Do you know any teachers who need some cookies? Well, then, here you go: How to decorate apple cookies.
more back to school cookies
If you like these cookies, you might also like these pencil cookies with free printable or these superstar cookies.
video how-tos
A few notes on these:
how to decorate apple cookies
you will need:*
* Find most of the above at the craft store, or click the affiliate links. For tips on finding cookie decorating supplies, click here. For food coloring, I suggest Americolor Soft Gel Pastes, available in specialty stores and online. Red Red, Chocolate Brown, and Electric Green used here.
what to do:
Prepare the cookie dough and royal icing according to the recipes. Chill the cookie dough, roll out, cut out the apples, bake and let cool.
Divide the icing (you'll need the most of red, of course) and make red, brown, and green. Divide the red icing. Thin two-thirds of the red icing with drops of water until it's a good flooding consistency (that is, just to the point where the icing folds into itself when overturned). Prepare decorating bags with couplers and tips, fill with the icing, and close tightly with rubber bands. Use size 3 and 4 tips, whatever your preference. (I used size 4 for green, size 3 for brown, size 3 for both of the reds.)
Pipe the stem. Pipe the outline of the apple with the thicker red. Pipe and fill the leaf with green. When the outline sets (about ten minutes), pipe to fill with the thinned red icing.
Let set overnight before packaging and handling.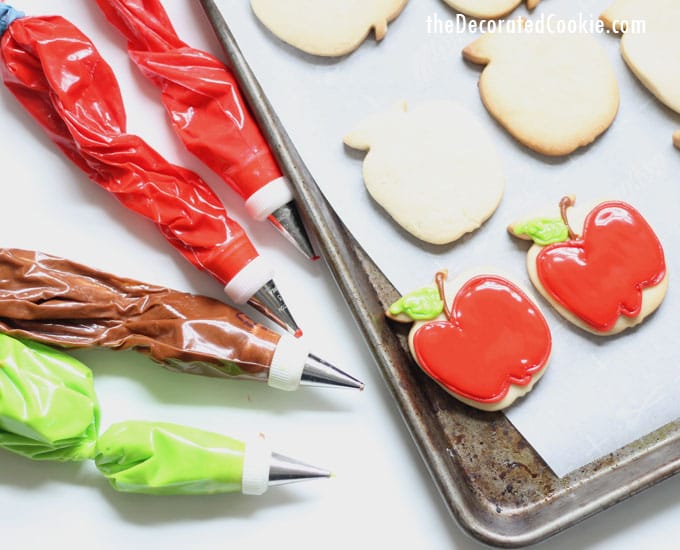 All wrapped up and ready to go!