Disclosure: *This post may include affiliate links. As an affiliate, I earn from qualifying purchases.


This twist on Caprese skewers uses Mozzarella Sticks with basil and tomatoes.
Make it for an easy party appetizer or a fun back-to-school snack kids can help make themselves. DISCLOSURE: Farm Rich sponsored this post, but all thoughts are my own.
mozzarella stick appetizer with basil and tomato
Let's talk appetizers and snacks, folks. I'm a big fan of all things appetizer-related.
Making them, serving them, eating them, coming up with twists on traditions.
Maybe it's because I like miniature foods (they are just so cute) or maybe because I find them easier to whip up than a whole dinner.
Anyone remember Cher in the movie Mermaids? She only cooked "Fun Finger Foods" because anything more was too much of a commitment. Kind of like that.
And Farm Rich is all about easy snacks and apps that simplify everyday life, what they call "Real-Life Good." That pretty much fits with everything I make.
I'm always busy (even when I'm not), so it has to be quick and easy.
And with the first day of school coming very quickly (thank goodness, says this mother of two), appetizers that can double as fun after school snacks for the kiddos, even better. (And this is one older kids can make themselves.)
So I got my box of Farm Rich Mozzarella Sticks and admittedly, I ate quite a few.
Too many. I just really, really love Mozzarella Sticks. Thankfully I got a second box so I could play around with it a little to come up with a new presentation for this classic snack.
Luckily, our garden has been productive — and by "our" garden, I mean "my husband's," because I'm terrible at growing things — so the abundance of basil and cherry tomatoes led to this Caprese situation.
Instead of boring old mozzarella cheese, how about much more exciting Mozzarella Sticks? These are delicious and even better than the original combination.
These are best eaten within a couple hours of preparing, or at least the same day.
The basil tends to wilt if left overnight in the fridge. A few notes for the kids, if you are making these as an after-school snack: Kids not into the crazy flavor of–EGADS!–basil?
(My sarcasm comes from having a picky kid myself.) Let them choose their own veggies or herbs to skewer with the Mozzarella Sticks.
For younger kids, try long lollipop sticks, available at the craft store, instead of skewers if you're worried about the pointy end, or, use the dull end to skewer the goods.
To sign up for the Farm Rich newsletter to receive offers and promotions, click HERE.
Another reason Farm Rich is on my love list? This weekend, sponsored by Farm Rich, I'll be joining my fellow fun food bloggers (and friends) on a Fun Food Blogger retreat. I'm finally going to get to meet: Beth of Hungry Happenings (our fearless organizer), Sue of Munchkin Munchies, Jill of Kitchen Fun with My 3 Sons, Kim of The Partiologist, and Norene of Party Pinching. Be sure to stop by each of their blogs for a fun back-to-school snack idea!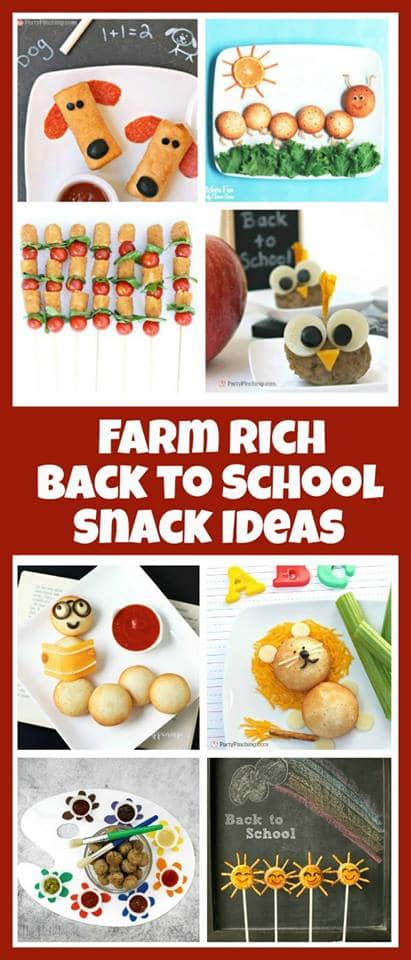 Puperoni Pizza Snacks by Norene of Party Pinching
Mozzarella Bites Caterpillar by Jill of Kitchen Fun with My 3 Sons
Smart Owl Meatball Snack by Norene of Party Pinching
Mozzarella Bites Bookworm by Beth of Hungry Happenings
Lion Mozzarella Bites by Norene of Party Pinching
Paint Pallette Meatballs by Kim of The Partiologist
Sunny Snacks for Back to School by Sue of Munchkin Munchies
how to make tomato, basil and Mozzarella stick Skewers, or, mozzarella stick "caprese" skewers
10 skewers
10 Farm Rich Mozzarella Sticks, cooked according to package directions
30 basil leaves
30 cherry tomatoes
2 teaspoons extra-virgin olive oil
kosher salt and black pepper
balsamic vinegar (optional)
Place the tomatoes and basil in a bowl.
Toss with the olive oil and a pinch of kosher salt and pepper. If desired, add a dash of balsamic vinegar. I prefer mine without the vinegar.
Prepare the Mozzarella sSticks. Let sit for 15 minutes and cut the sticks in thirds. Assemble on the skewers: Tomato, folded basil leaf, the bottom of a mozzarella stick.
Repeat two more times with the rest of the mozzarella stick. Serve. Makes 10 skewers.
DISCLOSURE: Farm Rich is a sponsor of the Fun Food Blogger Retreat and has also provided me with free products to create this fun back to school snack. All opinions express here are my own.