Disclosure: *This post may include affiliate links. As an affiliate, I earn from qualifying purchases.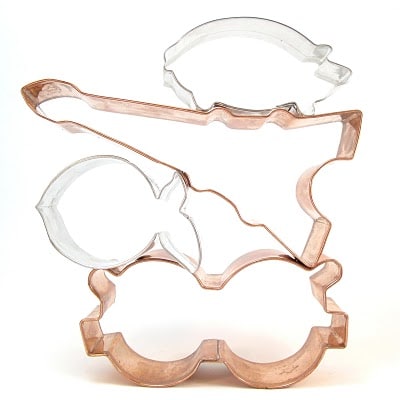 how to build a cookie cutter collection
I recently posted my shopping list of cookie decorating supplies along with some tips on where to find these items. A reader, Alexa, asked a fabulous question I think deserves a whole post: What are the basic cookie cutters that every cookie enthusiast should have? So here are some tips on how to build a cookie cutter collection.
I spent much time researching cookie cutters for my book(I have a whole chapter covering the invention and evolution of cookie cutters through history), so I love this question.
copper or other metal?
When building your cookie cutter collection, you can choose copper or other metals (usually tin or aluminum or stainless steel). Each have pros and cons. (Also note, there is a world of colorful plastic cutters out there. Their omission here is not meant to overlook their place in the world, but capturing their history will take at least one whole other post!)
…tend to be large (5 to 8-inches)
…are gorgeous, sturdy and wonderful investments
…are expensive ($8-$15 each)
other metal cutters…
…tend to be small (2 to 6-inches)
…can be flimsy and prone to rust
…are very affordable ($1-$5 each)
So when determining if you should buy copper or other metal, think about how often and for how long you will be using the cutter? How much are you willing to spend? Do you want a large cookie (sometimes harder to decorate) or a small cookie (a better size for party favors)? I own hundreds more metal cutters than copper, even though I love copper cutters, because I like a smaller cutter and because of affordability.
basic cookie cutter shapes to own?
While you of course need to cater this list to your own need, here is what I personally believe the best way to build a collection, in order:
1. basic shapes, both cookie and fondant cutters. Purchase either individually or in sets. Sets usually have several cutters, ranging in sizes from 1 inch to 5 or 6 inches. Shapes include: circles, ovals, squares, rectangles, stars or hearts. In a pinch, you can decorate any design on a basic shape if you don't have the cutter. Fondant cutters are basic shapes, but smaller (1/2 inch to 2 inches). These are great for bite-size cookies and fondant decor.

2. flowers. Flower cookies work for tons of occasions.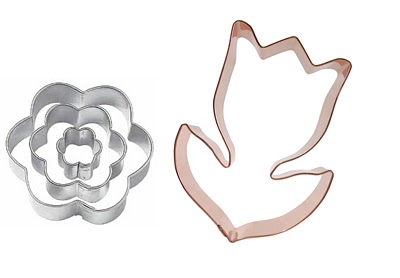 3. holiday. Christmas, Easter, Hanukkah, Valentine's….you'll use these year after year. If you aren't a holiday-cookie-person, skip to number 4.

4. basic celebrations. (birthday shapes, baby and wedding shapes, for example)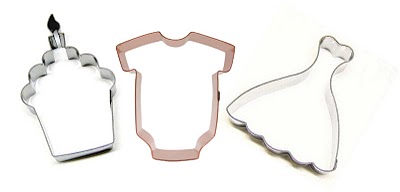 5. unique shapes. Lastly, build your collection with unique shapes as you need them. Hosting a cocktail party? Add a martini to the mix. Spa day with a friend? Add a dress and shoe cutter. Almost any cutter you can imagine, from aliens to zebras, likely exists.


where do I buy them?
You can find almost any shape imaginable out there. There are a katrillion great shops offering great cutters. Here are a few of my favorite sources (and if anyone out there has more suggestions for our readers, especially for my non-US based readers, please feel free to add!):
craft stores (like michaels) have basic shapes, flowers, fondant cutters and seasonal, usually only metal cutters, usually supplied by wilton (you can also shop wilton online)
ann clark ltd. is a super-popular supplier with fabulous, high quality cutters (both copper and other metals, gift sets and more)
sur la table has a great selection of both metal and copper cutters in their retail stores
coppergifts.com beats all for a copper selection
the cookie cutter shop has a wide selection of metal and some copper cutters
I also love Off the Beaten Path for metal cutters
American Tradition Cookie Cutters has a wide, affordable selection of metal cutters
H.O. Foose Tinsmithing is yet another great resource
Cheap Cookie Cutters… from the comments below. I've not yet ordered, but they have a great selection, so I'm very tempted!
AMAZON… Amazon now has just about everything, including cookie cutters.

how to clean and store cutters

?
And a quick addition based on the great comment below:
Always clean your cutters thoroughly after you use them. Wipe with a damp cloth or, if needed, wash in soapy water. And make sure to allow your cutters to totally dry!!! You can even put the cutters on a clean baking tray and stick in the warm oven after you've removed your last batch and turned off the oven.
You can polish copper cutters with copper polish, like Penny Brite
I store my cutters by simply tossing them in plastic storage containers (about 15 x 20 inches, or 30 quarts), like these, found at the container store or target or such stores. I label the boxes accordingly ("shapes," "party," "Christmas", etc.). It's probably best to use water and air tight containers, but I just use whatever storage boxes are on sale.
more cookie cutter info