Disclosure: *This post may include affiliate links. As an affiliate, I earn from qualifying purchases.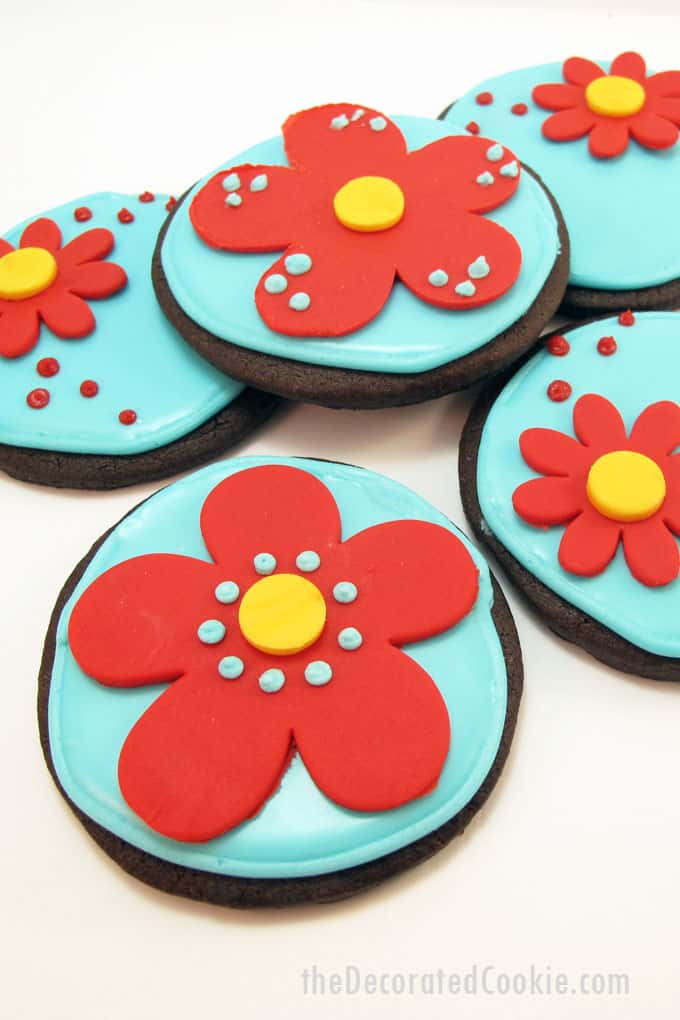 I'm just not sure what to call these red and blue chocolate flower cookies. These cookies match my kitchen. Though I have a lot of colors in my kitchen, so anything would match. I made them to use as background eye candy for an inside-my-kitchen photo shoot (details and links coming soon!) Let's just say they are red and blue (but that aqua-ish blue) chocolate flower cookies.

how to make chocolate flower cookies
you will need:*
cut out cookie dough and royal icing
circle cookie cutter
two sizes of flower cookie cutters
1/2-inch circle fondant cutter
fondant
rolling pin
wax paper
frosting color (sky blue, red and egg yellow)
2 frosting bags
2 couplers
3 decorating tips (one size "5" and two size "2")
rubber bands
light corn syrup
*Find the frosting bag supplies and fondant and maybe even the cutters in the baking aisle of the craft store. Find frosting color there, too, but I prefer Americolor soft gel pastes food coloring (a tad harder to find, click the link to find resources for buying). Use any size of cutters you prefer, but the circle should be a bit bigger than the larger flower cutter you use. Click HERE for tips on where to find supplies.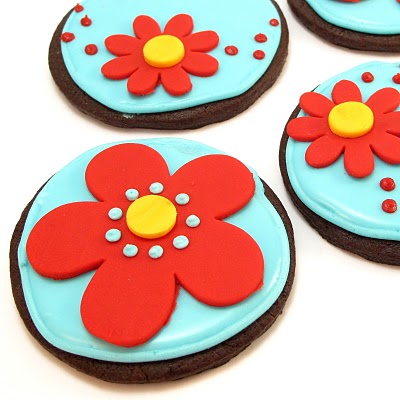 step one: make your cookies
Prepare cookie dough (chocolate or plain sugar) according to recipe and cut out large circles. Bake and let cool.
step two: make your frosting
Prepare frosting according to recipe. Tint about a cup and a half (depending on how many cookies you make) light blue (this may only take one or two drops of coloring) and tint about 1/2 cup red. Prepare two frosting bags with size "2" tip. Fill one with about 1/2 cup of light blue frosting. Fill the other bag with red frosting. Set red frosting aside. Cover remaining light blue frosting in bowl and set aside.
step three: make your fondant flowers
Prepare red and yellow fondant by adding a few drops of coloring to a palm-full of fondant and kneading very well. Red will take quite a few drops, yellow may only need one or two. If fondant gets sticky or hard to handle, let sit at room temperature uncovered for 15 minutes until easily pliable. Roll red fondant thinly between two pieces of wax paper. Cut out large and small flowers. Roll out yellow fondant and cut out mini circles with the 1/2 inch cutter. Set all the fondant pieces aside to stiffen a couple of hours. Dab light corn syrup on the back of a small yellow circle and adhere to center of red flowers. With the bag of light blue frosting, pipe light blue dots on large red flowers.
step four: frost cookies
Switch tip on light blue frosting bag to size "5" and pipe circles on the cookies. Let set about 15 minutes. Thin remaining blue frosting in bowl with water, a little at a time, until the consistency of thick glue (it should NOT be too runny, like water). With a small spoon or a squeeze bottle, pour some frosting in the center of the cookie and let spread to edges, encouraging the frosting with the back of a spoon as needed. Let stiffen a couple hours at least, preferably overnight.


step five: assemble your cookies
Dab corn syrup on the back of the flowers and adhere to cookies as desired. Pipe red dots on the cookies with the smaller flowers.