Disclosure: *This post may include affiliate links. As an affiliate, I earn from qualifying purchases.


Making flip flop cookies with the new Sweet Sugarbelle cookie cutter collection from American Crafts.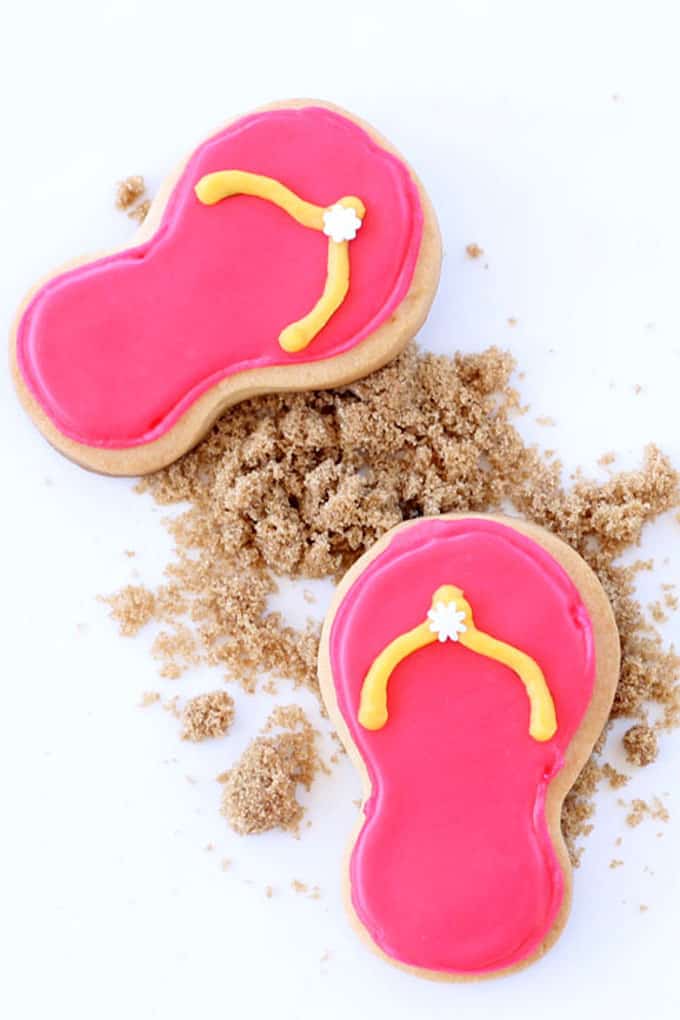 flip flop cookies
These flip flop cookies couldn't be simpler for Summer. Two colors (unless you want more), a template as a guide, and no couplers or tips even needed.
I started decorating cookies professionally in 1998. I worked for ten years at a shop until I started this blog. That's almost 20 years folks. Twenty years and I can count my favorite products for cookie decorating on one hand: My circle cookie cutters, decorating bags, couplers, tips and gel pastes. After twenty years, that's pretty much all there is for me product-wise. Until now. Callye's new Sweet Sugarbelle cookie decorating collection is, by far, the best, most innovative cookie decorating product that I've seen in those twenty years.
Some disclaimers: Callye is my friend, as happens in our small world. And the makers of her products, American Crafts, sent me a box of her products for free, including this Shape Shifter Cookie Cutter Set. Now as to the friend thing, that means I know her work and her brilliance and I have for many years, so I had little doubt these products would rock. As for the freebie products, I almost never create a blog post just for free product. They did NOT compensate me to write this. I'm writing it because of that whole "most innovative cookie decorating product" thing I mentioned earlier. Every thought here is my own.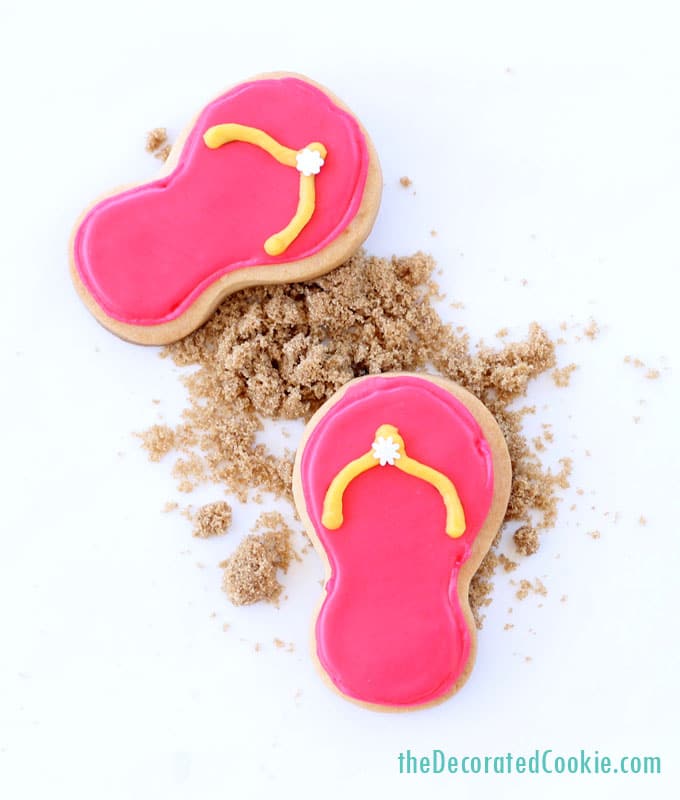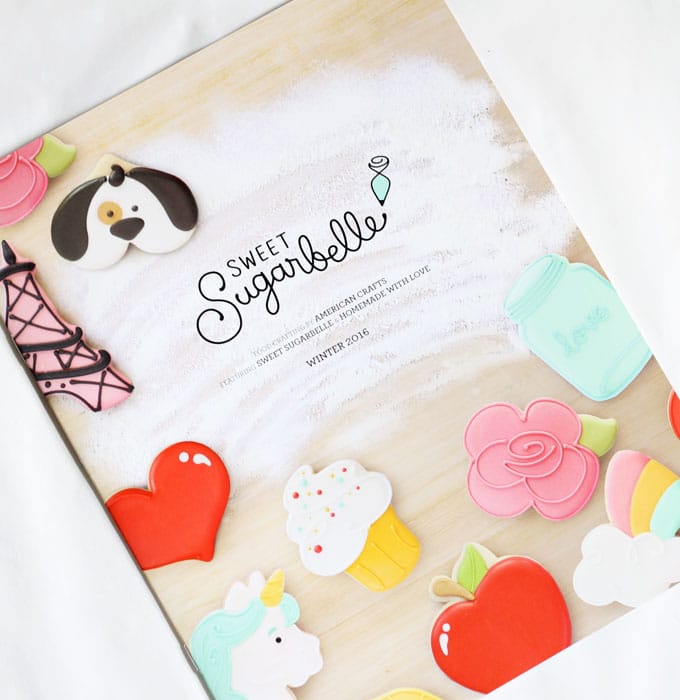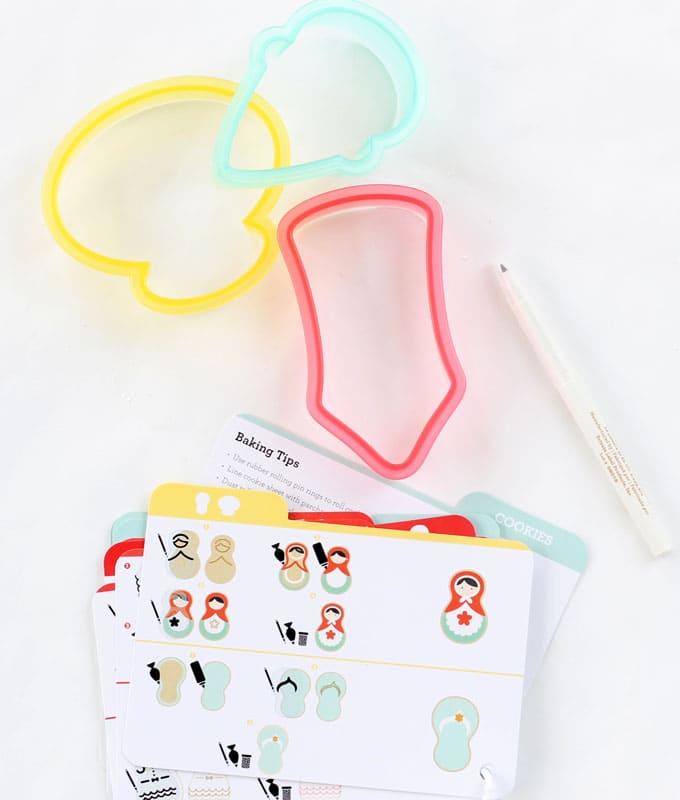 Here is the concept behind this collection: Each cookie cutter in the collection can be used for multiple designs. You also get cards with recipes and decorating instructions. But the templates are the most brilliant component of the cutters. Want to decorate cookies but can't draw a stick figure? The design templates take care of the art for you. Already got the art part down? The design templates guide your piping to minimize error. Freaking brilliant. Callye has long been the master of seeing cookie cutters in new ways, using one shape for many different cookies, and this collection capitalizes on her unique eye for cookie design to give you multi-functional cookie cutters.
I didn't get a chance to use these edgers, by the way, but I'm unusually excited for those. Despite owning hundreds of cutters, I tend to stick to my basic circles, so the edgers will help me cut multiple shapes quickly. I predict these alone will become one of my most-used tools.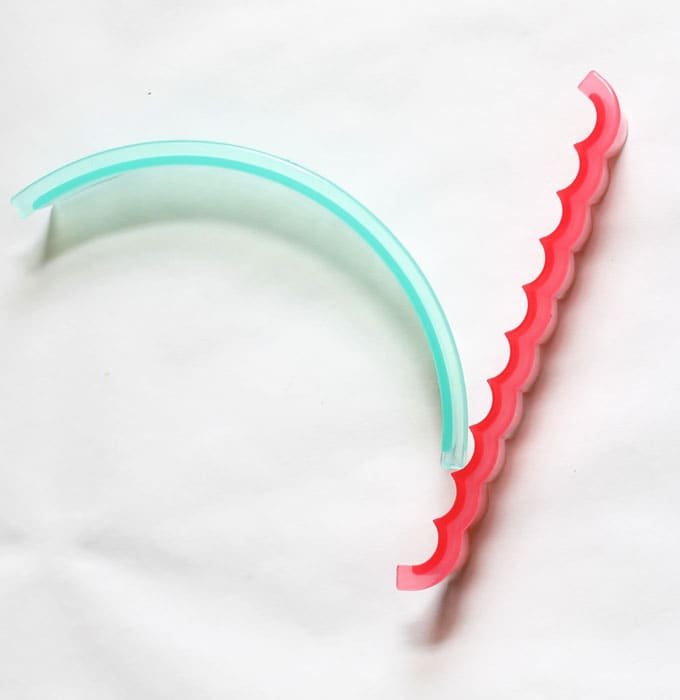 I tried out the flip flop cookie cutters (which can also be used for Matryoshka doll cookies). There are more complicated designs, but I stuck with easy because, you know, I'm a busy woman. Also, I didn't even use couplers and tips, so I could really whip these out in no time. Here's a little demo on how the whole thing works.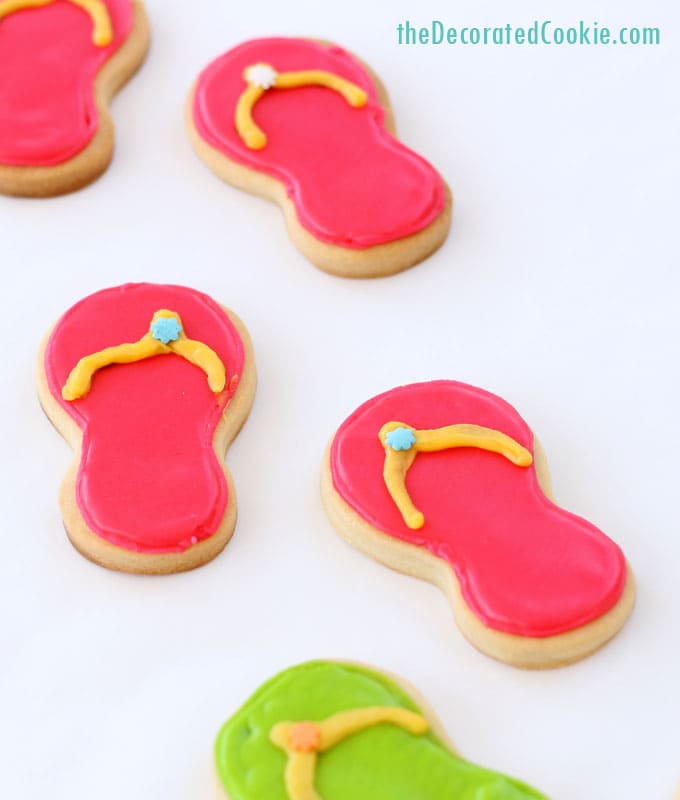 how to make flip flop cookies
you will need:*
cut-out cookie dough and royal icing (or, Callye's recipes come with the cutters)
Sweet Sugarbelle cookie cutter set
food coloring
disposable decorating bags
rubber bands
sprinkles (optional)
*For food coloring, I suggest Americolor Soft Gel Pastes (Electric Pink, Electric Green and Egg Yellow used here). For tips on finding cookie decorating supplies, click here. For basic cookie decorating instructions, click here.
bake your cookies: Prepare cookie dough according to the recipe, chill and roll out. Cut out your cookies, bake and let cool.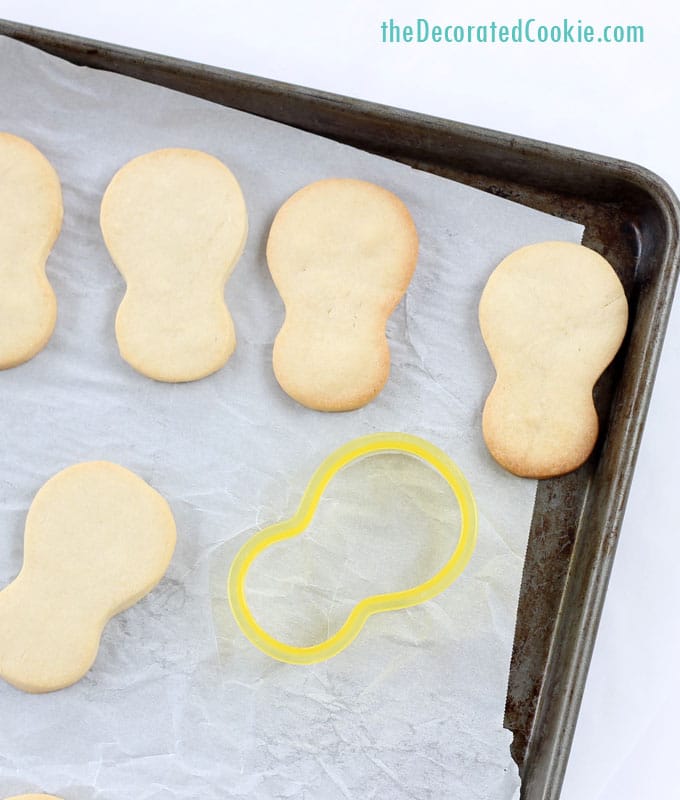 prepare your icing: Prepare royal icing, divide and color any colors you like. For the flip flop base, you'll need piping icing consistency and flooding consistency. Fill decorating bags with each and close tightly with rubber bands. I didn't even bother with couplers and tips so these would be easy to make.
decorate your cookies: Snip the tips of the decorating bags. Pipe an outline on the cookie with the thicker consistency icing. Pipe back and forth with the flooding consistency icing to fill the cookies.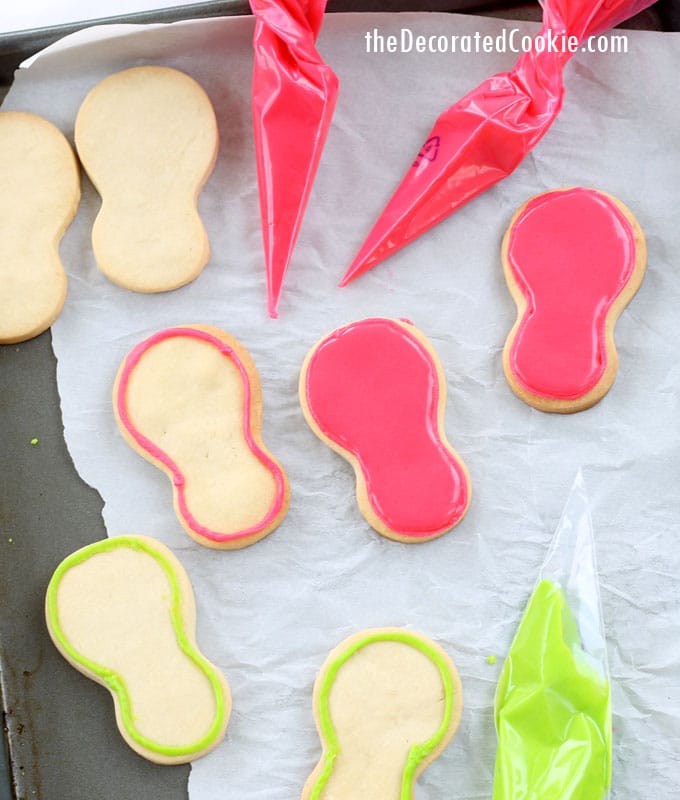 Let the cookies dry very well, preferably overnight. Once dry, place the flip flop template on the cookie and use an edible writer (Callye offers food decorating pens, too). Mark the flip flop design. Pipe the flip flop design on the mark. (Note here I didn't let the icing dry well enough so that's they the marker looks a little wonky.) If desired, add sprinkles. Don't forget to flip the template over for half of the flip flops so you have right and left feet.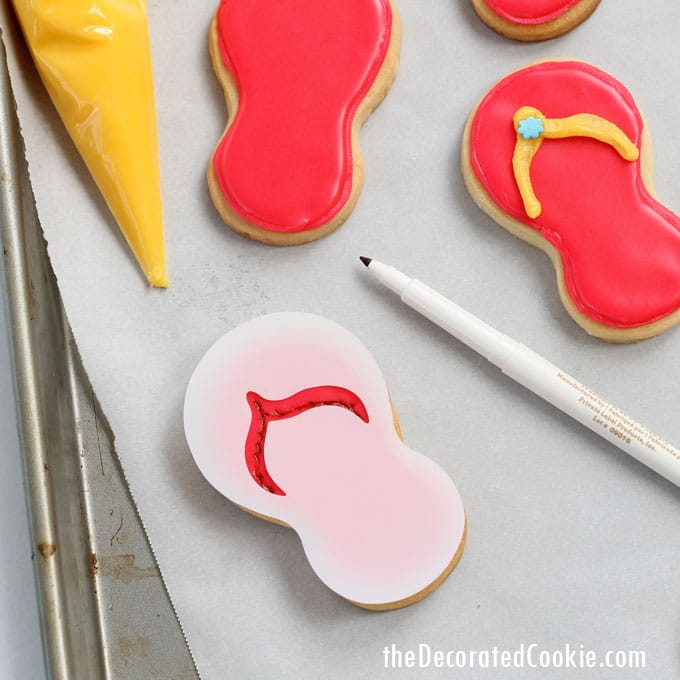 Read all about the Sweet Sugarbelle Shape Shifter Cookie Decorating Set on Callye's blog.