Disclosure: *This post may include affiliate links. As an affiliate, I earn from qualifying purchases.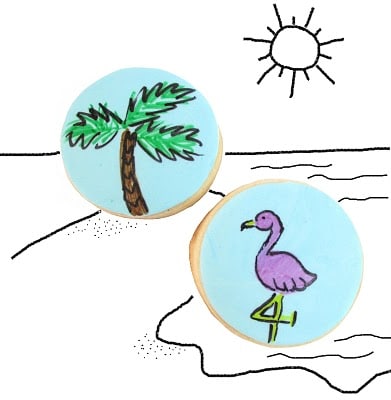 I'm off to sunny Florida for a couple of days… I'll be back posting away next week, but I'll leave you with a tiny taste of sunshine and beaches with these palm tree and flamingo cookies.
For these cookies, I used this cut out cookie dough cut and baked into 2 1/2 inch circles, tinted some homemade fondant with a drop of Sky Blue Americolor soft gel paste, rolled it out and cut it into 2 1/2 inch circles, added a touch of frosting to the top of the cookie, and stuck the fondant on top.
Then I used my Americolor Gourmet Writers to draw the designs (for both, you'll need black, brown, green, pink and yellow). That's it.
how to draw a palm tree
1. draw and fill a brown trunk
2. with the green, draw a bunch of green lines in three or four bunches
3. outline the trunk with black (basically, a stack of progressively smaller "M"s)
4. roughly outline the bunches of green lines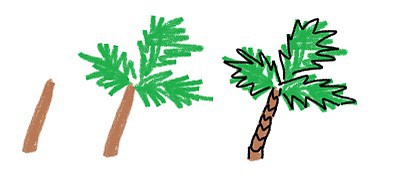 how to draw a flamingo
1. draw and fill a pink tear drop shape
2. draw and fill a pink circle above it
3. draw a thick, curvy pink wave connecting the two
4. draw a number "4" for the legs with yellow
5. draw a beak and fill the tip with black
6. outline with black, adding wings and a dot for an eye, add yellow to fill the beak