cookie decorating party for kids
Kids LOVE cookie decorating! In my twenty years as a cookie decorator, I've hosted many cookie decorating parties and helped at fairs and festivals to bring cookie decorating to kids, and it's been a huge hit every single time.
Here are some tips on hosting a cookie decorating party for kids (and their parents).
UPDATE: The contest is now over. This panda sushi got me through to round three of the Foodbuzz Project Food Blog contest! The third challenge: "Host a luxurious dinner party." My initial thoughts involved cream sauces, puff pastry, individually plated desserts with sprigs of mint, wine that cost more than 10 bucks a bottle… but what would I do with my 3-year-old? What would our friends whom we'd invite do with their 3-year-olds? So I revised my thinking. What would a luxurious dinner party be for a 3-year-old? The Answer: Host a cookie decorating party, with dinner.
One evening, my three-year-old had five of her neighborhood friends over for a luxurious cookie decorating party, with dinner, of course, (technically six if you count the baby who couldn't hold a frosting bag).
how to host a cookie decorating party
the cookie decorating table
The three essentials for a cookie decorating party: cookies, icing and sprinkles.
you will need:*
cut out cookie dough AND royal icing
*Choose simple shaped cutters, like circles, stars, hearts and flowers. For frosting colors, I use Americolor soft gel pastes for food coloring (Electric Pink, Orange, Electric Green, Regal Purple, Bright White, Sky Blue used here.) Find the decorating bags, sprinkles, and cutters in the baking aisle of the craft store. For tips on finding cookie decorating supplies, click here.
what to do:
The day before the party, make, chill, roll out and bake cookies according to the recipe.
Prepare your frosting and mix an assortment of colors. Fill empty decorating bags (don't snip the ends yet) and tie closed tightly with rubber bands.
On the day of the party, cover your table with freezer or butcher paper, taping down the ends. Arrange the sprinkles in small bowls, shakers or cupcake liners on the table with the frosting bags. Snip about 1/4 inch from the tips of the decorating bags, give the kids their cookies, and decorate!
tips and tricks for hosting a cookie decorating party
Age matters.

Cookie decorating parties are fun for ages two (maybe) to grown-ups. Toddlers and younger children will just squeeze a bunch of frosting and sprinkles on a cookie, so don't waste time with complex shapes or instructions. Older kids (especially girls, I've found), ages ten and up, are much more precise. They may handle more complex shapes. You might even want to decorate some sample cookies the day before to display for ideas.
The frosting bags. For younger kids, snip the ends of the frosting bags more generously, so they are easier to use. For older kids, snip smaller openings for more controlled decorating, or, use couplers and tips.

Rubber bands!

Be sure to close frosting bags tightly with rubber bands! Toddlers will squeeze the frosting out of the top otherwise.

The stains.

Frosting coloring will stain, so don't dress your kids in their finest clothing. Stains on hands will disappear over a couple of days. Unless they are needed for particular designs (which should only be a concern of older kids), stay clear of red-based colors, dark colors (like navy or deep purple) and black frosting. They are the worst culprits. Stick with pastels.

Have enough cookies.

Plan on at least four per child, and it's not a bad idea to have a bag of plain, store-bought cookies handy in case you run out.

Have enough frosting bags.

Have at least enough that every child will have a frosting bag at the same time. I doubled up the popular colors, too. I'm glad I had two bags of pink, as that was the coveted color among 3-year old girls.

Make sure to have

take-home boxes

.

As the cookies will be too wet to bag, bakery boxes found at the craft store are perfect to take home the goods. Write the child's name on their box or add a decorative tag and you have instant favors, too.

Eat dinner first!

My one mistake was having all the decorating supplies laid out when the kids arrived. Hence, they dug right in before dinner. (Um, sorry parents.)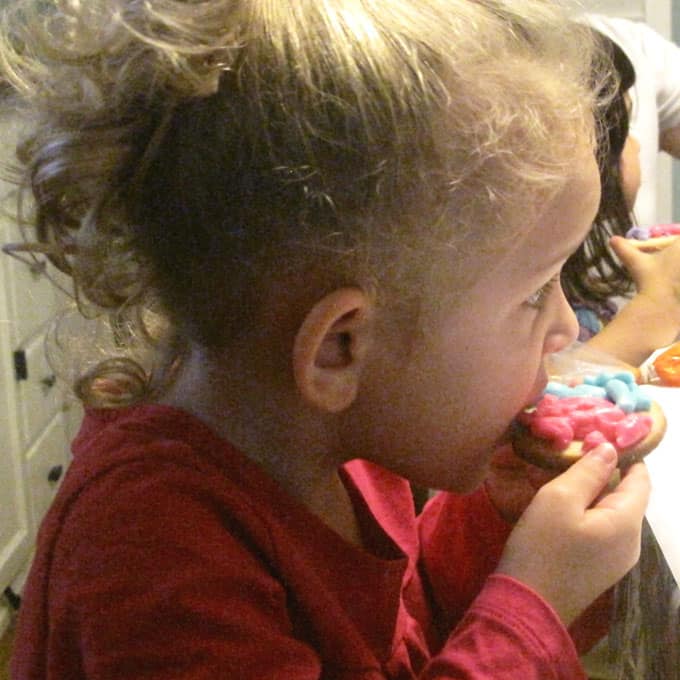 the dinner menu
The menu was planned around toddlers who have potentially picky tastes and who need at least one hand free for cookie decorating. So that means….
Unadorned, non-messy, finger foods. And as the toddlers come with parents, I also included accompanying foods for a more grown-up palate.
Before starting the cookie decorating, I served cheddar and brie with crackers, spinach and artichoke hummus with Crostini, and fresh veggies with dipping sauce.
During the decorating, kids ate butterfly pasta, buttered tortellini with tomato-cream dipping sauce, cheesy puff pastry twists, and panko-coated chicken sticks with honey mustard. For dessert, kids each got a fairy wand cookie pop.
Grown-ups sipped on cosmopolitans and the kids got cranberry strawberry juice.


the kids
The fourth essential: the kids! {Photos taken by my husband, my friend, Liz, and some by me.}
The mini cookie decorators in action: