Disclosure: *This post may include affiliate links. As an affiliate, I earn from qualifying purchases.


Memorial Day or 4th of July dessert, party favor, or hostess gift idea: Make American flag cookies.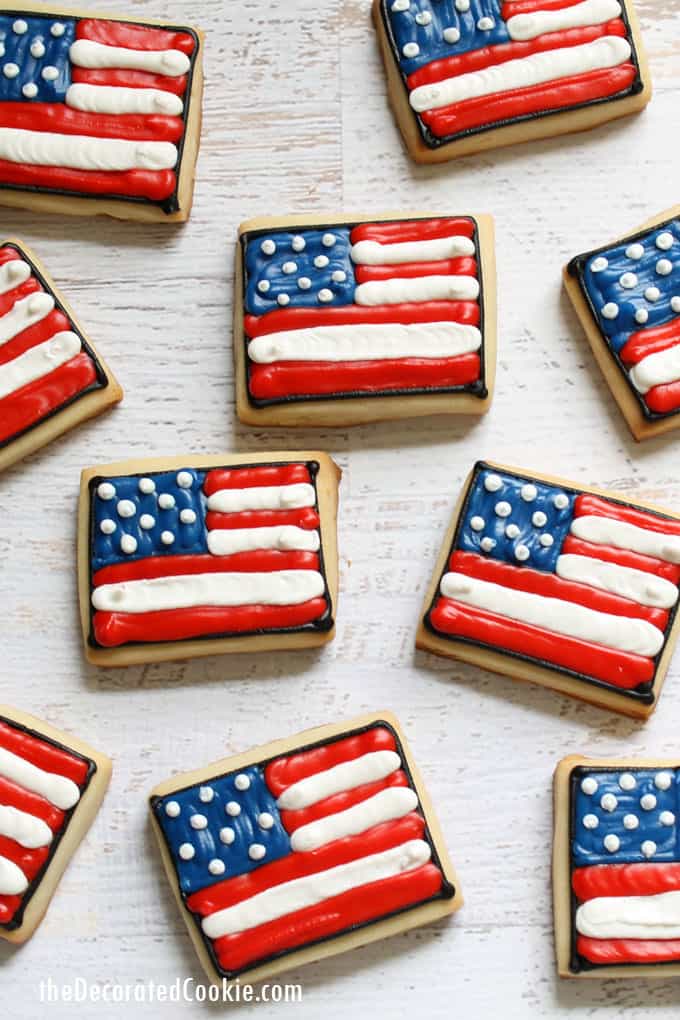 American flag cookies
Need a little patriotism with your dessert? I made these mini American flag cookies to send to my husband's friends serving overseas, but they are clearly fitting for a Memorial Day or 4th of July dessert, too.
You can't get much more red, white and blue than this.
Though I suppose for the 4th of July, Betty Ross's version with the 13 colonies in a circle would have been better than my (suggestion of, but not really) 50 white dots for the states. If you can fit 50 white dots on a cookie 1 1/2 by 2 inches big, I'll be mightily impressed.
more 4th of July desserts
If you like these and need more 4th of July dessert ideas, try these red, white, and blue swirl 4th of July cookies. Or, check out these easy red, white, and blue candy pops.
I also love these red, white, and blue homemade peppermint patties.
You can make them any color for any holiday. I also love these red, white, and blue fireworks cookie pops.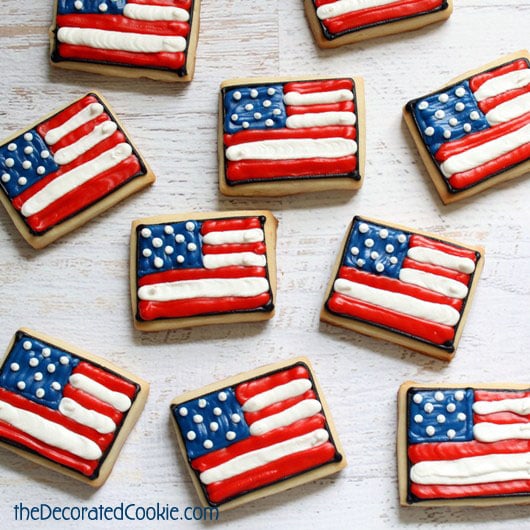 how do you make flag cookies?
To make flag cookies, prepare cookie dough according to the recipe.
Chill it, roll it out, cut out rectangles, bake and let cool.
Prepare royal icing according to the recipe, divide and tint red, white, blue and black using Americolor Soft Gel Pastes (Red Red, Bright White, Royal Blue and Super Black).
Prepare disposable decorating bags with couplers and tips, fill with each color and close tightly with rubberbands.
To decorate, outline the rectangle with black using a size 3 tip. Let set about 15 minutes.
Outline and pipe back and forth to fill a blue square in the corner using a size 4 tip. Let set. Pipe red and white stripes using size 4 or 5 tips.
Switch the tip on the white to size 2 and pipe dots on top of the blue. Let the cookies set overnight before packaging or handling.
For tips on basic cookie decorating, CLICK HERE.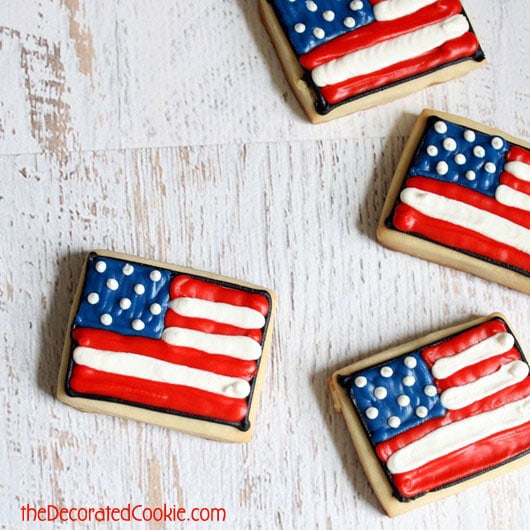 SUPPLIES: