Disclosure: *This post may include affiliate links. As an affiliate, I earn from qualifying purchases.


Cute little burger and fries cookies are a fun summer dessert idea for Father's Day or a BBQ treat idea.
summer cookies
Burger and fries cookies are one way to make burgers and fries look cute. And vegetarian. And potentially vegan.
And they are only about 2-inches across, so I suppose technically these mini burgers and fries cookies are sliders.
But they do make a perfect fun food idea for Father's Day or BBQs.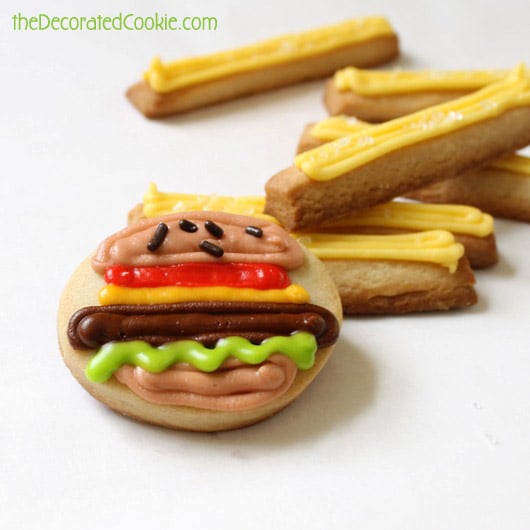 I made these mini burgers and fries cookies for my burger and fry-loving Dad for Father's Day, but I think they are apt for any summer BBQ, shindig, party, get-together, picnic, whatever, so file them under "4th of July" and "Labor Day," too. And they are relatively easy to make and decorate.
more summer cookie ideas
If you like these cookie ideas, check out these mini popsicle cookies , pool party cookies, and watermelon slice cookies. (If you're making these for Father's Day, check out this roundup of fun food ideas for Dad.)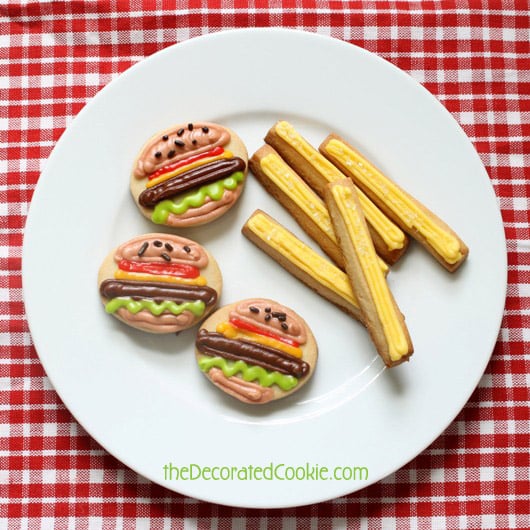 how to make mini burger and fries cookies
you will need:
cookie dough
royal icing
small circle or oval cookie cutter
knife or dough scraper
food coloring
disposable decorating bags
couplers
decorating tips sizes 4 and 5
rubber bands
chocolate jimmies (optional)
white sprinkles (optional)
*Find the cookie cutters, decorating bags, couplers and tips and sprinkles at the craft store (or below for online resources). For food coloring, I suggest Americolor Soft Gel Pastes (Chocolate Brown, Egg Yellow, Red Red, Electric Green used here). TIP: Find basic cookie decorating instructions HERE.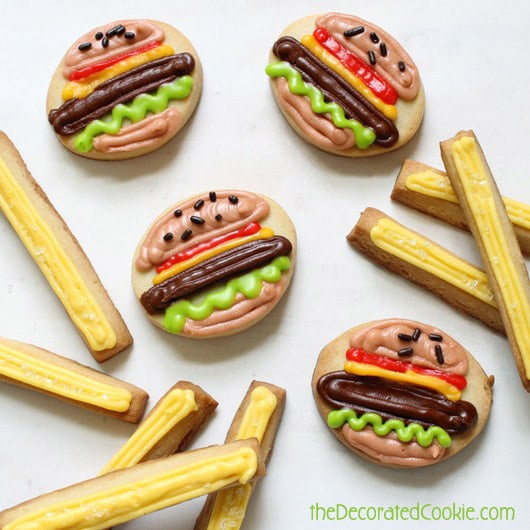 step one: bake your cookies.
Prepare cookie dough, chill and roll out according to the recipe. For burgers, I cut out small ovals (mine are 2 inches across). For fries, I used a dough scraper (you can use a knife) to cut out rectangles 1/2 inch by 3 inches.
step two: prepare your icing.
Prepare icing according to the recipe. Divide and tint dark brown, light brown, yellow (I used two shades, you don't need to), green and red. Prepare decorating bags with couplers and tips, fill with each color and close tightly with rubber bands.
step three: decorate your cookies.
Use size 4 and 5 tips for decorating, whatever your preference. For the burgers, pipe to outline and pipe back and forth to fill the bun with the light brown. Immediate sprinkle chocolate jimmies on the top bun, if desired. Pipe and fill an oval in the middle with dark brown. Pipe a squiggle between the burger and bun with green. Pipe two lines in red and yellow for tomato and cheese.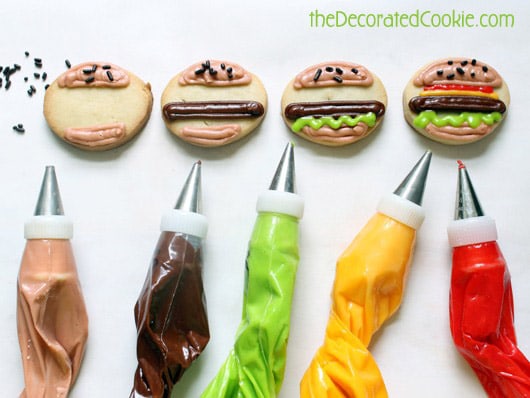 For the fries, pipe back and forth to make a yellow stick. Immediately sprinkle a few white sprinkles on top for "salt." Let the cookies set overnight before packaging or handling.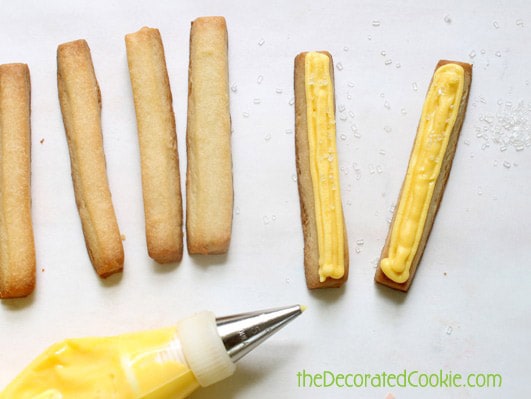 SUPPLIES: