Disclosure: *This post may include affiliate links. As an affiliate, I earn from qualifying purchases.


How to decorate cookies with food writers: Make hand-drawn flower cookies for Mother's Day.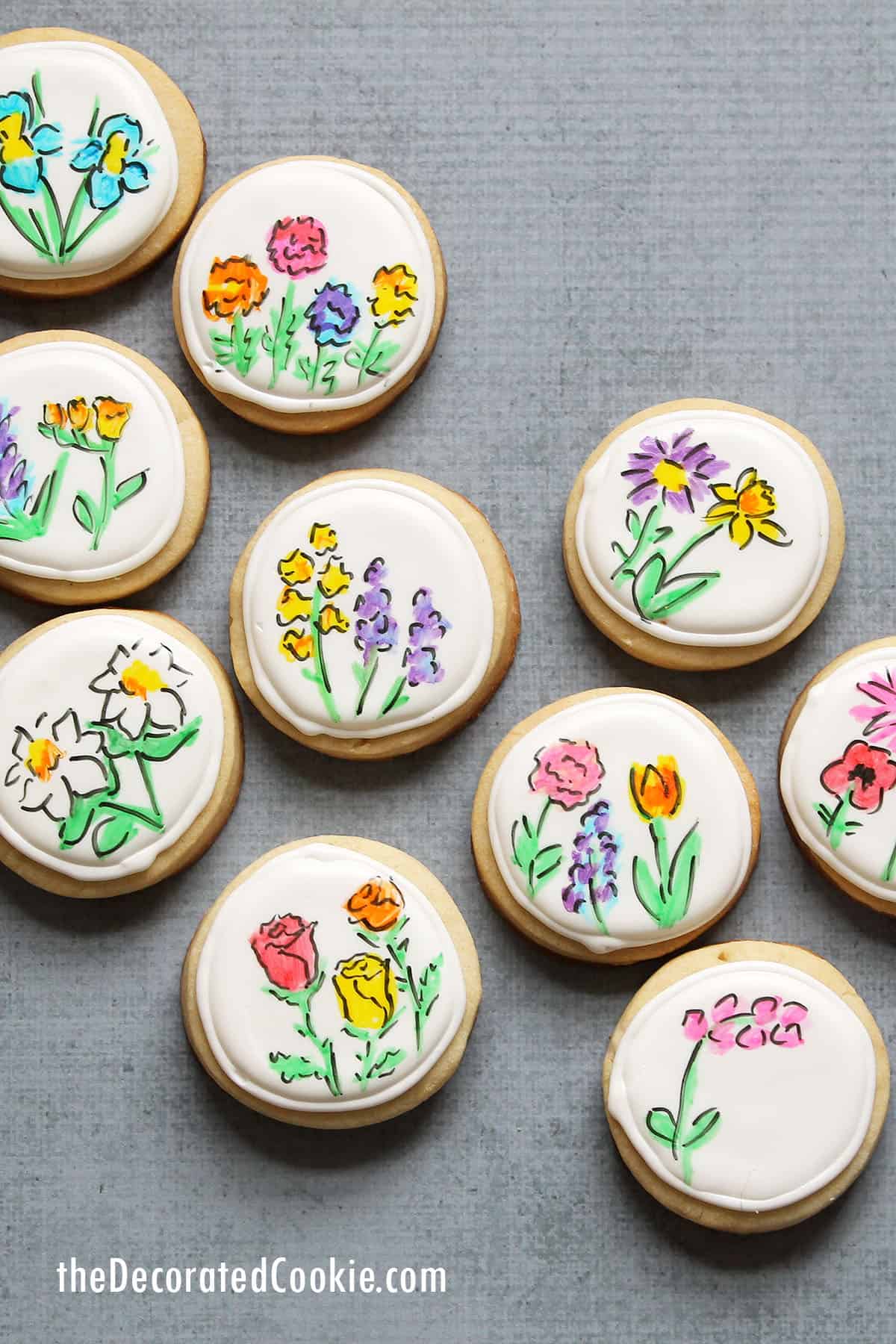 Mother's day flower cookies
I think these may be my favorite Mother's Day cookies thus far.
Every year my mom gets cookies, because cookies don't clutter up her house. That's why they are the perfect gift.
They are delicious, personal, and they don't add more stuff to your house because they are gone too quickly.
So I give you hand-drawn flower cookies for Mother's Day. Mom, if you're reading this before Mother's Day, then you didn't heed my warning to not go to my blog before Monday. Tsk. Tsk.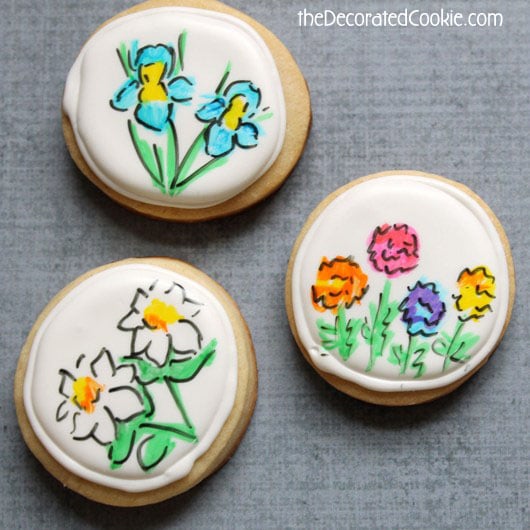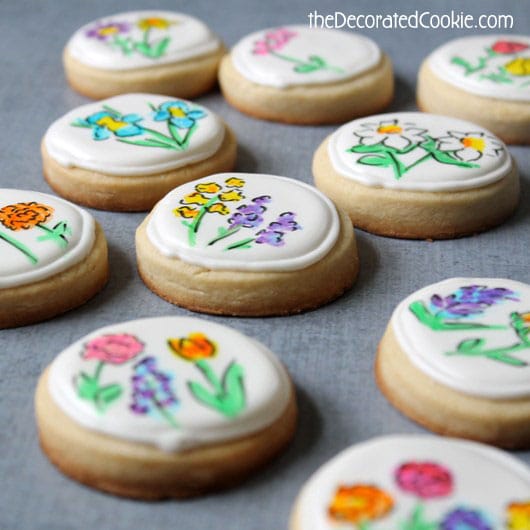 Believe it or not, imprecision works in your favor when drawing these flowers.
They are more sketchy, not perfect. I borrowed the flowers I drew for the marshmallows and just put them on cookies.
I chose the poppy, iris, gerbera daisies, roses, marigolds, orchid, heather, hyacinth, freesia, tulip, aster, daffodil, chrysanthemum and gardenias.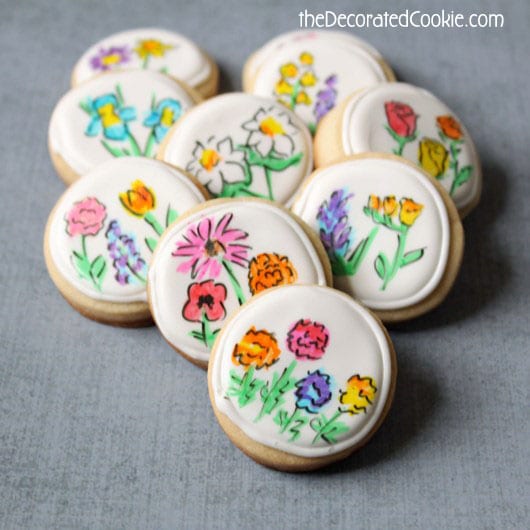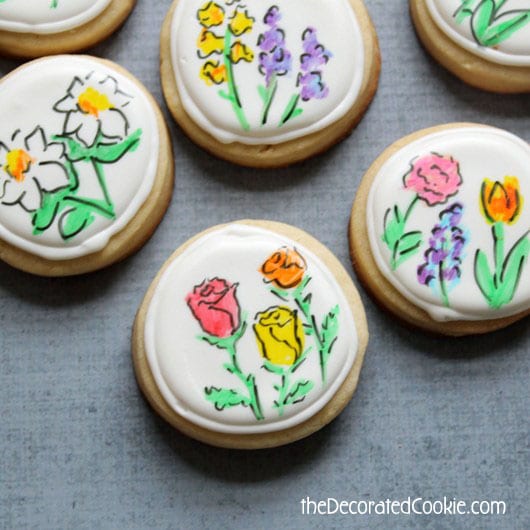 how to use food coloring pens on cookies
For tips on how to draw on marshmallows and cookies, the best edible writers to use, and where to find them, CLICK HERE.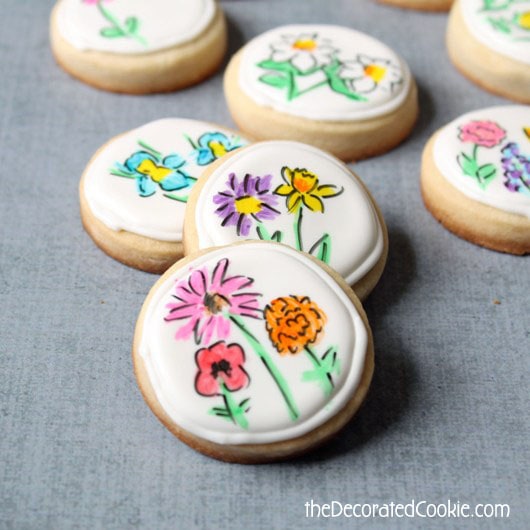 To make Mother's day flower cookies,
Prepare and chill the cookie dough, cut out 2-inch circles with a cookie cutter (or any size circle), bake and let cool.
Then, prepare royal icing and tint white with Americolor Soft Gel Pastes.
To decorate, prepare a disposable decorating bag with coupler and size "3″ tip, fill with white icing and outline a circle on the cookies.
Let set, and thin the remaining white icing with drops of water until the icing folds back into itself slowly when stirred.
Fill an empty decorating bag with the thinned icing, snip the tip and flood the centers of the cookies.
(For tips on cookie decorating, click HERE.)
Then, let the cookies dry very well, overnight at least, and draw pictures with handy dandy food decorating pens.
I recreated THESE FLOWERS that I drew on marshmallows on the cookies.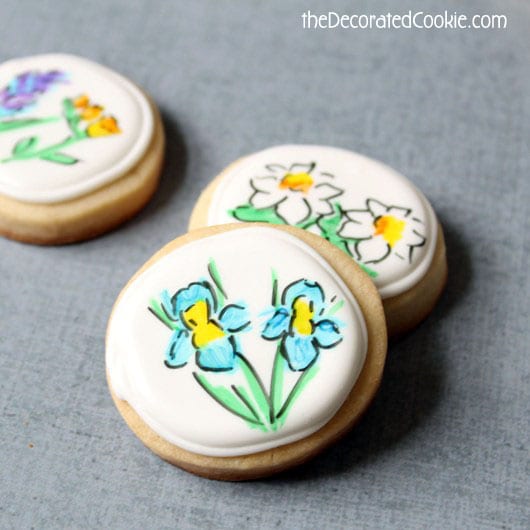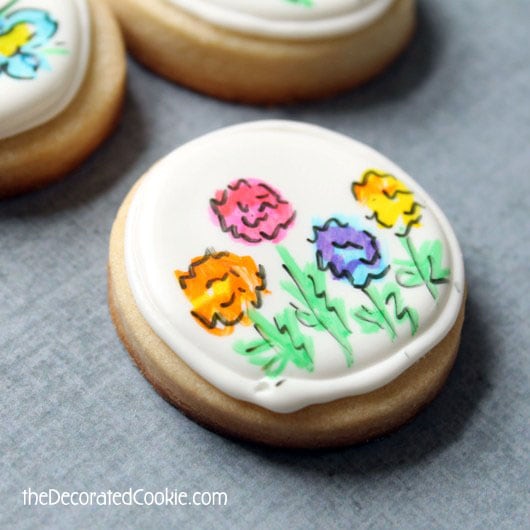 And I left a few for my younger daughters to draw on, too. See if you can guess which ones the 6 year old made and which one the 16 month old made.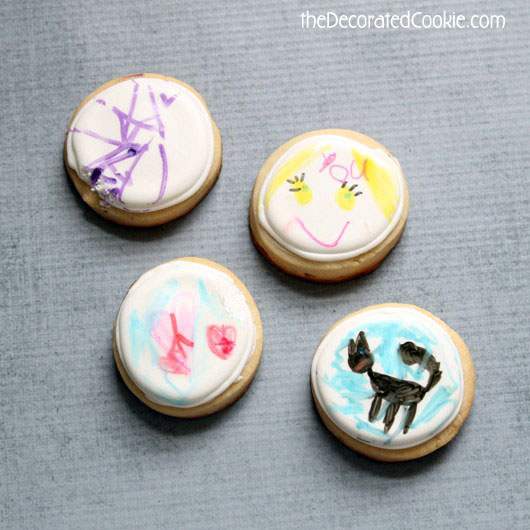 Answer: The picture of my mom, the cat and the peace heart are by the 6 year old. The purple one with the chunk out of the side is by the 16 month old.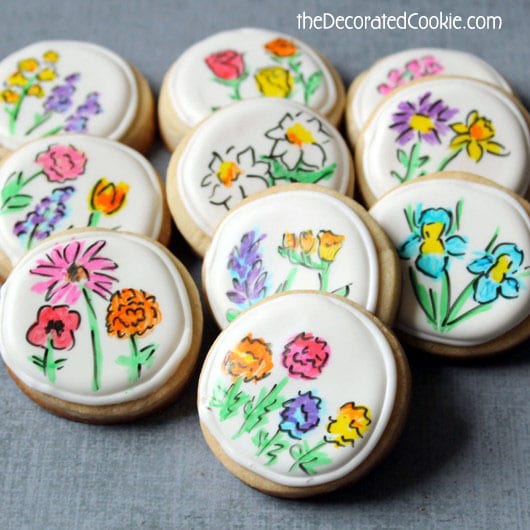 SUPPLIES:

PIN FOR LATER: