Disclosure: *This post may include affiliate links. As an affiliate, I earn from qualifying purchases.


How to paint on marshmallows: Make summer painted sunflowers marshmallows.

painted sunflower marshmallows
These painted sunflower marshmallows are a little lesson in "how to paint on marshmallows." Anything you can paint on paper, you can also paint on marshmallows using food coloring.
It's just another (edible) medium.
The beauty of painting on marshmallows with food coloring as opposed to drawing on marshmallows with food writers is that food coloring comes in every imaginable color, so you aren't limited in your palette.
Although, naturally, I chose to demonstrate this with sunflowers, and all of the colors I used here come in food writers, as demonstrated by these sunflower marshmallow pops here.
Ah well… let's carry on with painting.
how to paint on marshmallows
The marshmallows:
You can just paint on individual marshmallows, or skewer them on lollipop sticks.
To skewer several marshmallows, rub a big of Crisco on an 8-inch lollipop stick or 12-inch lollipop stick and slide the marshmallows into place.
The food coloring:
My favorite food coloring to use is Americolor Soft Gel Pastes.
You'll want to use the gel paste food coloring, not the liquid food coloring. You can buy some gel pastes in the craft store, but I'm partial to the aforementioned Americolors, found on amazon.
The palette:
For a palette, I like the plastic egg cartons, but you can use any store-bought palette, a paper plate or even just wax paper.
The brushes:
Use any size paint brushes that work with your design, but the best for detail and small painting are small round brushes and small liner brushes, all available at the craft store.
What to do:
In your palette, mix Bright White food coloring with a drop or two (or more!) of any color food coloring. Play around with shades, but it's best to not skip this step of adding White food coloring. It gives the "paint" weight.
The only exception is when I'm using black or dark brown food coloring with a liner brush to outline designs or add highlights. Then it's straight black or brown food coloring. Paint your design and let dry.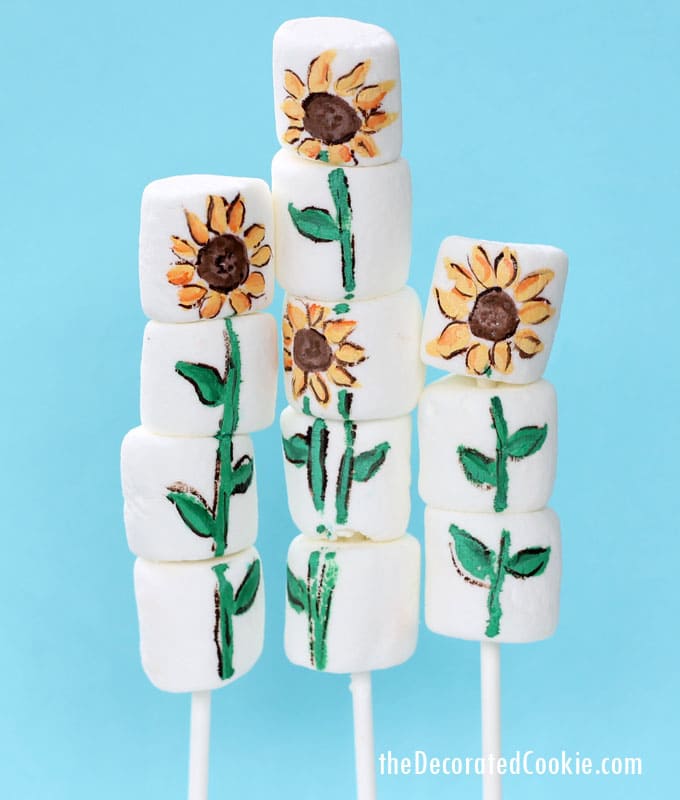 how to paint sunflowers on marshmallows
To paint on sunflowers, here are the colors I used, in addition to Bright White. Leaf Green, Egg Yellow, Orange and Chocolate Brown.
Clockwise from bottom left: Chocolate Brown mixed with Bright White, Chocolate Brown mixed with less Bright White, Leaf Green mixed with less Bright White, Orange mixed with Bright White, Chocolate Brown alone for outline, Leaf Green mixed with more Bright White, and Egg Yellow mixed with Bright White.
I painted the brown centers, with darker brown highlights. Then I used a small round brush to make the petals, with orange highlights.
I painted green lines for the stems and green for the leaves with darker green highlights. Lastly, I used a small liner brush to paint the outline with the non-mixed brown food coloring.