Disclosure: *This post may include affiliate links. As an affiliate, I earn from qualifying purchases.


Halloween ice cubes to dress up your Halloween drinks. Great Halloween party idea!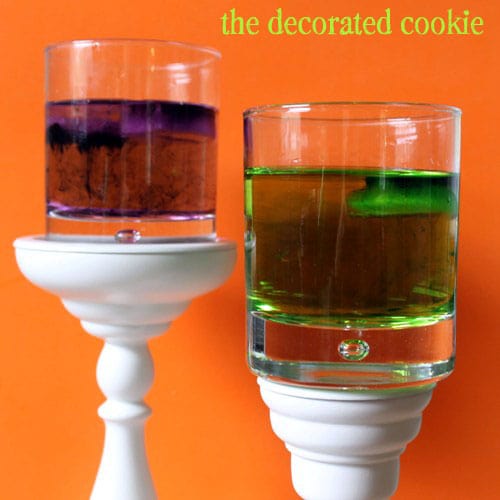 Halloween ice cubes
Posts without sugar are rare for me, I know. And these so easily could have been turned into sugar-filled sweets, but I wanted to test out my "Bone Chillers" ice cube tray the traditional way first. Almost the traditional way. I added food coloring.
And it worked. Although my fingers got a bit stained popping them out of the tray, Halloween ice cubes add an almost beautiful, if eerie, touch to a glass of water. Sparkling water would've been waaaaay better. No, vodka would've been waaaaaaaaaaaaaay better than water.
Next Halloween, when this baby in my belly is almost one and I can freely chug vodka. I got my little Halloween surprise in the mail in the form of a box filled with fun things. It had this ice cube tray from Fred and Friends, some creepy plastic eyeballs, glow-in-the-dark paint, a ceramic faucet to make a pumpkin keg, and pretty Fall notecards from Ruff House Art.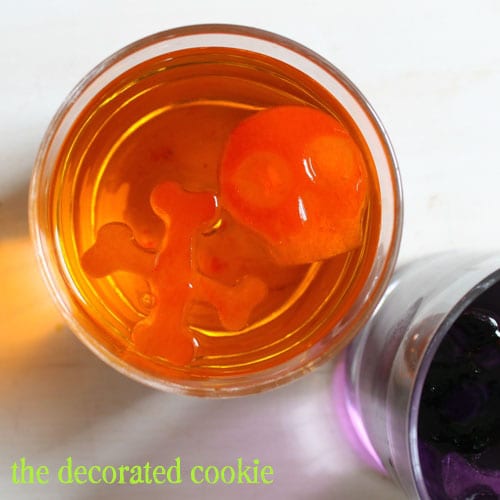 how to make Halloween ice cubes
To make these ice cubes, I just filled by skull and cross bones silicon ice cube tray with water. Then I added a couple drops of Americolor Soft Gel Paste into each cavity (I used Orange, Electric Purple and Electric Green), then stirred a bit with toothpicks. Pop them out into drinks. Preferably drinks more exciting than tap water. The food coloring will spread throughout the beverage in an oh so Halloween-like way.