Disclosure: *This post may include affiliate links. As an affiliate, I earn from qualifying purchases.


HALLOWEEN BOTTLES: IZZE bottles dressed up in Halloween costumes.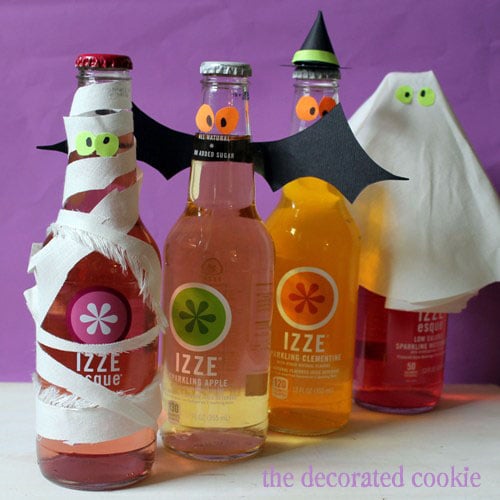 UPDATE: CONTEST ENDED. The IZZE Hello Good Contest… Win a Year's Supply of IZZE, Gift Cards to Target and Whole Foods and More! The IZZE facebook page is hosting a contest, the Hello Good contest. Snap a picture with your favorite bottle of IZZE (they of the delicious sparkling juices flavored naturally with no extra sugar and perfect for parties because the bottle is so pretty). Then upload said picture onto the IZZE facebook page to enter their contest for a chance to win a year's supply of IZZE.
THEN, get more chances to win cool stuff over at my other gig, HERE at Edible Crafts. Cool stuff like another chance for a year's supply of IZZE. And 100 bucks to shop at Target. Or a gift card to Whole Foods. After you upload your picture to IZZE and enter your contest, just leave me a comment with a link to your entry and you're entered.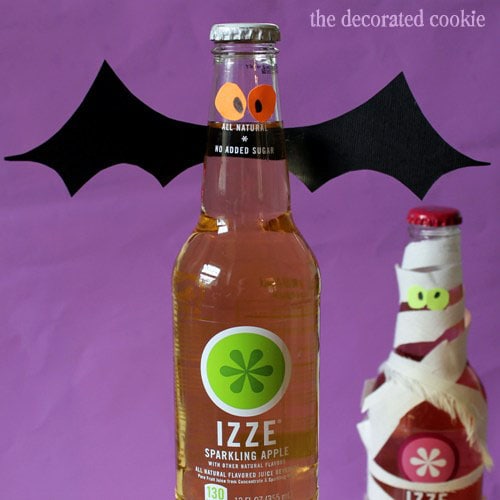 Want to see what I did with my bottles of IZZE? I dressed them up in costumes for Halloween. You needn't get this, um, overly involved with your bottles like I did. You can simply snap a picture anywhere with anyone or anything. But given it's Halloween, these bottles were just craving costumes I think.
how to make Halloween bottles
All the eyes you see I just cut out of construction paper and drew black dots, but a hole punch or eye stickers would have been easier. For the bats, I folded a piece of black construction paper, cut out one side of the wings at the fold, unfolded and used a glue stick to attach to the bottle. For the mummy, I cut strips of white cloth and attached to the bottle with a glue stick.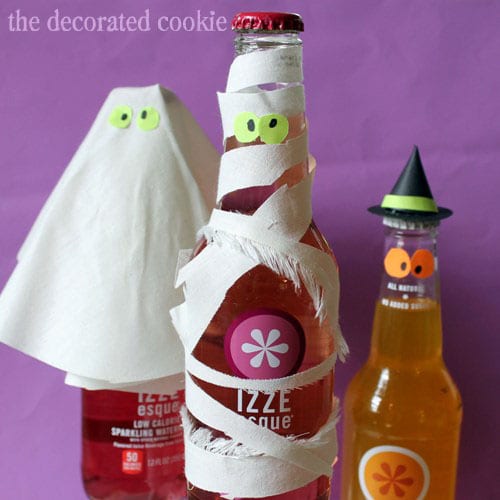 For the ghost, I draped a circle of white cloth over the bottle, securing to the cap with glue, and glued on the eyes. For the witch, I made the hat with construction paper and glued to the cap.