Disclosure: *This post may include affiliate links. As an affiliate, I earn from qualifying purchases.


UFO sandwich
This is new territory for me. While I was edible crafts editor over at CraftGossip.com, I saw and posted on loads and loads of clever bloggers making clever sandwiches for their kids. But I never ventured in the direction of fun lunches for kids. Until now. This UFO sandwich is inspired by my standard UFO doodle that I've been doodling for years now. And it's pretty gosh darn easy to assemble, too.
To make a UFO sandwich, CLICK HERE to visit Kix.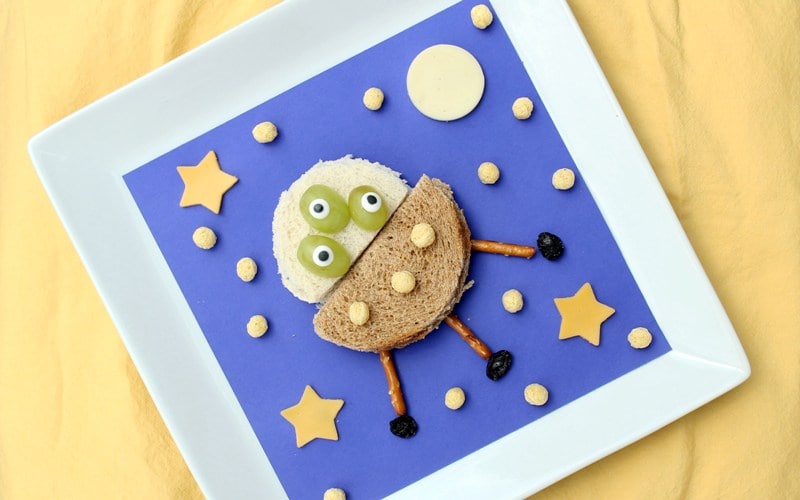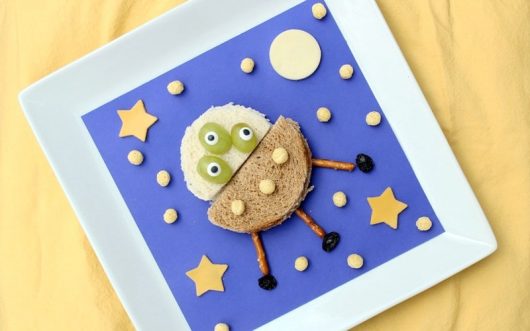 how to make a UFO sandwich
You'll need two sandwiches of any kind, one with white bread and one with wheat bread. Cuta 4-inch circle from the wheat bread sandwich, then cut the circle in half. Cut a 3-inch circle from the white bread sandwich, then cut off the bottom third. Arrange the white bread piece on top of the wheat bread piece. Cut pretzel sticks into 1 1/2-inch pieces and arrange along the bottom of the UFO, with raisins at the end. Add three Kix cereal pieces along the wheat bread sandwich piece. For the moon, cut out a 1 1/2-inch circle from the pale yellow cheese. For the stars, cut out 1-inch stars from the bright yellow cheese. For the aliens, slice three green grapes in half and arrange on the bread with a candy eye resting on top. Place Kix cereal around the UFO for stars. TIP: To help secure any pieces, use a dab of peanut butter or cream cheese.
For making this sandwich, this circle cutter set and star cutters are handy.