Disclosure: *This post may include affiliate links. As an affiliate, I earn from qualifying purchases.


Need a new dessert for fall? Try caramel apple chip lollipops.
caramel apple chip lollipops
Not too long ago I shared with you the crazy amazing Fall issue of Bird's Party Magazine from Bird's Party. These caramel apple chip lollipops are one of the treats I contributed to the magazine.
These started with a much more complex idea. I wanted to make caramel apple pops in a nontraditional way, since I always have such trouble biting into a huge, sticky apple. But I wanted to keep a real apple in there somehow. So apple chips. And then to just add caramel and a stick. After a ridiculous amount of trial and error–with caramel apple sauce, melting caramel chips and butterscotch chips and starting all over, burning a decorating bag in the microwave, scraping hardened candy off my counters–I ended up with the easiest ever recipe. (Shaking head at myself for adding all those extra steps.)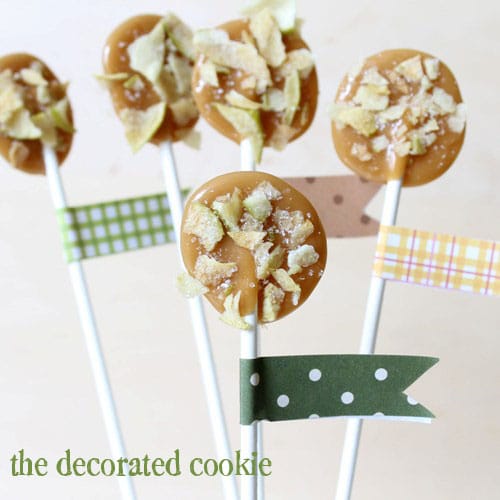 You can find the how-tos to make caramel apple chip pops HERE in the free online version of Bird's Party Magazine. or see below.
(And you can purchase a paper copy HERE.)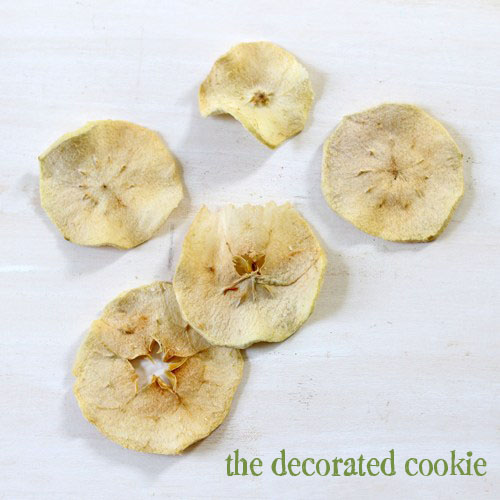 how to make caramel apple chip lollipops
You will need:
caramel hard candies
apple chips (see below)
lollipop sticks
sea salt
baking tray
aluminum foil
parchment paper
What to do:
Preheat the oven to 275 degrees F. Break apple chips with your fingers or gently with a mallet into small pieces (you'll need about one chip per lollipop). Set aside. Line a baking tray with foil, and lay a piece of parchment paper on top. Unwrap several candies and place on the baking tray, well spaced. Because candies will harden quickly, work with only three to four candies at a time. Place in the oven for 8 to 10 minutes, or just until the candies fully melt. Remove from the oven and work quickly before the candy hardens. Place a lollipop stick on the melted candy and turn to coat. Sprinkle the candies with sea salt and the apple chip pieces, gently pressing the chips into the candy. Use caution as the candy and baking tray will be hot. Let cool completely, about an hour, and remove from the tray. Best served the same day, but you may store the lollipops in a single layer in an air tight container.
Apple chips are available in the supermarket, likely in the produce department near the apples. But throughout all the aforementioned testing and scrapping, I did make a few batches of my own apple chips. I use sea salt on mine, but you can also use sugar.
how to make apple chips
you will need:

1 to 2 Granny Smith apples
sea salt
what to do:
Preheat the oven to 200 degrees F. Pare the apple(s), if desired. Slice the top and bottom of the apple(s) and discard. Slice the apple(s) with a mandolin or as thinly as possible with a sharp knife, removing any seeds. Place about 12 apple slices on a parchment paper-lined baking tray and sprinkle with sea salt. Bake for one hour, turn over slices, and continue to bake for one to two more hours until the apple slices are completely dry. Remove from the oven and let cool. Store in an air-tight container.