Disclosure: *This post may include affiliate links. As an affiliate, I earn from qualifying purchases.


HOW TO STAMP MARSHMALLOWS with food coloring pens
how to stamp marshmallows
Oh hello there. How are ya'? What's up? I found these cute-as-can-be mini stamps at a little shop in Charlottesville, VA when my daughter and I visited my husband there during his Reserves duty this summer. They are only about 1-inch square. As one who hasn't the faintest clue how to scrapbook or make my own cards, naturally, I see stamps and I think food instead.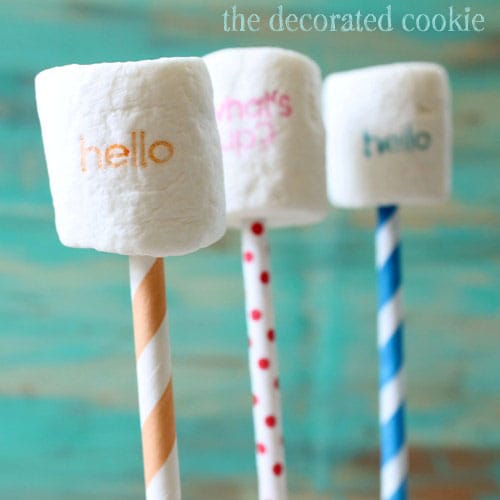 While I have lots on stamping on fondant and royal icing and cupcakes and cookies in Sugarlicious, I avoided using my technique to stamp on marshmallows. Marshmallows are funny things. They are squishy, so the stamp keeps going when you press against it, and you end up with getting more marks than just the raised design. And they are small, so you are limited by finds such as these teeny tiny stamps. And unless you stamp on the flat top or bottom of the marshmallow, they are cylindrical, so you don't get a nice flat surface. Which means there's a bit of careful manipulation involved. In short, you can use the same method I wax on about in Sugarlicious for marshmallows, it's just a tiny bit more tedious.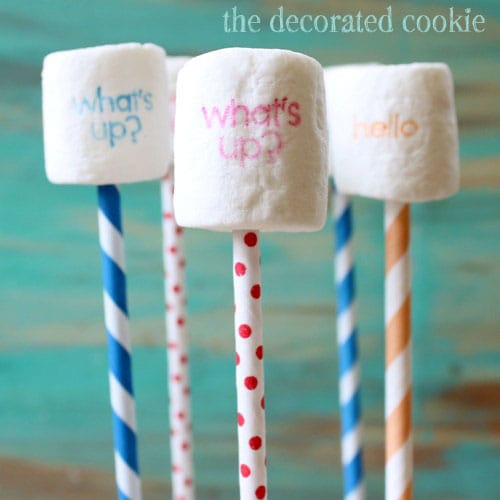 how to stamp on marshmallows
you will need:*
marshmallows

small rubber stamp

food coloring pens


lollipop sticks or straws (optional)
*It helps if the marshmallows sit out a tiny bit so they aren't super squishy, but use your judgement to save the taste! Find rubber stamps in the craft store or specialty stores. Make sure they aren't bigger than a square inch to fit comfortably on the marshmallow. For the food coloring pens, I just used the Wilton FoodWriters, found in the craft store. They have nice big, fat tips.
step one: prepare your stamp
Use the FoodWriter to draw on the raised part of the stamp. And ONLY the raised part. This is the tedious part. I just used the side of the marker, and made quick, short strokes. Because the marshmallows are squishy, any marks on the stamp background will land on the marshmallow, too, so that's why you need to be careful to only mark the raised part.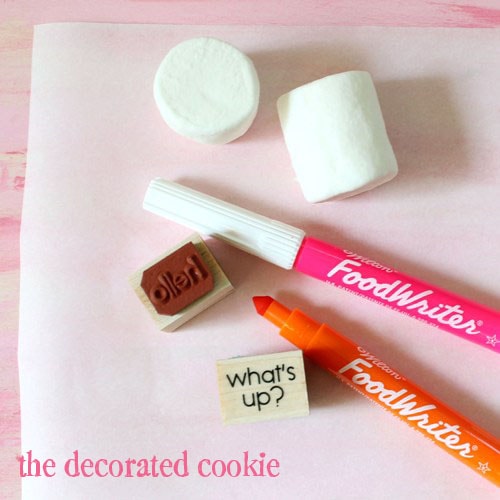 step two: stamp your marshmallow
This part is easy. Just gently press the stamp on the side of the marshmallow. I flattened the marshmallow a bit with my palm first before quickly stamping.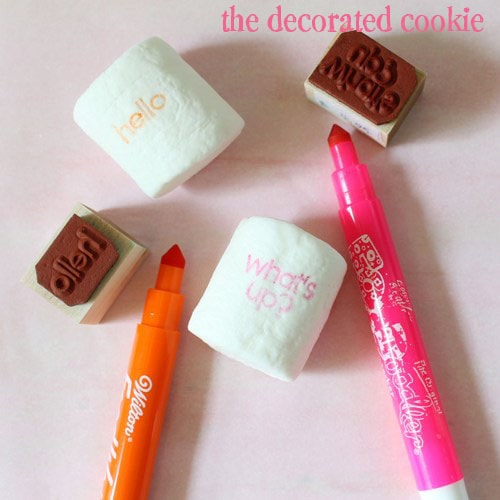 step three: add the flair
To store, place in a single layer on a piece of parchment or wax paper in a large, shallow Tupperware container and seal. If desired, add a lollipop stick or straw before serving.