Disclosure: *This post may include affiliate links. As an affiliate, I earn from qualifying purchases.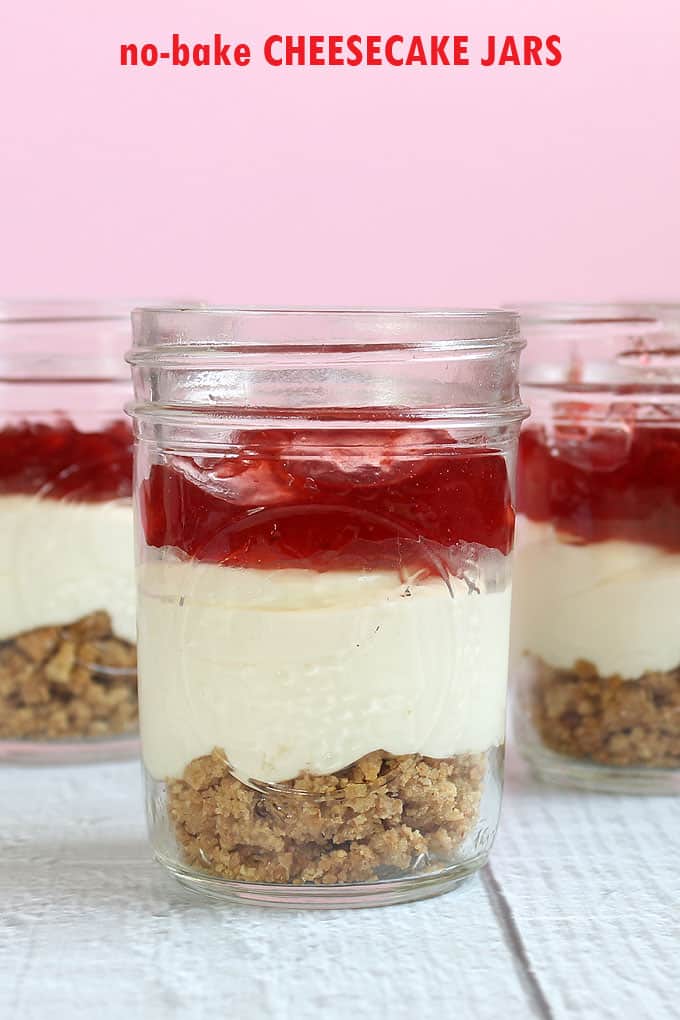 no-bake cheesecake jars
These no-bake cheesecake jars are crazy delicious! I got the recipe from my this amazing new book.
So, my friend Glory from Glorious Treats… I've long admired her genius sweets and cleverness and kindness and all around awesomeness (such a fitting name, she has). And now, she kind of has a cookbook.
A gorgeous, hardcover cookbook– Glorious Layered Desserts — filled with luscious layered desserts. Desserts like caramel brownie trifles and pumpkin mousse parfait. And here is where that genius word gets used again. She divides each dessert into components so you can mix and match and create your own layered desserts.
The second half of the book is devoted to the component recipes, such as cookie crumbles, brownies, cakes, nuts, puddings and cheesecakes, mousse and pastry cream, sauces and lemon curd and more.
Plus, she gives you lots of ideas for mixing and matching and lots of ideas for substituting with store-bought shortcuts (um, thank you for that).
Learn all about the book HERE and find her blog post on the book HERE. And, I'm GIVING AWAY A SIGNED COPY! Just scroll to the end for the GIVEAWAY. (UPDATE: GIVEAWAY ENDED)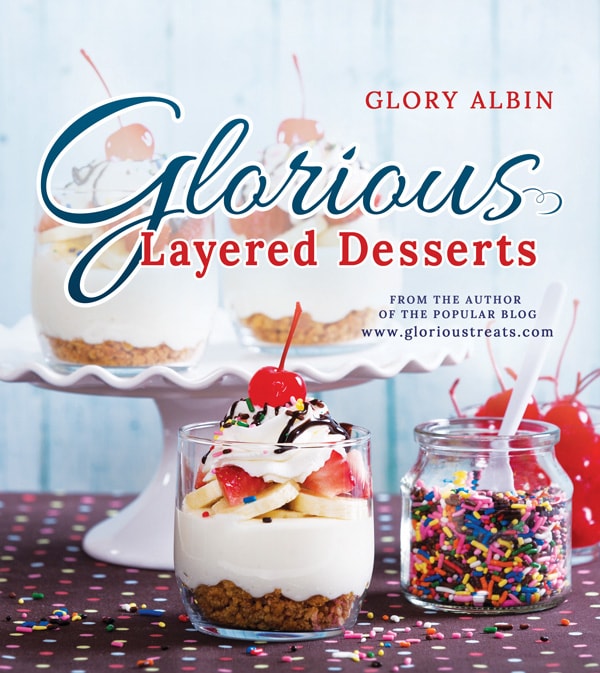 Here is a taste of what's inside the book. Photographs courtesy of the author and appear in the book.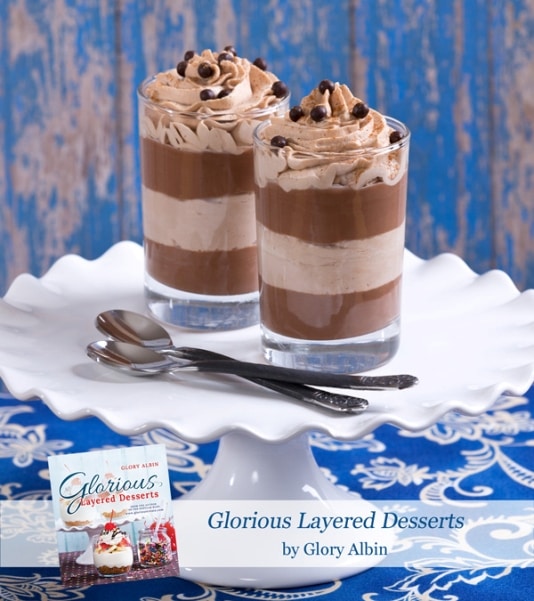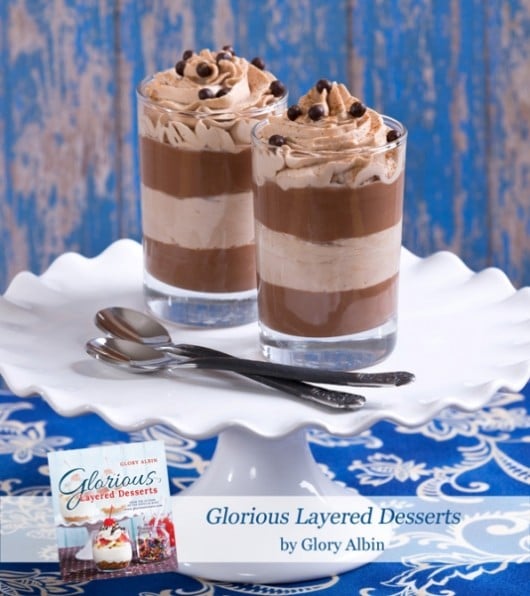 Chocolate and Nutella Cream Dessert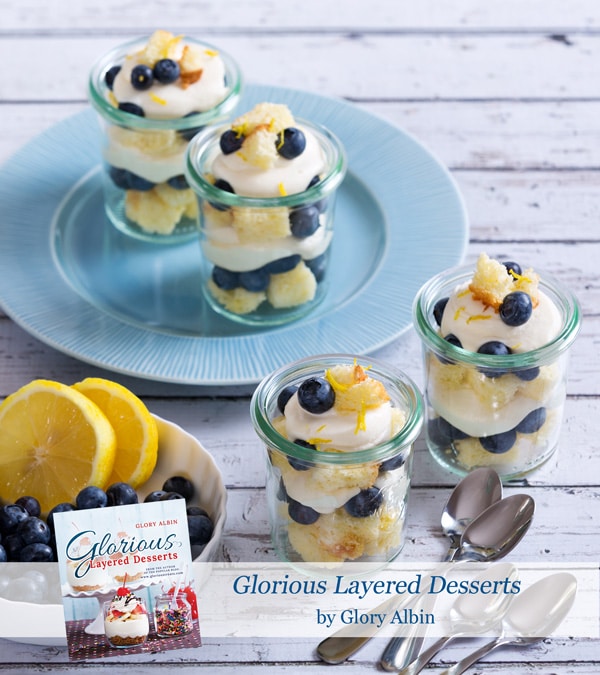 Lemon Blueberry Trifle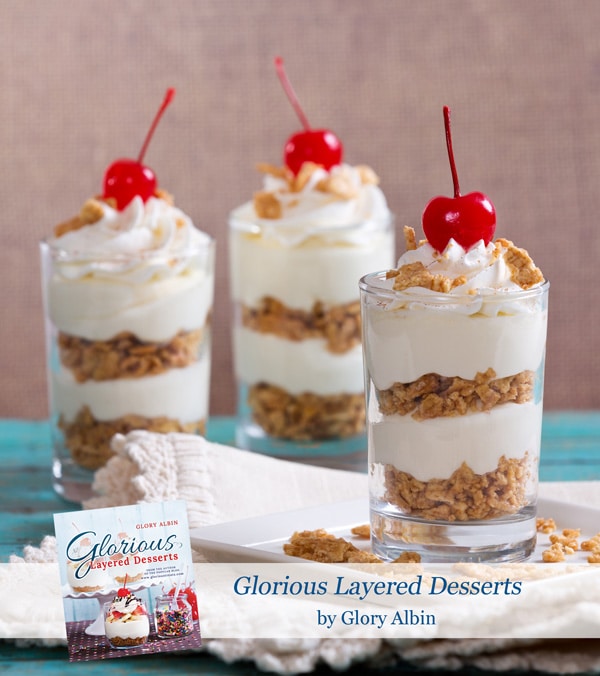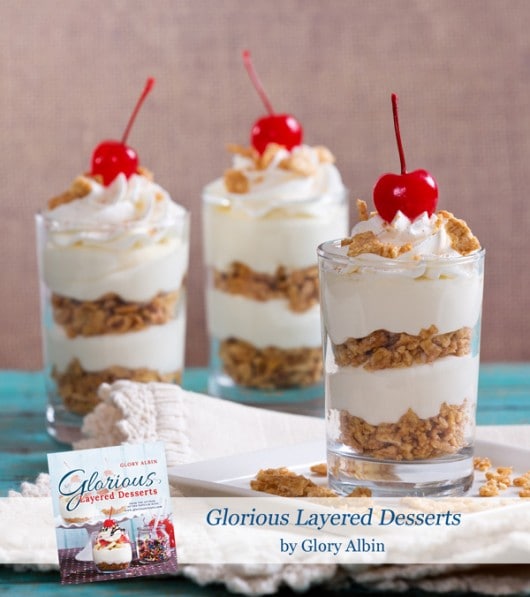 Fried Ice Cream Cheesecake
I chose to make the Creamy No-Bake Cheesecake with Blueberry Sauce (p. 46), only I took Glory's suggestion and substituted the homemade blueberry sauce with store-bought strawberry fruit pie filling.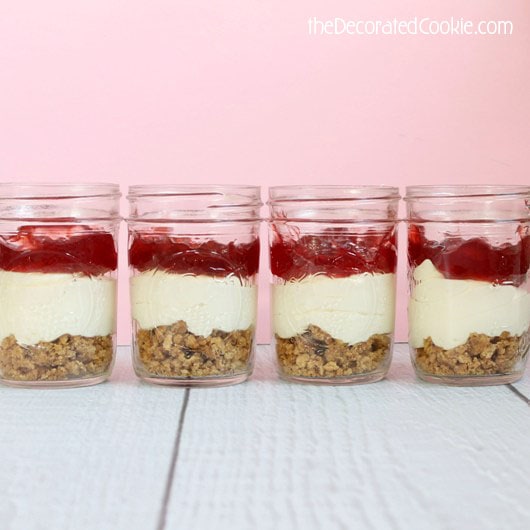 When I was a kid, my single mother of three would load us all on the shopping cart in the supermarket. My sister had the seat and my brother and I clung to the sides.
She must have had the strength of an ox to push us around with all the food to feed us for the week. If we were good (which of course, we always were), we could choose a treat from the refrigerator aisle.
I always chose this cup of cheesecake thing with graham cracker crust at the bottom and fruit on the top. And when I spotted the exact same–only homemade and way better–dessert in Glory's book, my "what to make?" decision was done and done.
These cheesecake cups are super easy to make, as evidenced by the fact that I made them while my 1 year old was grabbing my knees and my 6 year old was whining about not having the right Legos.
And they taste divine. I meant to just take a bite and I gobbled one up so fast I needed a Lactaid (too much?).
I made a few in small mason jars and the rest in clear plastic cups. I brought them to a happy hour party and they went over like… well, there's no way to finish that simile that would taste better than cheesecake.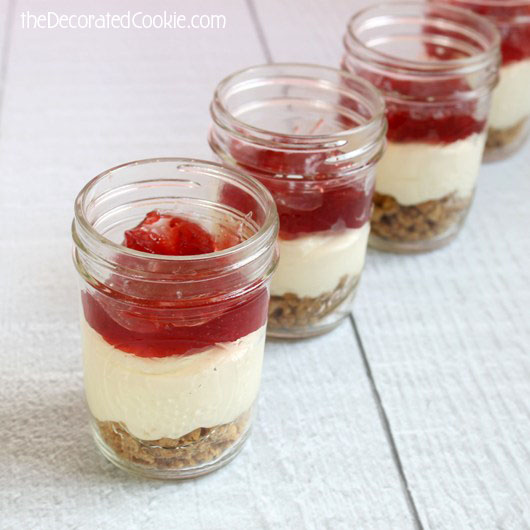 RECIPE for Cream No-Bake Cheesecake with Blueberry Sauce
from Glory Albin's Glorious Layered Desserts
1. Prepare blueberry sauce (recipe below) and cool in the refrigerator.
2. Prepare graham cracker crumble, bake, and cool (recipe below).
3. Prepare creamy no-bake cheesecake (recipe below).
4. Add a layer of graham cracker crumble to the bottom of each dish (2-3 tablespoons, depending on the size of the dish). Pour or spoon a layer of cheesecake on top of the crumble.
5. Chill cheesecake about 2 hours.
6. Add blueberry sauce just before serving or anytime after the cheesecake has fully chilled.
7. This is a great make-ahead dessert and can be made up to 1 day in advance and stored in the refrigerator. When making ahead, keep topping separate until shortly before serving. (My note: I did this, and added my topping a few hours before the event, and they tasted awesome.)
Blueberry Sauce
Makes 2 cups
1/2 cup water
2 Tblsp. fresh lemon juice
1/2 cup sugar
1 Tblsp. cornstarch
2 cups fresh or frozen fruit of choice
1. In a medium saucepan, add water and lemon juice and warm over medium heat.
2. In a small bowl, stir together the sugar and cornstarch with a whisk. Then add the sugar and starch to the warm pan of liquid and stir (with a whisk) to combine.
3. Add fruit and continue to cook, while stirring gently, until the sauce thickens.
4. Remove pan from heat and allow sauce to cool. Store the sauce (in a jar or sealed container) in the refrigerator, up to 1 week.
Graham Cracker Crumble
Makes 2 cups
1 sleeve (9 whole crackers) graham crackers, or about 1 3/4 cups graham cracker crumbs
1 Tblsp. sugar
6 Tblsp. butter
1. Preheat oven to 350º F.
2. Crush graham crackers in a large ziplock bag and then pour into a large bowl. Add sugar and stir to combine.
3. In a small bowl, melt butter in the microwave.
4. Pour melted butter over bowl of crumbs and stir until the crumbs are evenly moistened.
5. Spread crumbs onto a rimmed baking sheet and bake 8-10 minutes.
6. Allow to cool before use.
7. Crumble can be stored in a sealed container up to 1 week.
Creamy No-Bake Cheesecake
Makes 3 1/2 cups
Graham Cracker Crumble
12 oz. cream cheese (1 1/2 blocks)
1 (14-oz.) can sweetened condensed milk
1/4 cup fresh lemon juice
1 tsp. vanilla
topping of choice (optional)
1. Prepare crumble.
2. Using an electric mixer, beat the cream cheese until fully smooth. While still mixing, slowly pour in the condensed milk. Blend until well incorporated.
3. Continue mixing and add the lemon juice and vanilla.
4. Beat until all the ingredients are well combined.
5. Pour onto crumble and chill at least 3 hours. The cheesecake can be made up to 2 days in advance and kept (covered) in the refrigerator.
6. Top cheesecake with fresh fruit, fruitsauce, canned pie filling or chocolate ganache, or enjoy plain.