Disclosure: *This post may include affiliate links. As an affiliate, I earn from qualifying purchases.


This rainbow no-sew fleece scarf is the perfect birthday or holiday gift kids can make! How-to video AND printable instructions below.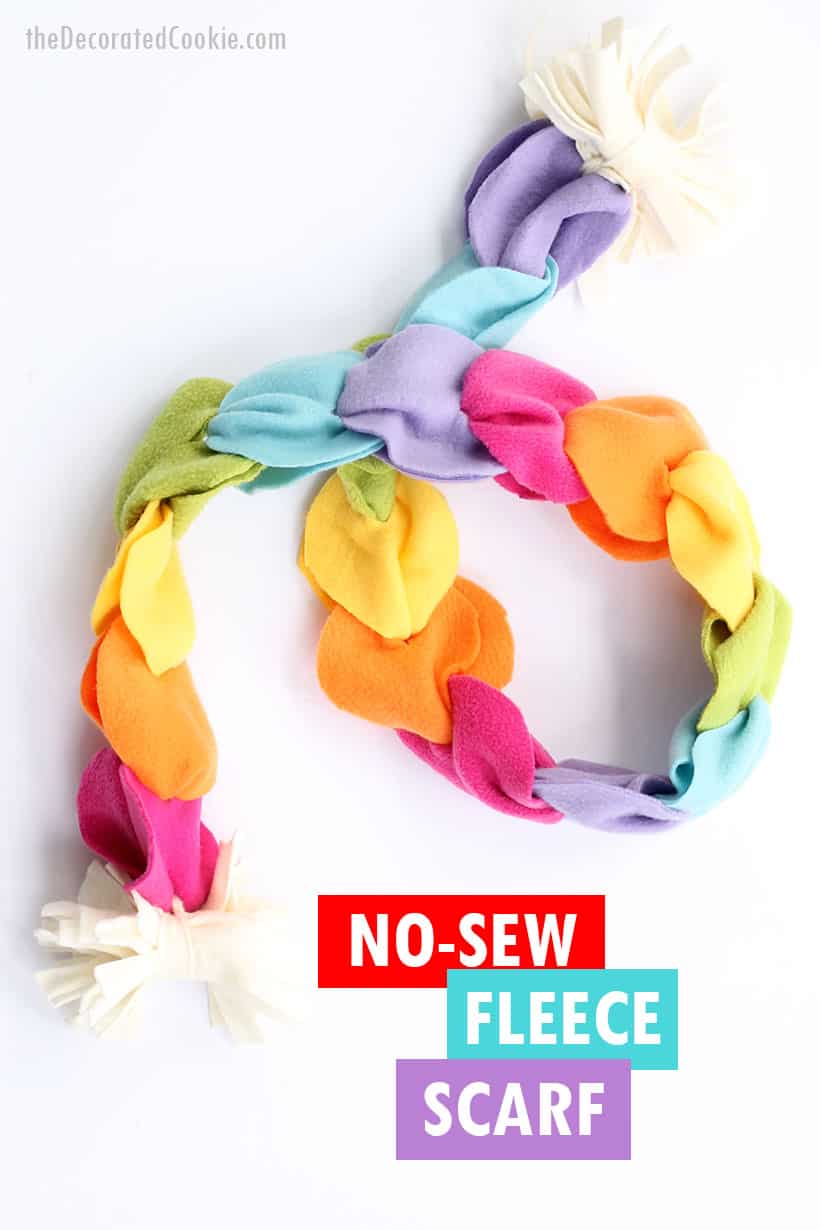 no-sew fleece scarf
If I was like Oprah and had a bunch of "Favorite Things" for holiday gift giving, this rainbow no-sew fleece scarf would be at the top.
Last year, my daughter and I made these for all the cousins, grandparents and aunts for Christmas gifts, and they were a huge hit. They are so easy to make, but they look so cool that kids and grown-ups alike will actually wear them.
(Um, no offense to 90 percent of kid hand-made wares.) For a couple of the grown-ups, instead of rainbow colors, we chose different colors, such as two shades of blue. My sister ended up using this same DIY scarf craft for her daughter's birthday party, with Valentine's Day colors instead. She pre-cut all of the circles so the girls could weave their own scarves in any pattern they like. And then the girls made pom poms to attach.
video how-tos
Here is a handy video how-to. I would have had my daughter's 9 year old hands making these, but she was at school. So pretend my hands are more youthful. Written instructions with photo how-tos are below.
where to buy fleece
We got good quality fleece from Jo-Ann's fabric. It comes in every color imaginable, is super cozy soft, and was on sale for half off. So this project overall is budget-friendly, too.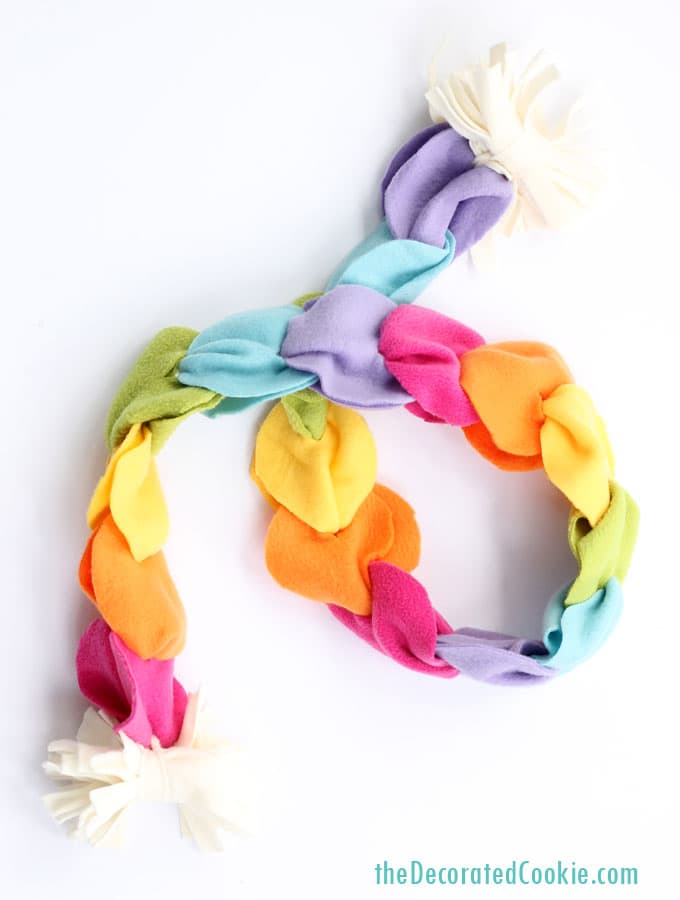 scarf details
The scarf ends up about 48 to 52 inches long, depending on where you cut the slits (the closer to the edge, the longer the scarf). You can adjust the length by adding more or fewer circles of fleece.
For toddlers, for example, you can use 12 pieces (2 of each rainbow color), for a shorter scarf. Or for grown-ups, add a few more.
And, I've also machine washed and dried the scarves, and they hold up well. The pom poms got a little more condensed, but otherwise, smooth sailing.
Here's my cutie pie modeling hers.
more crafty ideas
Need a billion jillion more awesome ideas? Be sure to follow me on Pinterest and follow me on Facebook. Seriously, I find the best stuff.
Need more fun crafts for kids? Check out this DIY horse necklace or this roundup of 30 pom pom crafts.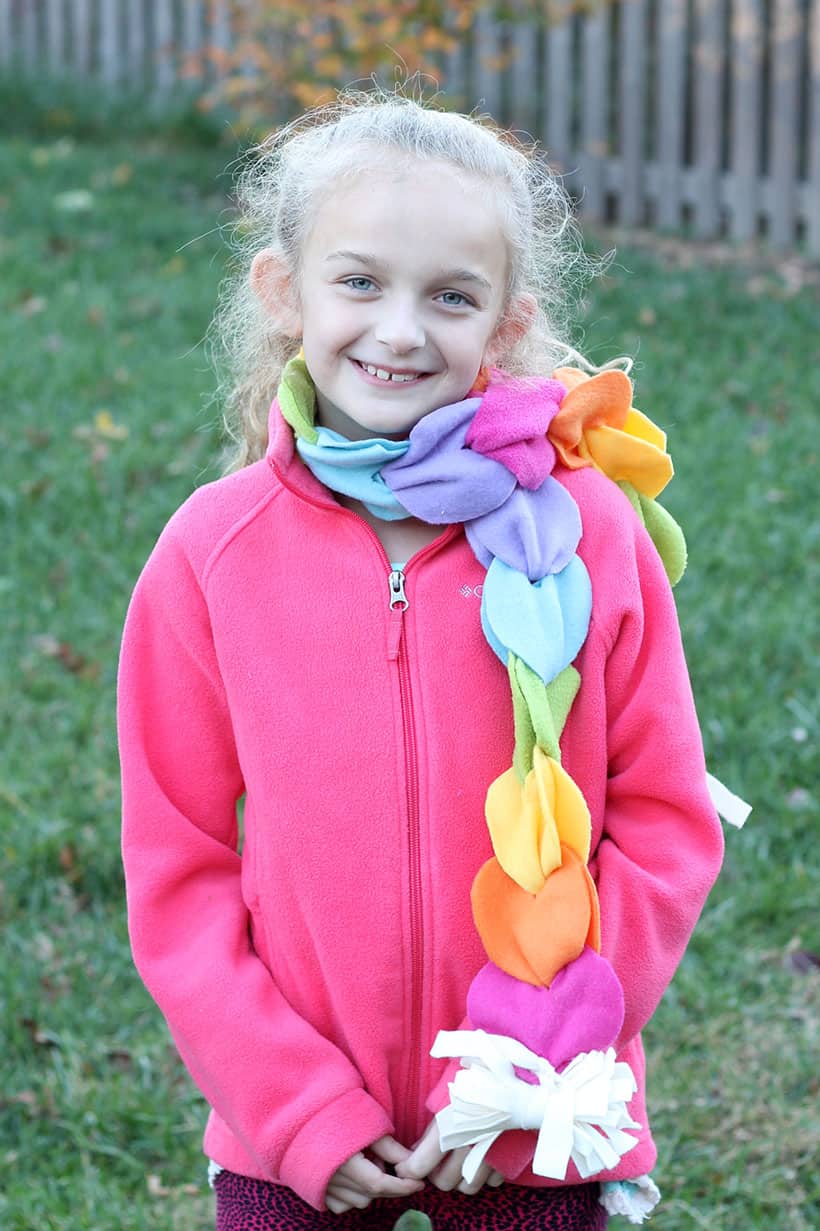 Need a printable version? Click this link: PRINT OUT THE NO-SEW RAINBOW FLEECE SCARF INSTRUCTIONS See BELOW FOR DETAILED INSTRUCTIONS.
For an ADULT VERSION with FRINGE instead of pom poms.
NO-SEW RAINBOW FLEECE SCARF
all you need:
anti-pill fleece (sold by the yard) of each rainbow color: Red or pink, orange, yellow, green, blue, purple and white*
scissors
ruler
4-inch circle template (like an oatmeal lid)
*If you're using fewer colors, don't forget to compensate with extra fleece of the same color.
HOW MUCH FLEECE DO YOU NEED??
It will depend on the width of the bolt, which can vary, the number of colors you are using (you'll have to do the math), and the length of the scarf.
For toddler scarves, you'll need: 12 fabric circles and 2 pom poms.
For kid scarves, you'll need: 18 fabric circles and 2 pom poms.
For adult scarves, you'll need: 24 to 28 fabric circles and 2 pom poms.
For each color circle, you need 4 x 8 inches of fabric, but allow 4 1/2 inches x 8 1/2 inches so you don't run short. To determine how many circles you can cut across, divide the width of the bolt by 4 1/2 inches. Each quarter yard (which is 9 inches, or, close enough to 8 1/2 inches for math's sake) will give you that many circles of that color.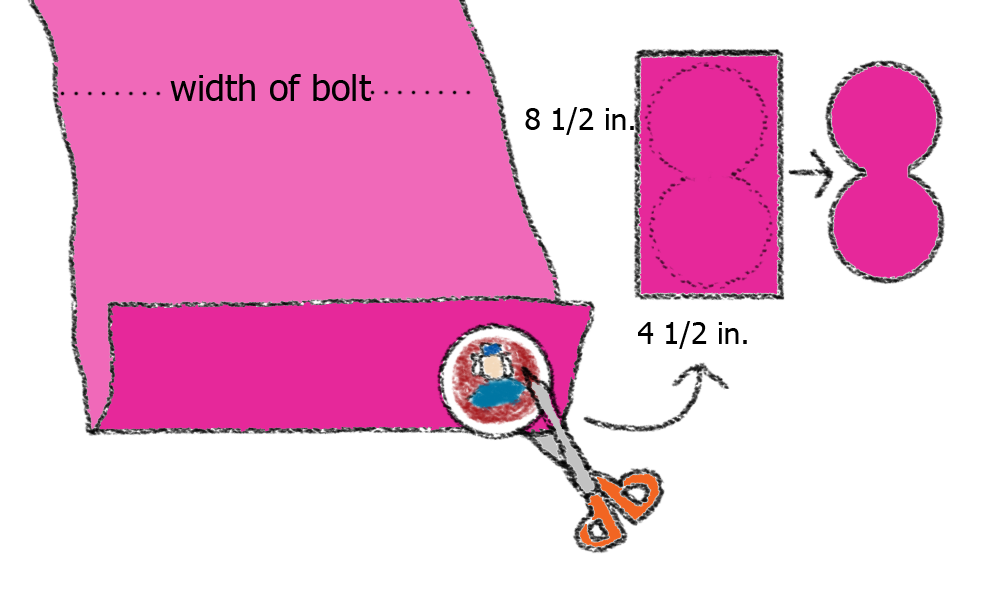 So for example, a quarter yard of one color on a 54″ bolt you can cut out 12 of that color. (If it's, say, a 46″ bolt, maybe 10 of that color.) If you do the rainbow as shown, you need three of each color, so if you buy red/pink, orange, yellow, green, blue and purple, and the bolt is 54″ wide, you can make 4 scarves. If the bolt is smaller, 3 scarves. Not including the pom poms (see below). If you're only doing a two-color scarf, for example, you would need 9 of each color, so you could do a quarter yard of each color to make one scarf.
For each pom pom, you need a white rectangle that's about 5 x 16 plus the strip to tie, so let's say 6 x 16. Each quarter yard, depending on the width again, will can only make 2 to 3 pom poms. So you will need more of the white if you're making multiple scarves.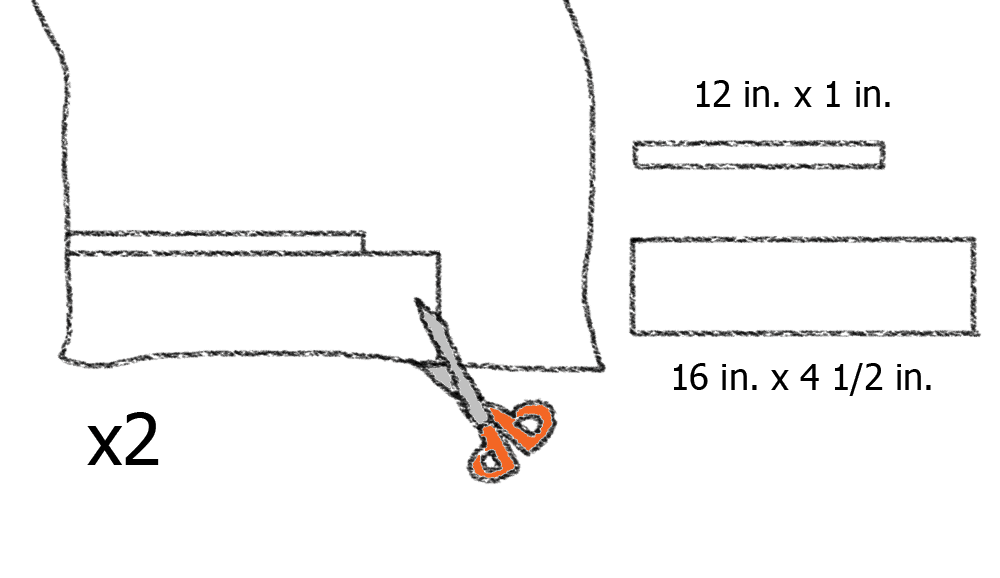 OK, let's get going!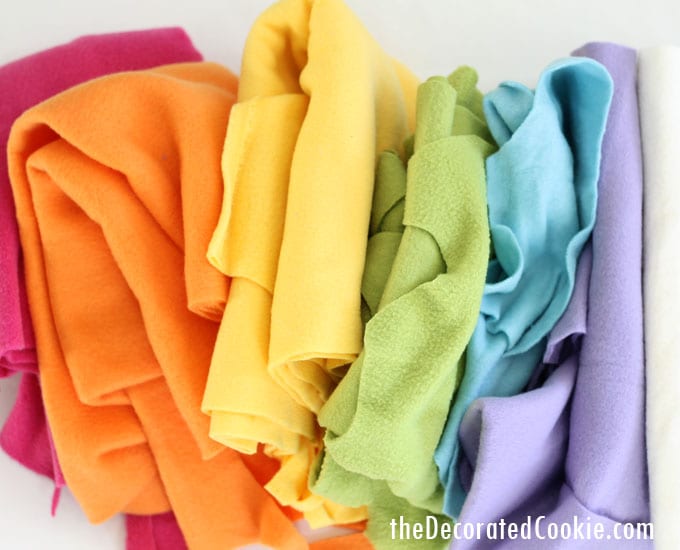 HOW TO MAKE THE SCARF:
Use a lid or other circle template that measures 4-inches across. Trace the lid on a folded piece of fleece so the circle's edge is on the fold. I used a piece of chalk for tracing. You can use a pencil or fabric pencil too.
Cut out the circle, but leave 2-inches of the fold's edge uncut. That way, when you open the fleece circles, they are attached and look a bit like a butterfly.
Cut 1/2 inch slits in each side of the "butterfly," about 1-inch in from the edges.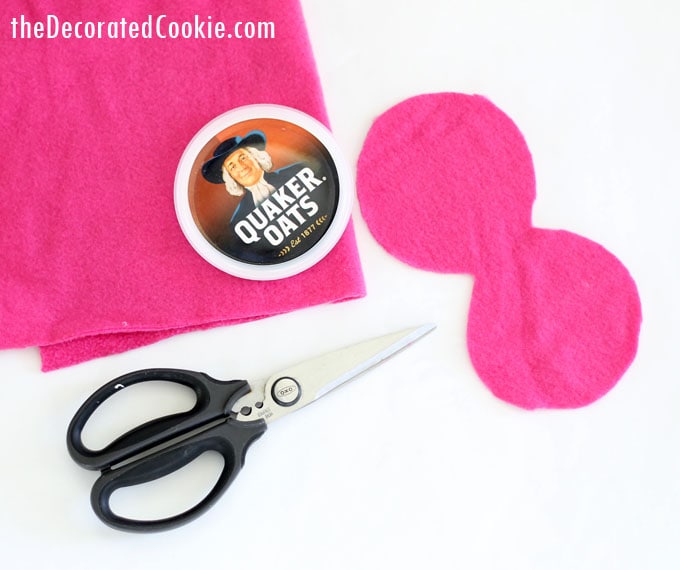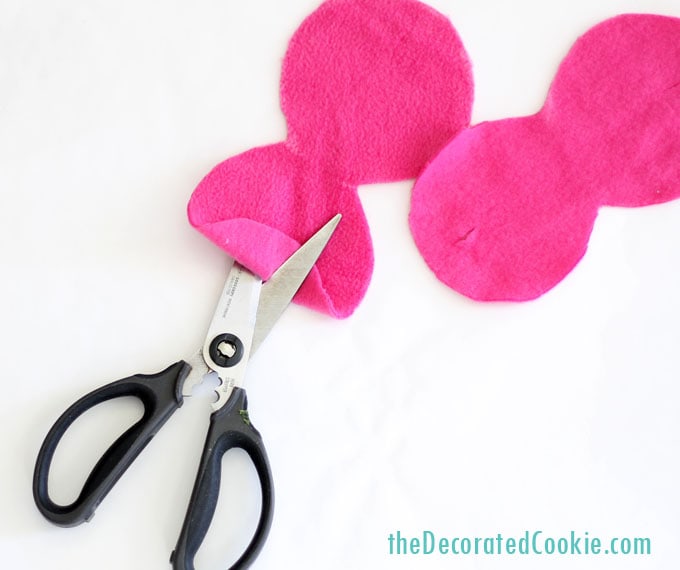 For each scarf, you'll need 18 of the circle pieces, or 3 of each rainbow color. (More for grown-up scarves, between 24 and 28, less for toddlers, about 12.)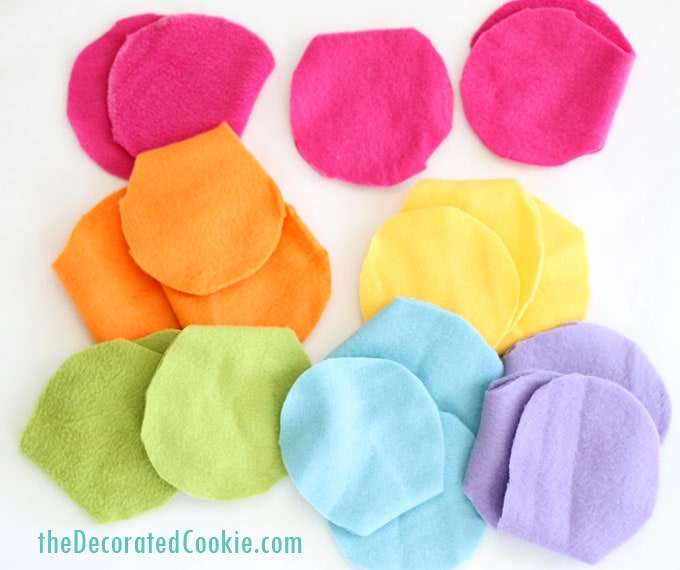 Link all the pieces together.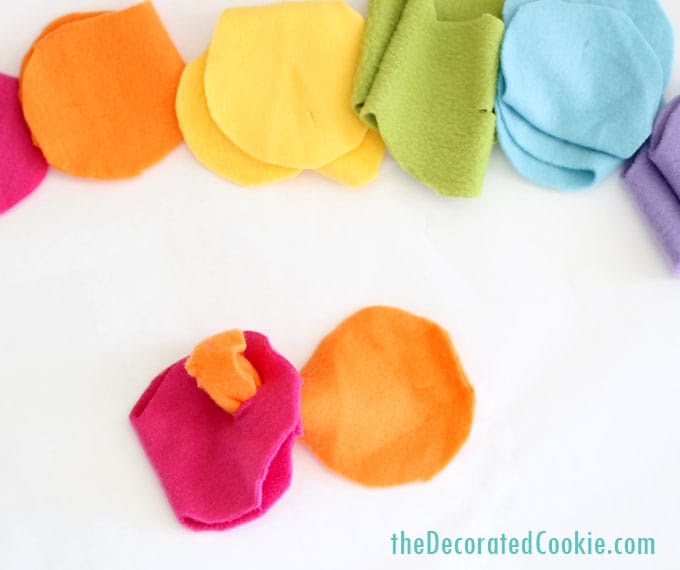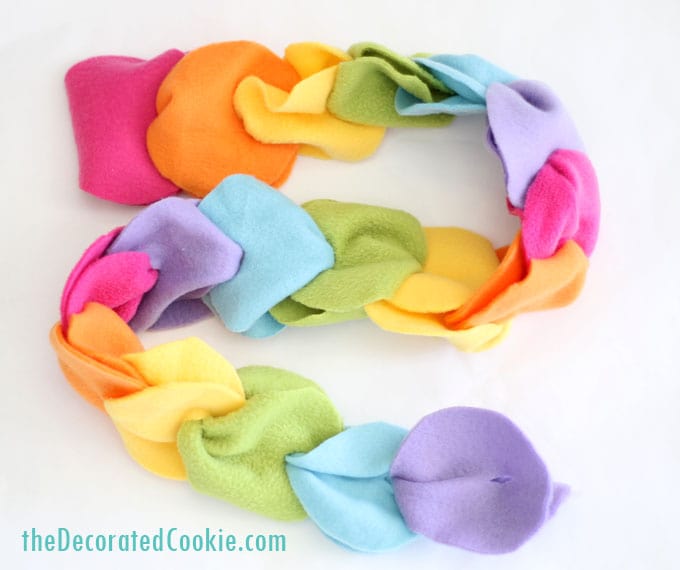 To make the pom pom, cut white fleece 4 1/2 inches across and 16 inches long. Fold the rectangle in half lengthwise, snip fringe, stopping about 3/4-inch from the fold. Snip a piece of white fleece, 12-inches by 1-inch, to make a rope. Unfold the fringed piece and roll it up. Tie the 10-inch rope around the center and knot tightly. Fluff the pom pom.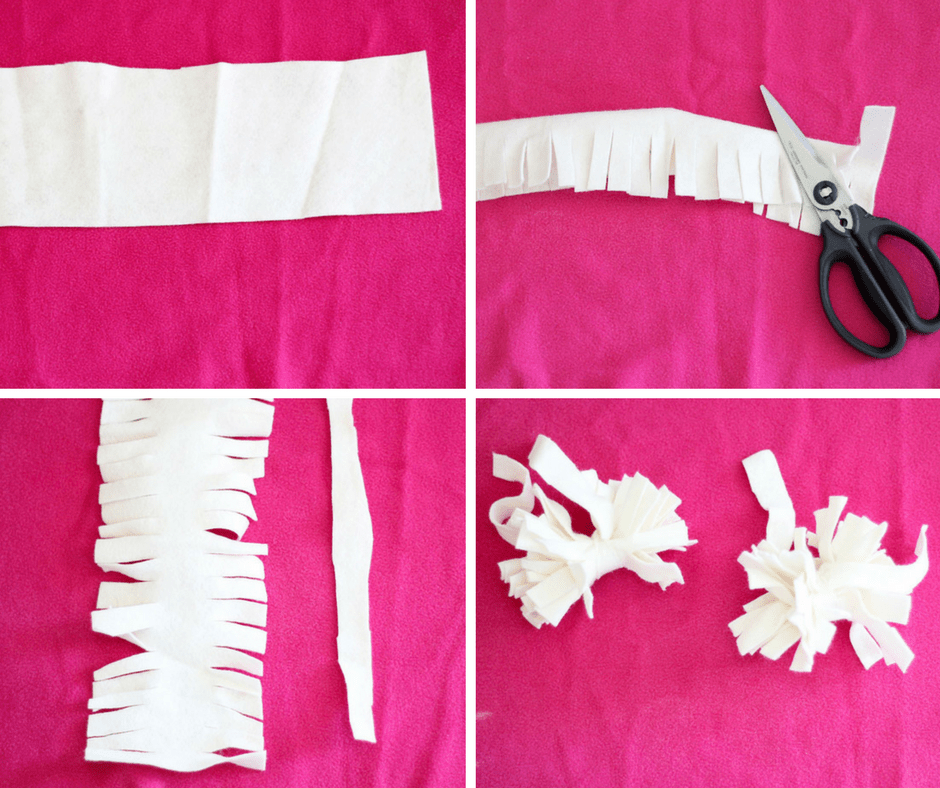 Use the rope to tie through the slits at the end of each scarf. Note you'll have to cut a new slit on one end of the scarf, the one that started the chain.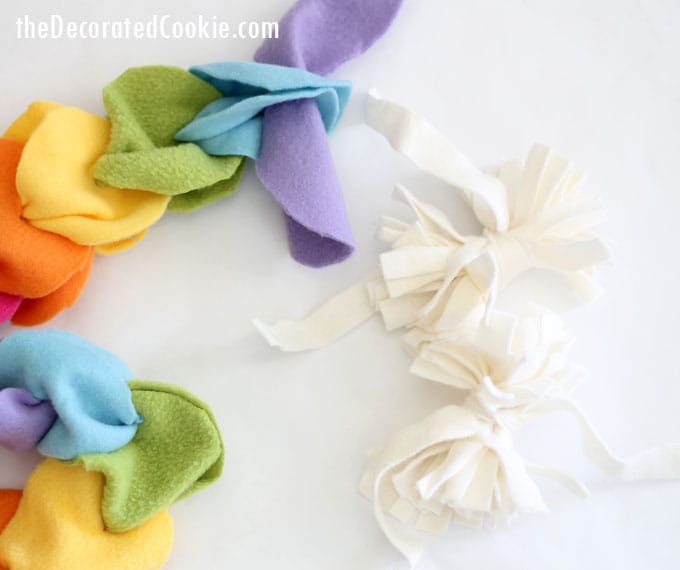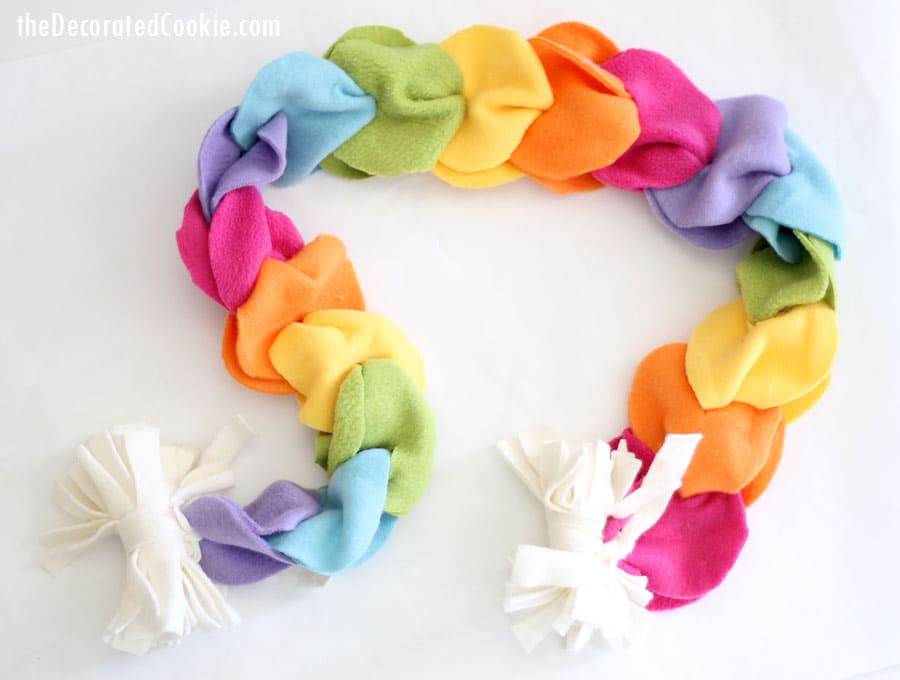 PRINTABLE VERSION: