Disclosure: *This post may include affiliate links. As an affiliate, I earn from qualifying purchases.


How to decorate bird cookies with poured sugar icing and fondant.
These bird cookies are the result of my experimenting with poured sugar icing, that is, an icing you pour rather than spread or pipe. Usually, poured sugar is used to coat petits fours, but I used it to coat cookies.
The pros of poured sugar icing: It's quick, easy, tasty and makes a smooth coat. The cons: I felt like I wasted a lot of it. Overall, I'd say poured sugar is a good way to easily coat cookies without the muss and fuss of whipping meringue, preparing frosting bags, piping…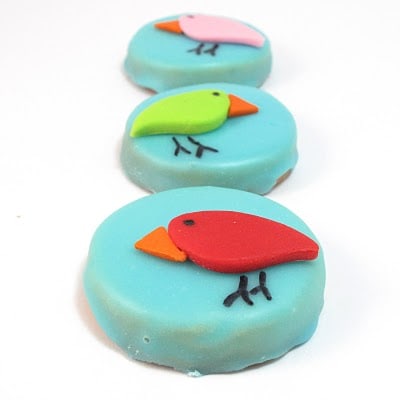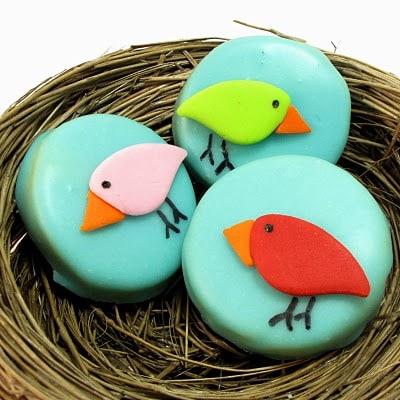 how to coat cookies with poure

d

sugar

icing:
In a bowl, blend with a whisk:
1 cup confectioner's sugar
2 tsp light corn syrup
2 tsp milk
a drop of coloring, if desired (I used Sky Blue Americolor soft gel paste)
Add more milk, 1/2 tsp at a time until desired consistency.
Your icing should be thin enough to pour, but not so thin it drains off your cookie totally.
It should have a slight thickness, but not so thick it sits on your cookie.
You can add confectioner's sugar or milk to thicken or thin, respectively. Line a baking tray with wax paper and place a wire rack on the tray.
Lay cookies on rack and use a small spoon to pour icing over each cookie, making sure the icing falls over the sides, encouraging with the back of the spoon as needed.
Like I said, you'll see a lot of waste falling from the cookie. So sad. Let the sugar dry several hours or overnight before decorating.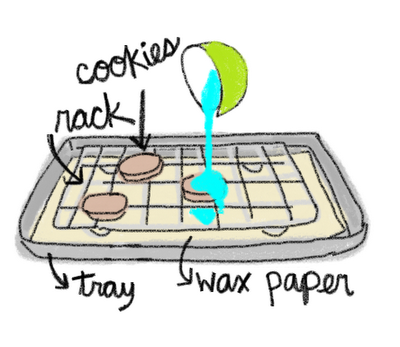 how to make birdie cookies:
you will need:
cut out cookie dough
1 1/2 inch circle fondant cutter
1 inch leaf fondant cutter
sharp knife
poured sugar icing
food coloring
white rolled fondant
black edible marker
light corn syrup
*Find fondant in the baking aisle of the craft store. Find the cutters there, too. The leaf will likely be the smallest in a set of cutters (you can also make these cookies with the larger cutters). For coloring, I used Americolor soft gel pastes (Sky Blue for the background, Red, Orange, Electric Pink and Electric Green for the birds) and a black Americolor Gourmet Writer. Find tips on finding cookie decorating supplies HERE.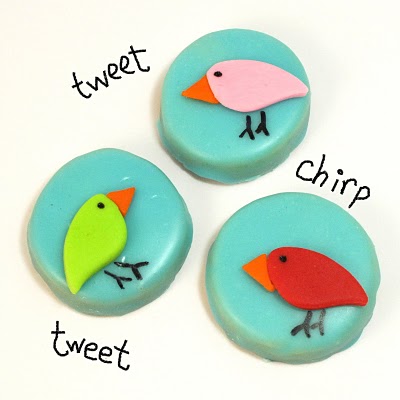 step one: prepare your cookies

Bake cookies as directed by recipe using the circle cutter (or any desired shape). Let cool completely. Add a drop of coloring, if desired, to the poured sugar icing and use to coat cookies (see above).
step two: prepare your fondant
Take about an egg size chunk of fondant (or less, depending on how many cookies you have) and tint a piece for each color you need by adding drops of food coloring and kneading very well. Start with one drop and add more as desired. If fondant gets too sticky from overhandling, simply let sit uncovered at room temperature for about 15 minutes until easily pliable.
step three: prepare your birdie pieces
Roll out fondant between two pieces of wax paper or on a surface dusted with confectioner's sugar. For each bird, cut out a leaf shape in desired color. With a sharp knife, cut out a small triangle for a beak (I used orange for all the beaks, though I think yellow might look better. I just happened to already have orange fondant.)
step four: assemble your cookies
Dab corn syrup on the back of the birdie pieces to adhere to the cookie (you might want to arrange the beak and birdie shape first to see where they will go). With the marker, draw a dot for an eye and two upside down "Y"s for legs.