Disclosure: *This post may include affiliate links. As an affiliate, I earn from qualifying purchases.


These pretzel cookies (that is, cookies decorated to look like pretzels) are a super-cute snack to serve at any party.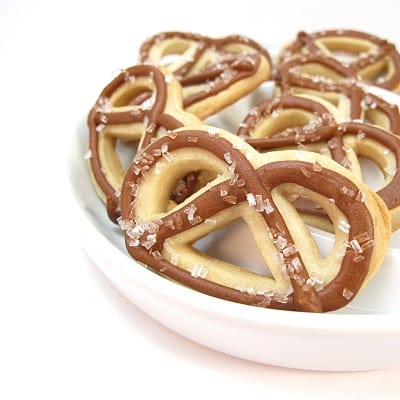 pretzel cookies
I tend to put question marks after things I don't understand. Like football events. My only real connection to the Super Bowl is via my football-watching husband or via cookies (historically, I've always known what teams are playing based on hundreds of helmet, player and cheerleader cookie orders at the cookie shop where I worked). But I do know snacks are served at Super Bowl parties, so here is part one of my two part snacks series: pretzels. Only, pretzel cookies. Sweet stuff, folks. Heck, have a whole pretzel-themed party and make one of my favorite foods ever (no, not cookies), hot pretzels. Or soft pretzels, depending on where you're from. Like these homemade German pretzels.
Need more ideas? Check out these "popcorn" cookies. Or, make this Oreo football team.
how to make pretzel cookies
you will need:*
cut out cookie dough
royal icing
mini pretzel cutter (actually a linzer cutter)
food coloring (brown)
white sprinkles
disposable frosting bag
coupler
decorating tip (size "5")
rubber band
*Find sprinkles, bags, couplers, and tips at any craft store. Use a chunkier sprinkle, I used Wilton's White "sparkling sugar." You can find concentrated paste food coloring at the craft store, though I use Americolor soft gel pastes food coloring, Chocolate Brown (click on link for tips on where to buy). Find the mini pretzel cookie cutter here. It's a linzer cookie cutter, but it worked great for rolled dough. For tips on finding cookie decorating supplies, click here.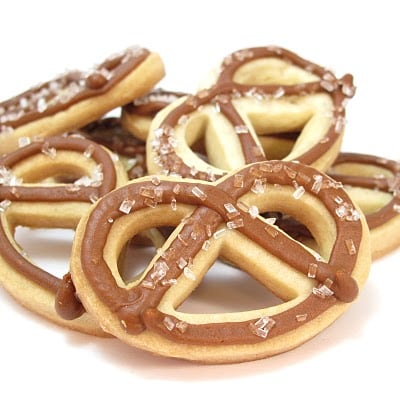 step one: bake your pretzel cookies
Prepare dough and chill according to recipe. Roll out about 1/4-inch thick. Use the linzer cutter to cut out pretzel shapes. Bake according to recipe and let cool.
step two: prepare your frosting
Prepare frosting according to recipe and mix about a cup (depending on how many cookies you make) of it brown. Prepare a frosting bag with size "5" tip, fill with brown frosting and tie closed with a rubber band.
step three: decorate the pretzels
Pipe frosting on the pretzel with the brown frosting fitted with a "5" tip. No drawing necessary! Just fill the shape of the cookie. Immediately sprinkle with white sprinkles. (Work with one cookie at a time so the sprinkles stick to the wet frosting.)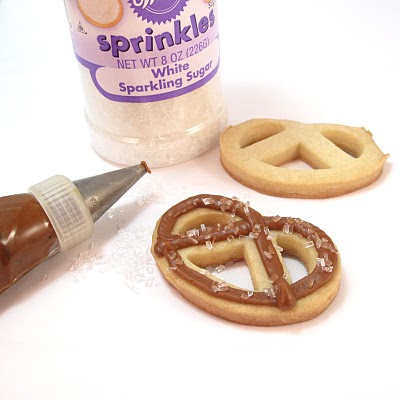 PIN FOR LATER: