Disclosure: *This post may include affiliate links. As an affiliate, I earn from qualifying purchases.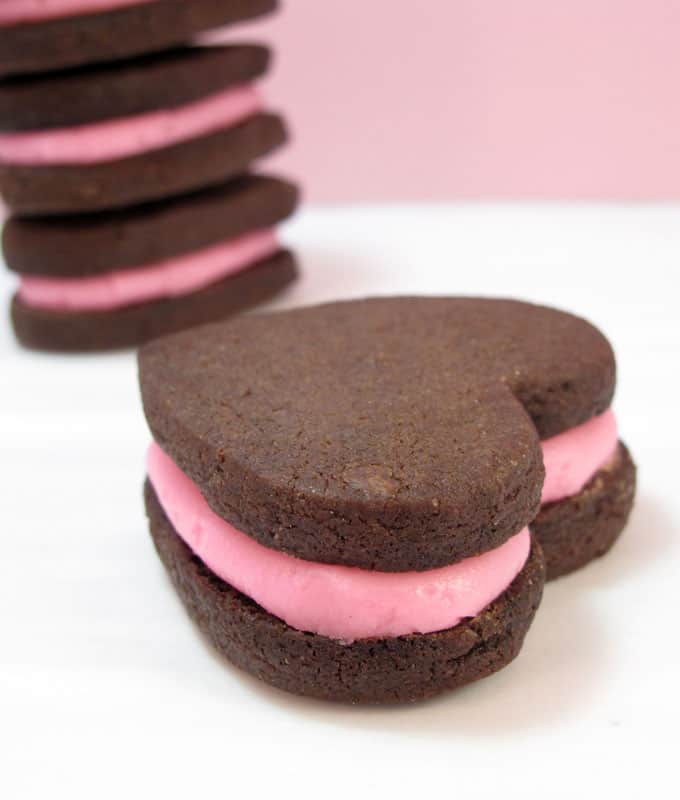 These pink-filled chocolate heart sandwich cookies are a lovey dovey version of my colorful sandwich cookies (found HERE). Say I love you with cookies this Valentine's Day, also known as, the best way.
how to make chocolate heart sandwich cookies
you will need:*
chocolate rolled cookie dough (click link and scroll to end)
frosting (or your favorite buttercream, or store-bought)
pink frosting color
small heart cookie cutter
frosting bag
coupler
large round tip (size 10)
rubber band
*Find most of the supplies at the craft store (though I use Americolor soft gel pastes food coloring, a tad harder to find. Click the link for info on where to buy). The heart cutter I used was small, about 2 inches, but you can use any size you like.
step one: bake your cookies
Roll out chilled chocolate cookie dough (see recipe link above) and cut out an even number of hearts. Bake on a parchment paper-lined baking tray according to recipe and let cool completely.
TIP: Each time I had to roll out some dough, I cut out an even number of circles. That way, I could just pair up top and bottoms that were exactly the same thickness.
step two: prepare your frosting
Tint homemade or store-bought frosting pink. Prepare a frosting bag with size "10" tip, fill with frosting and tie closed tightly with a rubber band.
step three: assemble your sandwiches
Pair up all of your cookies on the tray so each pair is of similar thickness (in case of any oven spreading).
Turn one cookie from each pair over and pipe frosting to cover the entire backside of the cookie. I started with piping a heart around the outer edge and piped back and forth to fill.
Top with the other cookie, making sure the back of the cookie sits on the frosting. Hence, the bottoms of the cookies are on the inside. Let dry overnight if packaging.