Disclosure: *This post may include affiliate links. As an affiliate, I earn from qualifying purchases.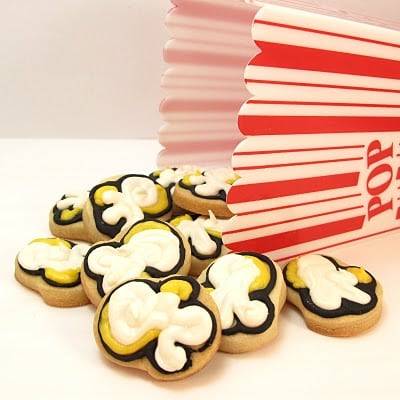 popcorn cookies
As promised, part two of my "snacks for the Super Bowl" series. (Can it be called a "series" with only two?) Last time, we had pretzel cookies. This time: popcorn cookies. But just like those pretzels, these are sweet versions.
how to make "popcorn" cookies
you will need:*
cut out cookie dough
royal icing
mini circle cutter
frosting colors (black, white, yellow)
3 frosting bags
3 couplers
3 decorating tips (2 of size "3", 1 of size "4")
3 rubber bands
*Find the above at any craft store in the baking aisle. I used a 1 1/4-inch circle, but you can use any in the 1 to 2 inch size. You can find concentrated paste coloring in the craft store, but I use Americolor soft gel pastes food coloring (harder to find, but click the link for tips on where to buy, also available at amazon.com. Here, I used Super Black, Egg Yellow and Bright White). For tips on finding cookie decorating supplies, click here.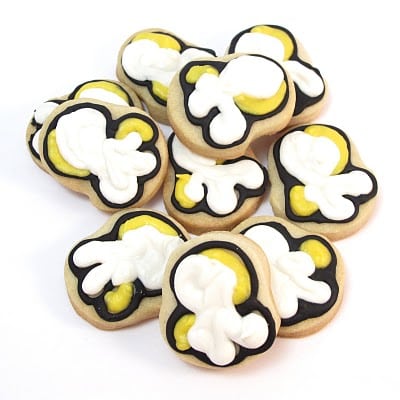 step one: bake your cookies
Make and chill cookie dough according to recipe. Roll out and cut out circles. Pinch the sides of the circle (towards the top, not right in the center) and flatten back in shape with fingers if needed. Bake on a parchment paper-lined tray as directed by recipe and let cool.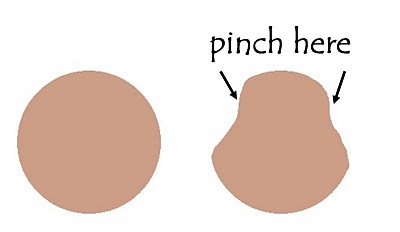 step two: prepare your frosting
Prepare frosting according to recipe and make three colors: black, white and light yellow. Prepare three frosting bags and fill with each color, using "3" tips for the black and yellow and a "4" tip for the white. Tie closed tightly with a rubber band.
step three: decorate your cookies
Outline shape with black frosting. Let set about 15 minutes (or by the time you outline all of the cookies). Pipe highlights with the yellow and let set. Fill the rest of the popcorn by piping with the white frosting. Let dry overnight at room temperature before packaging or handling.