Disclosure: *This post may include affiliate links. As an affiliate, I earn from qualifying purchases.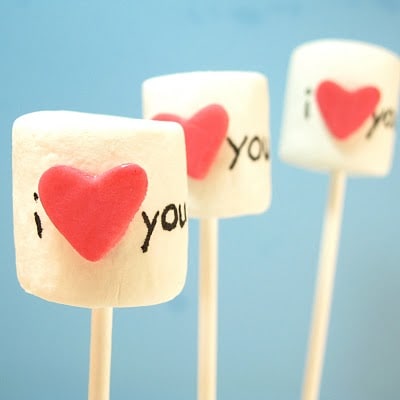 Here's another simple idea for Valentine's Day marshmallows: Make Valentine's Day marshmallow pops.
(I did have one of my readers express frustration at too many marshmallow ideas–understandable, as this is a cookie decorating blog–but perhaps my 2-year old's creations at the bottom of this post can sway non-believers to accept the marshmallow.)
how to make i heart you marshmallows
you will need:
marshmallows
white rolled fondant
mini heart fondant cutter
pink or red food coloring
black edible pen
light corn syrup
rolling pin
wax paper
lollipop sticks
*Find the above (except marshmallows and corn syrup, in your supermarket) in the baking aisle of your craft store. I used a mini heart about 1/2″ wide. Find coloring and pens at the craft store, too, though I prefer the slightly harder to find Americolor soft gel paste food coloring and Americolor gourmet writers. Click the links for tips on where to buy.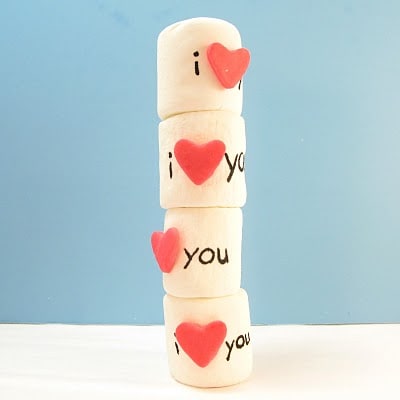 step one: make your fondant hearts
Take a palm-full of fondant and thoroughly knead in a few drops of red or pink food coloring. Add drop by drop until desired color is achieved.
If fondant becomes too sticky or difficult at any time, just let sit uncovered at room temperature for about 15 minutes or until easily pliable again.
Roll fondant between two pieces of wax paper (roll thinly, about 1/8″, mine are a little too thick). Cut out mini hearts and set aside on wax paper to stiffen about an hour.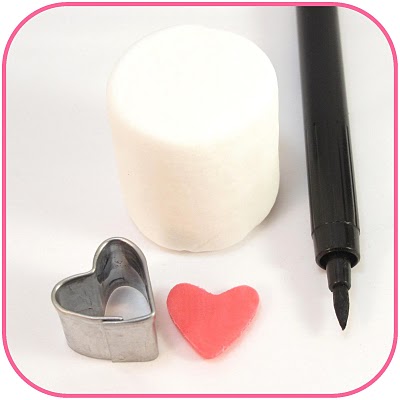 step two: attach your hearts
Dip your finger in corn syrup and dab on back of heart. Lay marshmallow on side and stick heart to marshmallow.
step three: write your message
Write "i" and "you" around the heart. Let marshmallow dry on its side until the heart is secure. If desired, insert lollipop stick.

marshmallow art by a two-year old creative genius: