Disclosure: *This post may include affiliate links. As an affiliate, I earn from qualifying purchases.


stars and stripes cookies
These bite size stars and stripes cookies are super simple to make using store-bought candy and sprinkles. Though cutting up the licorice was a bit time consuming, so I probably would've been better making larger cookies (as in, fewer cookies to decorate and more bang for the buck). Alas, oh well.
These stars and stripes cookies are a perfect treat for Memorial Day or the 4th of July.
A quick word about decorating:
For the stars cookies, I only let the icing set about ten minutes before adding sprinkles so they would stick.
However, for the stripes, I let the icing set well, several hours, before adding stripes. Just a warning so you can plan your time!
4th of July dessert ideas
Need more ideas for the 4th? Try this American flag s'mores dip or these flag pretzels. I also love these easy red, white, and blue marshmallow kabobs.
how to make stars and stripes cookies
you will need:
cut out cookie dough AND royal icing
circle cookie cutter
frosting color (blue and white)
disposable frosting bags
2 couplers
2 size "3" decorating tips
rubber bands
pearl sprinkles
red licorice lace
scissors
light corn syrup
*You can use any size circle; mine was about 1 1/2 inches. Find most of the supplies in the craft store, though for coloring, I choose Americolor soft gel pastes (Royal Blue and Bright White here). I used the Wilton Pearlized Sprinkles from the craft store. If you can't find licorice lace, the Twizzlers Pull and Peel are widely available.
For tips on finding cookie decorating supplies, click here.
step one: bake your cookies
Bake circle cookies according to recipe. Let cool.
step two: flood your cookies
Prepare white and blue frosting. Prepare two frosting bags with couplers and size "3" tips. Fill one with half of the white frosting and one with half the blue frosting. Tie closed with a rubber band.
Cover reserved frosting.
Pipe outlines on the circles (white for the stripes cookies and blue for the stars). Let set about 20 minutes.
Thin reserved frosting with water, a few drops at a time, until the consistency of thick glue. Don't make it so thin it's runny, it should be a bit viscous.
With a small spoon, a squeeze bottle or an empty frosting bag with 1/8 inch snipped from the corner, spoon or loosely pipe frosting in the center of the cookie. Let frosting spread to piped border, encouraging as needed with the back of a spoon or a butter knife.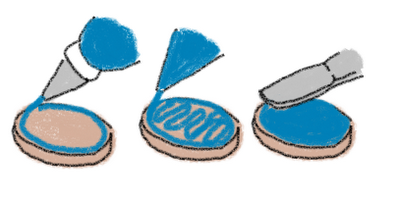 step three: decorate your cookies.
For the stars cookies, let the flooded icing set for about ten minutes. Then drop pearl sprinkles spaced on top of the cookies.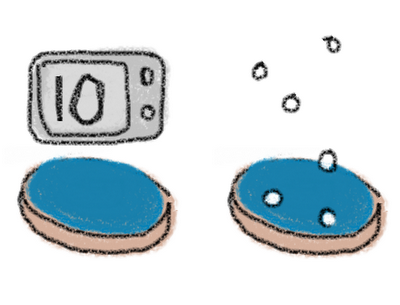 For the stripes cookies, let set well, several hours, before decorating. Cut licorice lace strips to use as stripes and adhere to cookie with light corn syrup (run along side with finger).
To speed the cutting, you can line up a few rows of licorice on the counter and use the circle cookie cutter to cut pieces.