Disclosure: *This post may include affiliate links. As an affiliate, I earn from qualifying purchases.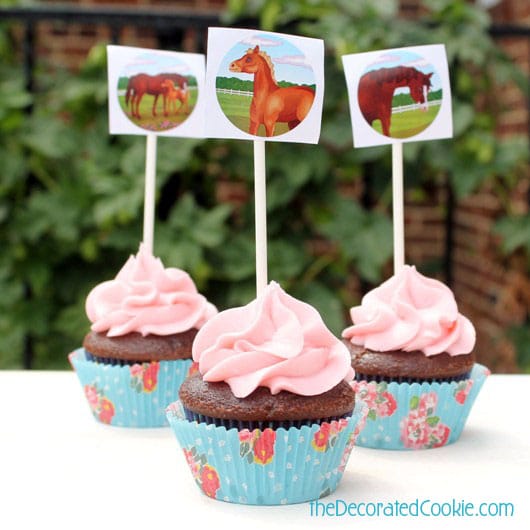 easy horse party
How to make easy horse cupcake toppers with stickers and more tips on how to throw a horse party for a horse lover birthday kid.
This post is about how I throw parties. I think I may have it in me, both the desire and a fraction of the know-how (given my incessant online presence) to throw the perfect pinterest party.
You know, the kind where you wince when the kids actually enter because they will mess up the picture-perfect scene. The kind you see on blogs that flood the internet with clever party ideas.
But I'm a terrible photographer, so I wouldn't be able to immortalize the hard work anyway. And I'm a stressball. I couldn't take on so much perfect perfectness without crumpling on the ground in a mess of anxiety. Oh, I'll keep on pinning those ideas, I just probably won't ever actually use them.
That's why I got married in Vegas. I couldn't handle a year of mining the internet for the best ideas, then trying my darnedest to execute all of them, and becoming overwhelmed by mason jar candles, DIY favors and button bouquets and sparklers spelling stuff and wow. Those of you who can pull that off, bravo.
I'm crazy impressed by you. I admire you when I come to your parties. I just don't have your wherewithal or emotional strength.
So instead, I tend to go a little more old school. You know what I mean, fellow-kids-born in the '70s. The parties where there are one or two cool things, like make your own party hats.
Maybe some balloons. I'll definitely have SOME kind of cool treat, because that's what I do. Bowling. Pizza place. That kind of thing. Doesn't take months to plan. So if you're like me, here is what I did for my kid's horse party.
birthday cupcakes with horse cupcake toppers
For the cupcakes,
I just whipped up a batch of chocolate and a batch of yellow, popped them in some rose cupcake liners (I found those shown in the dollar bin at Michaels), made my buttercream frosting, tinted it pink with Americolor Soft Gel Paste (Electric Pink), fitted a disposable decorating bag with a size 1M tip, and piped the frosting in a circle on top.
Because of travel time to the party and the hot sun, I put the cupcakes in the fridge overnight. Right before serving, I inserted the cupcake toppers.
To make cupcake toppers,
I just cut up this roll of horse stickers and taped each one to a 6-inch lollipop stick. Then, the kids could peel off and keep the stickers.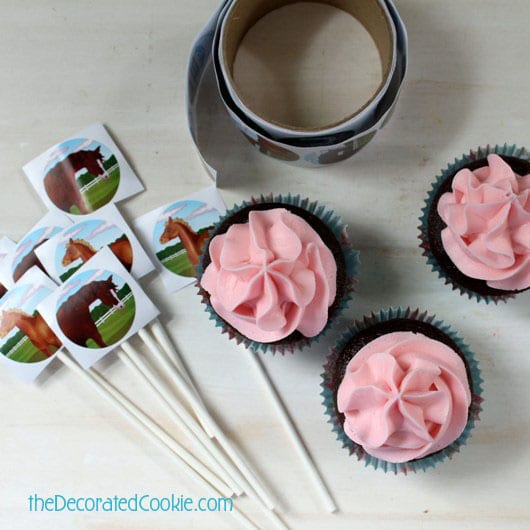 how to host a horse riding party
My now-six year old loves horses. Her aunt owns and rides horses, so we are well aware of how expensive and dangerous this pursuit can be. But this is the first time she expressed passion for an activity and exhibited an actual sticktoitiveness to something.
And riding horses is hard work. It will teach her to respect and love and care for animals. It will let her get her hands dirty without complaint. It will give her a community.
So I'm absolutely, positively supporting this passion as best as I can. Except for the part where we turn our backyard (in the heart of Washington DC) into a horse stable. That's her idea.
We hosted her party at the Potomac Horse Center in Maryland. I'm pretty sure this will be our yearly tradition. It's surprisingly affordable (at least for my neck of the woods). They have a party room with a fridge and AC and a bathroom! I mean, seriously, how awesome is that!?
They take the kids on a stable tour to meet the universe's oldest horse (he's 32), a hay ride, a search for candy in the hay stall, and then, the best part, for rides on the horses. Then back to the party room for snacks and cake and done and done. Maeve invited her five cousins (all girls, from age 4 to 8) and just a couple of girlfriends.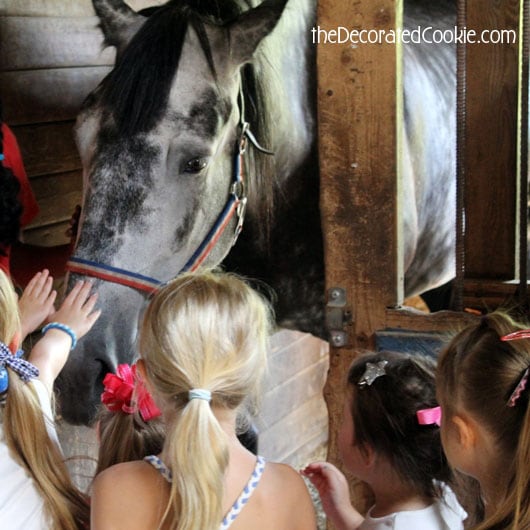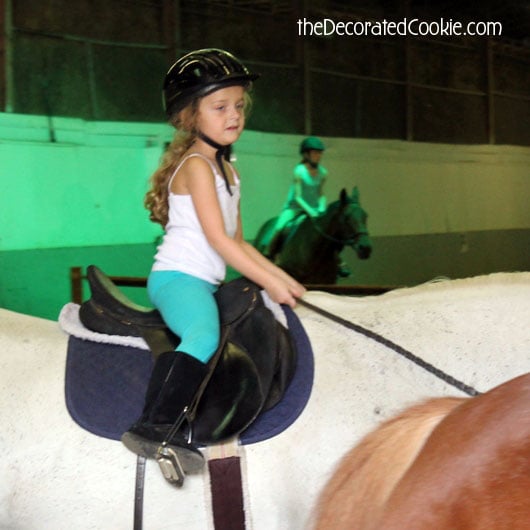 Yeah, that's my kid blowing out candles in frosting-free cupcakes. Could she be the only kid in the world who doesn't like frosting? She's rocking that bandana, though, right?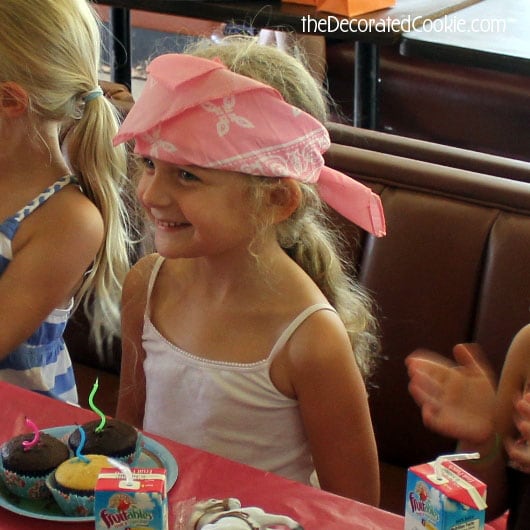 party supplies, food and favors
Diningware: Paper horse plates with matching napkins. They match! Fancy.
Beverages: Juice boxes and water bottles.
Food: Popcorn, pretzels, Goldfish, raw veggies and hummus, cheese and crackers and grapes. Oh, and the cupcakes.
Decor: I kind of skimped on this part. Aside from a couple bandana-print plastic tablecloths and a happy birthday banner from last year, the scene itself was the decor. And I wrote "Maeve's Party" in marker on the back of a piece of paper to tape to the fence post.
Favors: I wrapped toy horses, slap bracelets and horse bubbles in a pink bandana.