Disclosure: *This post may include affiliate links. As an affiliate, I earn from qualifying purchases.


These swirly fondant lollipops are sweet Christmas treats or decor.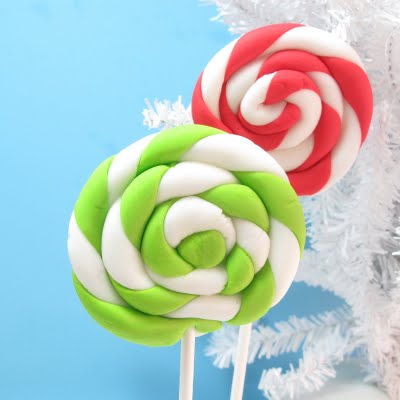 Swirly fondant lollipops for Christmas make great cupcake or cake toppers. Or, use them to decorate your sweets holiday table.
I love these cute, swirly goodies from Better Homes and Gardens and had to try something similar for Christmas. If you've ever fretted over working with fondant, fear not! Here's a quick tutorial to ease nerves over fondant. Fondant is user-friendly and will open so many cake and cookie decorating doors.
Fondant is best used in small amounts. I use it for accents on cakes and cookies. In large amounts, it simply isn't appetizing, so these and the trees on their site work better as decorations rather than treats. I made small lollies in lieu of trees simply because I only had half a box of fondant on hand.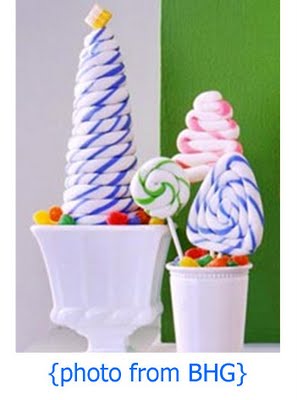 Prepared, white rolled fondant is available at major craft stores and cake decorating supply stores, usually the Wilton brand. It comes in big, white squares and is the consistency of Play-Doh. In fact, you manipulate it in much the same way.
Tips on working with fondant
Fondant does dries out, but kneading it will soften it again.
But kneading will also make it sticky and difficult. If fondant gets too soft (that is, if when working with fondant it starts to stick to your hands and leave residue, it's too soft), let it sit uncovered on wax paper about 15 minutes and try again. It should be pliable and simple to use. The first sign of frustration, stop and let it sit out to stiffen a bit.
Roll fondant easily between two pieces of wax paper.
Tint fondant by adding a few drops of food coloring and kneading very well to blend it.
Cut out shapes with cookie cutters or make 3-D shapes.
To adhere fondant to other pieces of fondant or to cookies and cakes, you can either use light corn syrup or water dabbed on with a paint brush or your finger.
Let stiffen about an hour and harden overnight.
As mentioned, fondant can dry out, so wrap unused portions well in plastic.
how to make swirly fondant lollipops
you will need:
white rolled fondant
food coloring (I use Americolor soft gel pastes, Electric Green and Red)
lollipop sticks
step one: tint fondant
Knead a few drops of coloring into a palm-ful of fondant very well. Let sit out if it gets too sticky.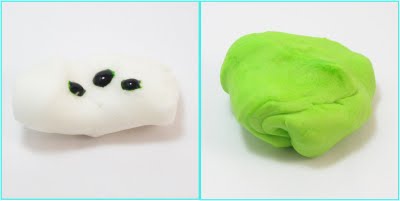 step two: roll fondant logs
I used smaller lengths than the bhg instructions.
I took a small piece, about a 1 1/2 inch ball, of tinted fondant and rolled it into a log on the counter about 10″ long and 1/4″ thick. Repeat with white fondant and line up the two logs.
Here, bhg uses three logs (two white and one tinted) to achieve a smaller colored stripe. I wanted a bigger stripe so only used one white and one tinted.
Carefully smush the two logs together with your fingers. Holding the ends, twist the logs. Then, alternately continue smushing the logs together with your fingers and rolling the new, blended log with your palm on the counter.
The logs should blend together like shown.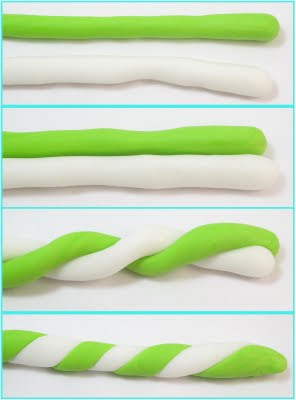 step three: twirl your lolly
Now, simply coil the log into a circle and seal ends with a dab of water. If any part of the log is loose, use a touch of water as glue. Insert stick at bottom and let set an hour and harden overnight.