Disclosure: *This post may include affiliate links. As an affiliate, I earn from qualifying purchases.


Dollhouse furniture ideas! A roundup of 31 awesome DIY doll house furniture crafts and how to make this pom pom armchair.
diy doll house furniture
About 30 years ago, my grandparents gave my sister and me a dollhouse for Christmas. This dollhouse was big, had 6 rooms, and was made of unfinished plywood.
On a recent trip home to New Jersey, I took on the task of cleaning out my old bedroom. I hadn't looked at the dollhouse in 20 years, evidenced by the layer of dust covering every inch of the inside.
We never did get around to painting that dollhouse (way to neglect your kids, mom… oh right, single mother of three who worked full time, fair enough).
But I spent hours upon hours playing with this thing. I had completely forgotten how nerdy and nuts I used to be.
Once the dust cleared, I found all this great doll house furniture inside. I had a few actual dollhouse items, specially purchased from the hobby shop in Spring Lake, NJ, close to my grandparents' home town.
I used to bike over there with my brother and sister and marvel at all of the way-too-expensive-to-ever-own dollhouse furniture, displayed in dioramas of finished rooms the whole length of the shop wall.
But most of the furniture was handcrafted by a younger, preteen me. I was all about DIY doll house furniture.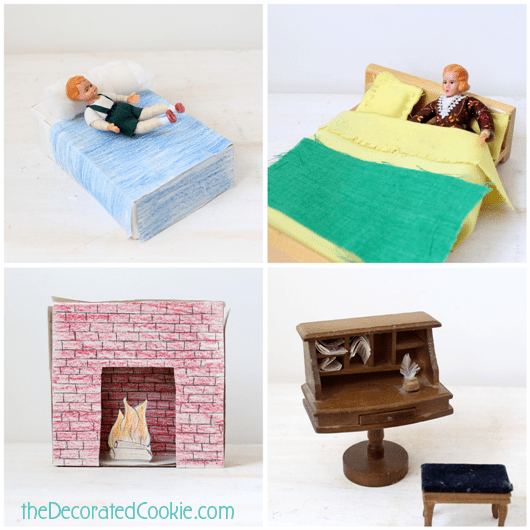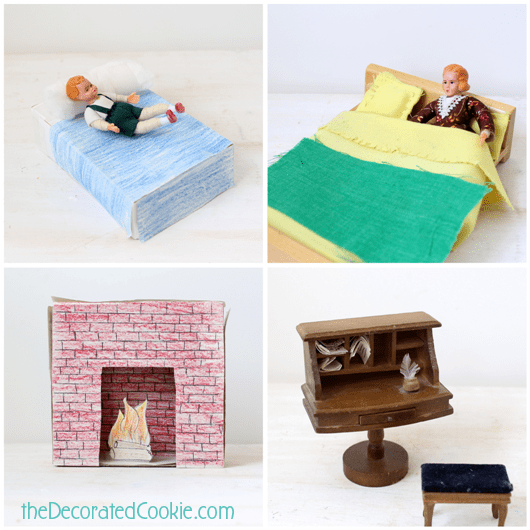 I made a bed and fireplace out of cardboard. I fashioned a comforter and pillows from fabric scraps. That mail desk was purchased, but I stuffed it with tiny pieces of handmade mail.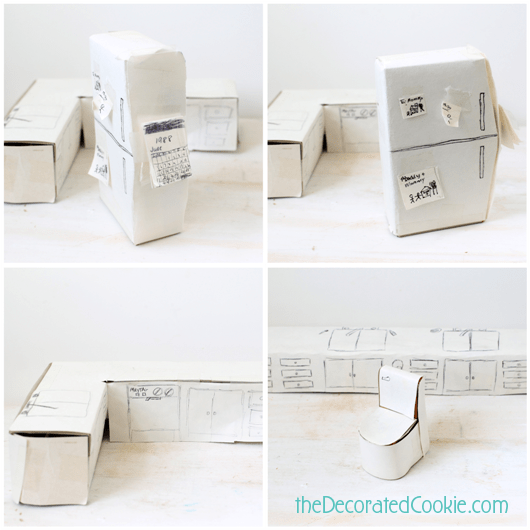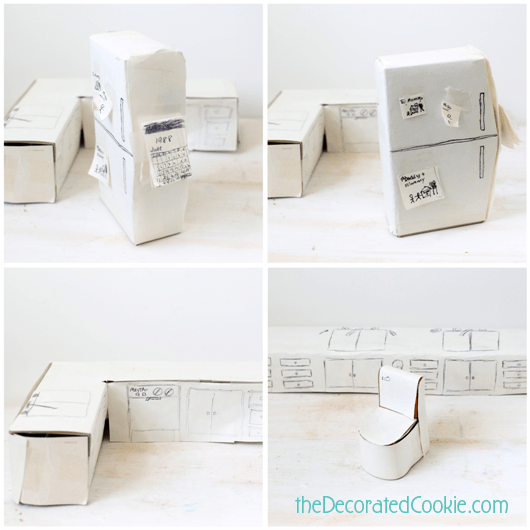 The kitchen and bathroom mostly neatly display my nerdiness.
The refrigerator even has a calendar hung on the side. The last trip home I collapsed the dollhouse, loaded it in the car and drove it back to DC.
My six year old and I have taken on the task of painting (done, a true mutual effort, though picture me as Monica from that Friends episode where she yelled at Phoebe for messing up her dollhouse. It was a true exercise in patience on my part.)
Wish I had a before pic of the plywood. But it looks pretty awesome. I wish we had painted it long ago .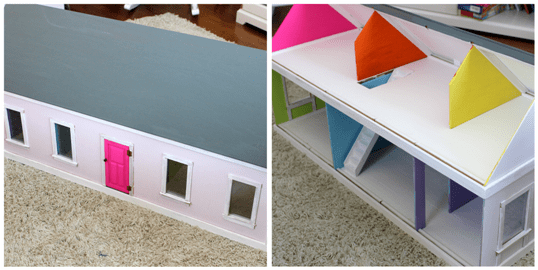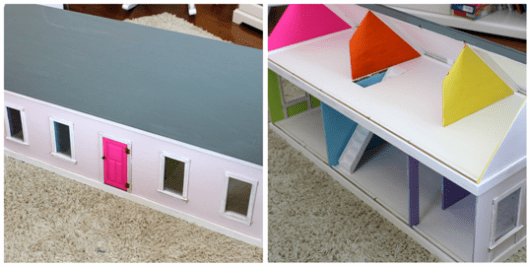 HOW TO MAKE DOLL HOUSE FURNITURE: POM POM ARM CHAIR
Here is one piece of new DIY doll house furniture I made with my daughter. I thought the dude from my '80s dollhouse with the silver sparkle shirt was a good fit for this chair. "Hey babe, come sit by me."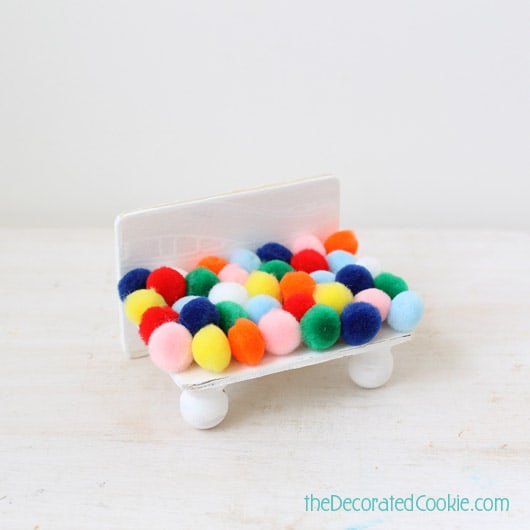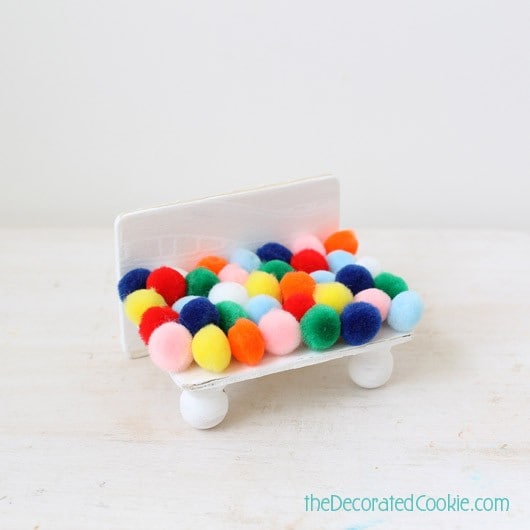 you will need:
2 pieces of 3 x 2-inch wood
little knob things (3/4-inch dowel caps)
white paint
a brush
wood glue
tacky glue
mini pom poms
(all from the craft store)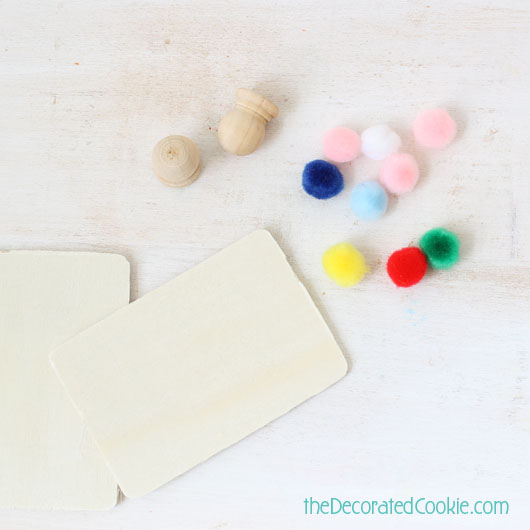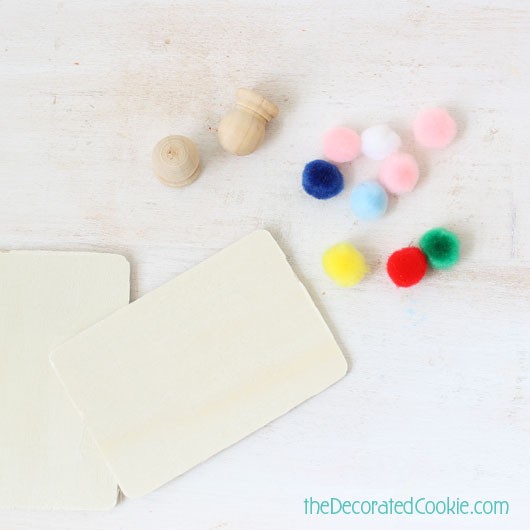 what to do:
Use the wood glue to glue two knobs to the underside of one of the wood pieces for the 2 front legs. Let dry.
Glue the other wood piece vertically behind the first one, so it serves as both the back legs and the back of the armchair. Let dry. Paint the whole thing white and let dry. Spread tacky glue over the seat and top with mini pom poms, pressing down gently. Let dry.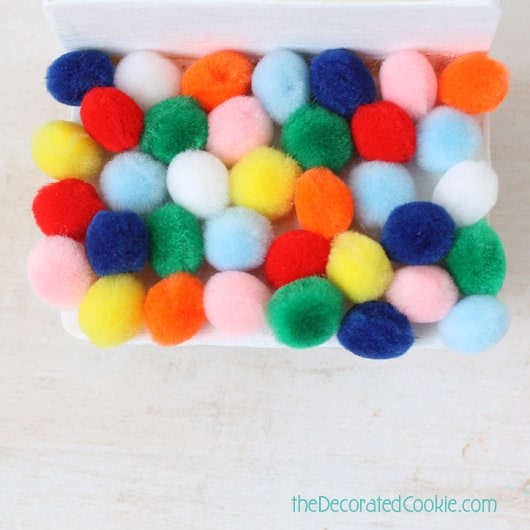 roundup of DIY dollhouse furniture ideas
These DIY dollhouse furniture ideas and other accoutrements make me feel totally less nerdy about my preteen creations.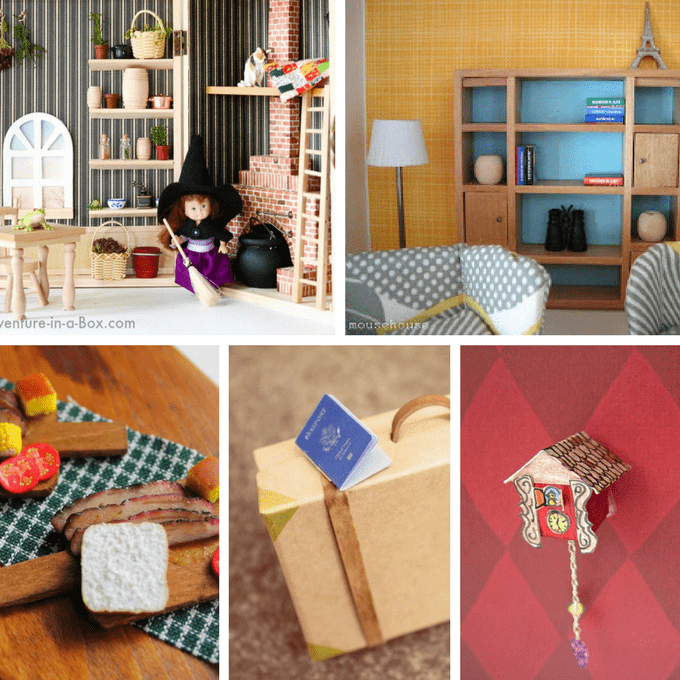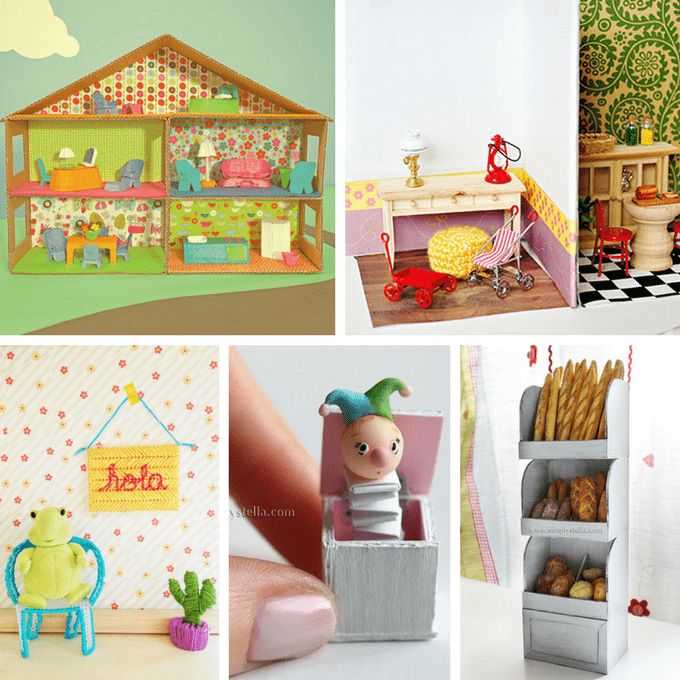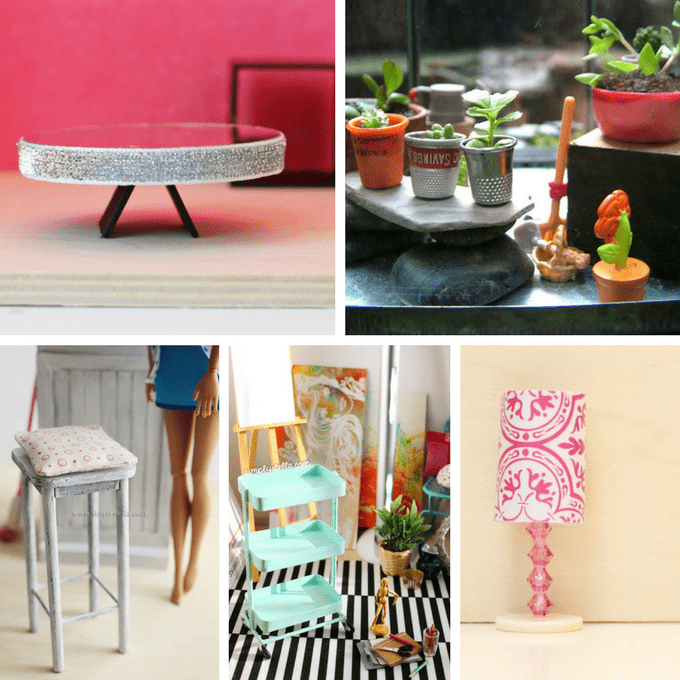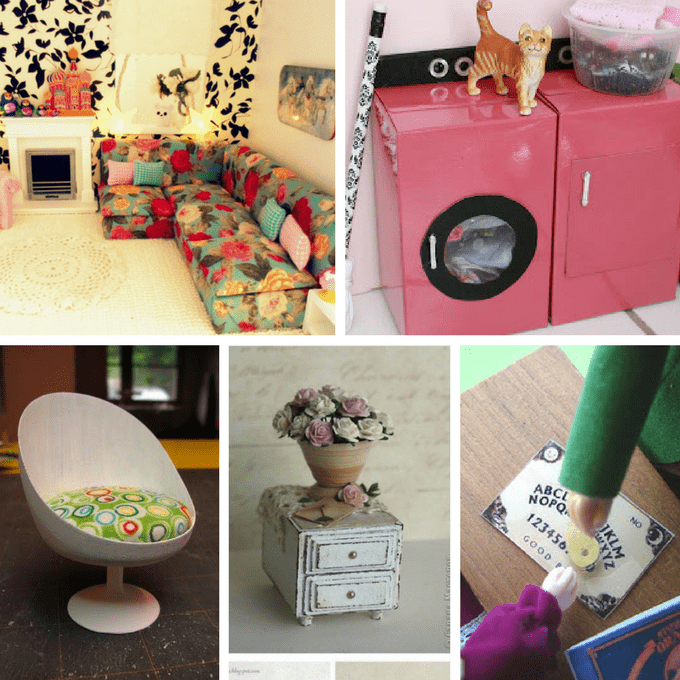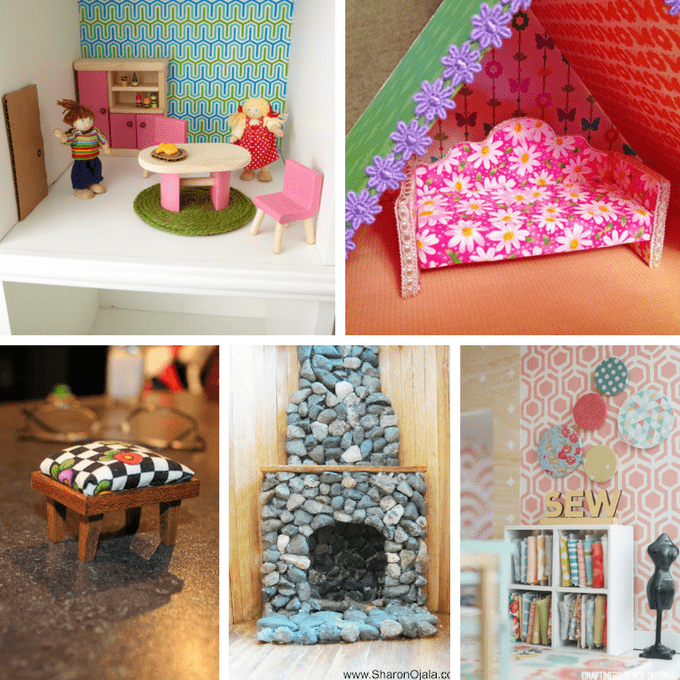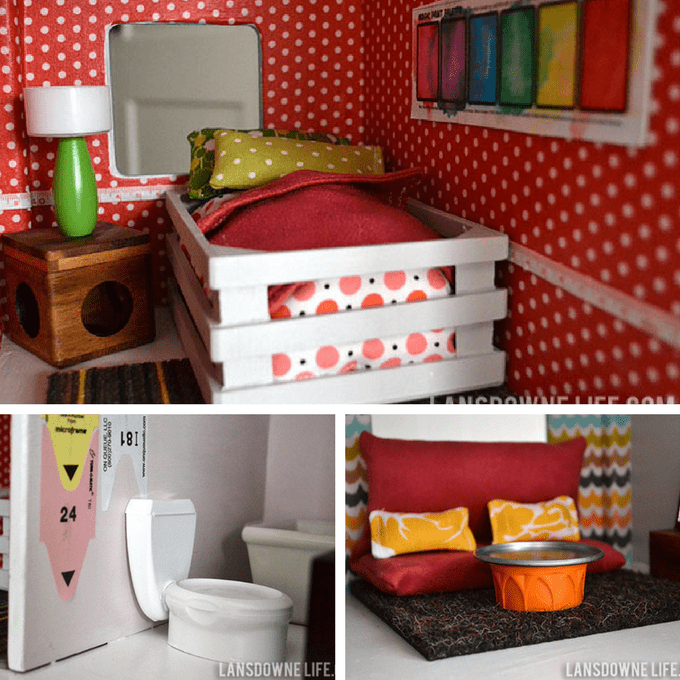 I am terribly in love with every room of this dollhouse-furnished-with-stuff-around-the-house. Check out the toilet made from dental floss and a shampoo cap. The living and dining rooms. The kitchen. The sitting room. And the bedroom.
Need more? For total dollhouse envy, check out this collection at Apartment Therapy.
PIN FOR LATER: