Disclosure: *This post may include affiliate links. As an affiliate, I earn from qualifying purchases.


Decorate tree branch cookies painted with a wood grain, and perch a fondant owl on top.

wood grain cookies
One useful cookie decorating technique is painting on cookies. Here, I use the cookie painting method to create a wood grain pattern on tree branch cookies. And because what goes well with tree limbs? Why, a little fondant owl perched on a wood-grained tree limb.
Forgive the bum eye on this guy. I had slim pickings for white sprinkles left in my collection. So, here is your fondant owl with tree branch cookies.
how to make painted cookie sticks and fondant owls
you will need:*
cut out cookie dough AND royal icing
food coloring (brown and green)
1 disposable decorating bag
1 coupler
1 size "4" decorating tip
1 rubber band
paint brush
scissors
palette (plastic plate or egg carton)
rolled white fondant
toothpick
wax paper
Wilton Flowerful Medley sprinkles
light corn syrup
leaf fondant cutters (1 inch and 2 inch)
*For food coloring, I use Americolor soft gel pastes (Chocolate Brown and Electric Green). I use a black Americolor Gourmet Writer for the pen. Find cutters, bags, couplers, tips, fondant and paint brushes in the craft store. The leaf fondant cutters will likely come in a set and can be found in the craft store, along with the sprinkles. Click here for tips on finding cookie decorating supplies, click here. For basic cookie decorating instructions, click here.
step one: bake your cookie sticks
Roll out chilled dough according to recipe. With a knife or a dough scraper, cut out stick shapes (mine were like "V"s, but you can just do rectangles, too). Bake and let cool.
step two: flood your cookie background
Prepare frosting. Tint some (I use about a cup, depending on how many cookies you make) light brown with the Chocolate Brown coloring. Prepare a frosting bag with a coupler and size 4 decorating tip and fill with about half of your brown frosting. Tie closed with a rubber band. Pipe an outline on the sticks and let set about 15 minutes. Thin reserved frosting with water, a few drops at a time, until the consistency of thick glue. With a squeeze bottle or small spoon, pour the thinned frosting in the center of the stick and let flood to the edges, encouraging as needed with the back of the spoon. Let set well, several hours or overnight.
step three: paint your wood grain
I won't even attempt to give a tutorial for this or claim an iota of credit, because the original is so lovely. Dab a small (liner-size) paint brush in a drop of brown food coloring. If the food coloring is thick, you may add a drop or two of water to the coloring. Paint lines for the wood grain on top of the dried light brown royal icing.
step four: make your fondant leaves
Tint some fondant green by adding a drop or two of food coloring to the fondant and kneading very well. Add more drops to achieve desired shade. If fondant gets sticky from overhandling, simply let sit at room temperature uncovered about 15 minutes until easily pliable. Roll thinly between two pieces of wax paper and cut out leaf shapes in the two different sizes. Set aside.
step five:
make your fondant owl
To make the owl, you'll need the black marker, sprinkles, a toothpick and light corn syrup, a small leaf cutter, and two shades of brown fondant (see above for how to mix color into fondant):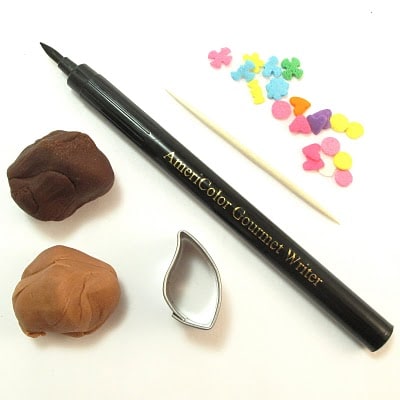 For each owl, roll two balls of light brown fondant, about an inch or so in diameter (one may be slightly bigger). For the head, pinch two ears with your fingers. For the body, just flatten the top and bottom slightly.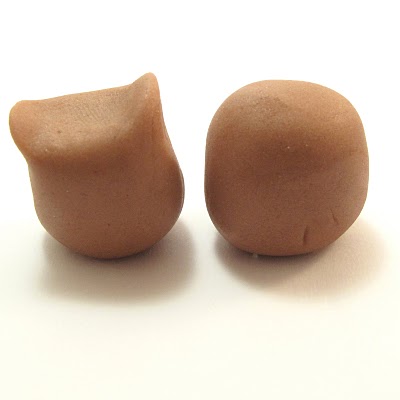 For the wings, roll out the darker brown fondant and cut out leaf shapes with the small leaf cutter and attach to side of body with dabs of light corn syrup.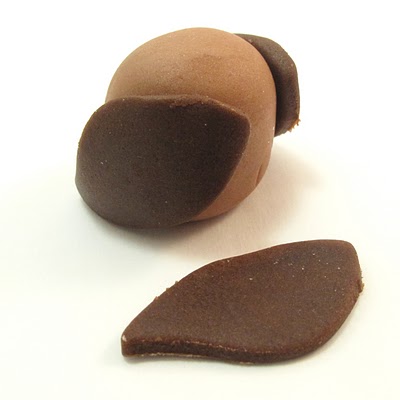 To assemble the rest (use a toothpick to dab light corn syrup on the parts to adhere), attach head to top of body, attach two small round white or yellow confetti sprinkles to the head for eyes, attach a yellow heart sprinkle for the beak, and two orange flower sprinkles for the feet. Draw two black dots on the eyes.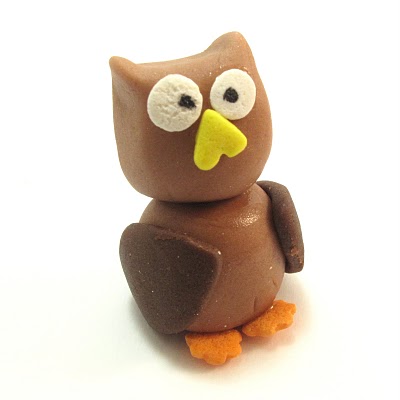 step six: assemble everything
Using corn syrup as glue, attach leaves and owl to sticks as desired.