Disclosure: *This post may include affiliate links. As an affiliate, I earn from qualifying purchases.


cocktail cookies
I'm hoping my friend doesn't see this post, because we're going to the Sex in the City 2 movie and I'm bringing these along to add to our post-movie Cosmos: Over-the-rim cocktail cookies! That is, lime wedge cookies made to fit on your cocktail glass. (Cookies go with cocktails, right? Cookies go with everything.)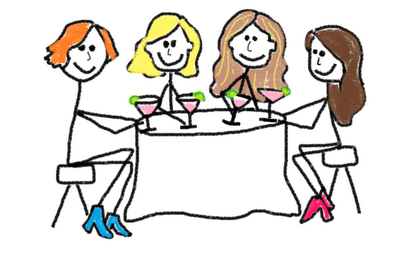 how to make over-the-rim lime cookies for c
ockt
ails


you will need:*
cut out cookie dough AND royal icing
2 1/2 inch circle cookie cutter
knife
food coloring
3 frosting bags
3 couplers
3 decorating tips
3 rubber bands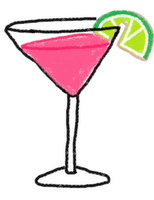 *For food coloring, I use Americolor soft gel pastes (Leaf Green, Electric Green and Bright White). Find the bags, couplers, tips (sizes 2 and 4), and cutter at the craft store. For tips on finding cookie decorating supplies, click here.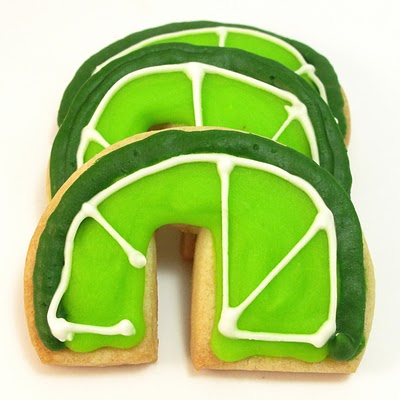 step one: bake your cookies
Roll out chilled dough according to the recipe and cut out circles. With a knife, cut off the bottom third of the circle and cut out a rectangle as shown (a little to the left of center). Bake and let cool.
step two: make your frosting
Prepare three colors of frosting: white, bright green and lime. Prepare three frosting bags with each of the colors (use the frosting bags fitted with a coupler and tips, size "4" tip for the greens and size "2" for the white, and tied closed with the rubber band), but reserve about half of your lime green frosting.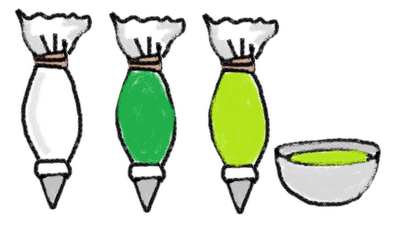 step three: decorate your cookies
Pipe a semi-circle with the bright green and let set about 15 minutes.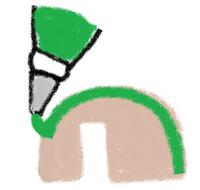 Flood the rest of the semi-circle with lime green: Pipe an outline inside the semi-circle and around the edge of the rest of the cookie (including the cut-out rectangle) with the lime green and let set about 15 minutes. Thin reserved lime green icing with water, a few drops at a time, stirring well, until a consistency of glue. (If you turn over a spoonful, the icing should fall back into itself without leaving any peaks, but it shouldn't be so runny it falls into itself super-fast. It should take a second or two.) Using a squeeze bottle or a spoon, pour thinned frosting in the center of the cookie and let flood to edges, encouraging with a small butter knife or the back of the spoon. Let set well, at least a couple hours.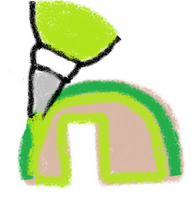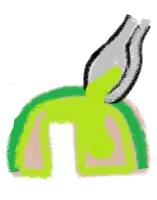 Pipe sections with the white. Let dry overnight.