Disclosure: *This post may include affiliate links. As an affiliate, I earn from qualifying purchases.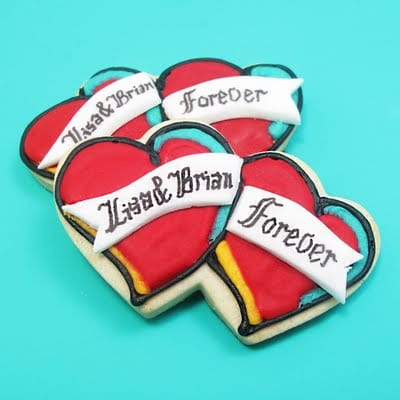 tattoo cookies
These tattoo cookies appear in the June 2011 issue of BRIDES magazine, the "Take It To Go" spread featuring ideas for edible favors. Here you'll find how-tos to make the tattoo cookies. For the almond tube packaging and the fabric sack packaging how-tos, CLICK HERE.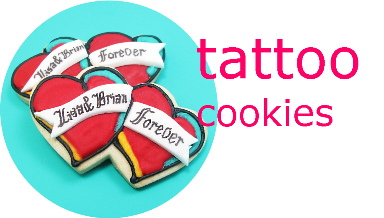 how to decorate tattoo cookies
you will need:*
double heart cookie cutter (

find one HERE

)

food coloring (black, red, turquoise, yellow)
white fondant
sharp knife
black edible marker
4 disposable decorating bags
4 couplers
3 decorating tips (size "3")
4 rubber bands
scissors
toothpicks
pizza cutter
light corn syrup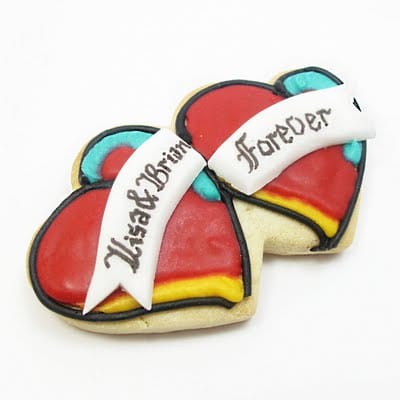 step one: bake your cookies
Prepare cookie dough according to the recipe, chill, roll out about 1/4-inch thick, cut out your hearts, and bake. Let cool completely.
step two: prepare your frosting
Prepare royal icing according to the recipe, divide and tint your colors: You'll need black, red (a lot), turquoise and yellow. Prepare three frosting bags with couplers and size "3" tips. Fill the frosting bags with black, turquoise and yellow, and close tightly with rubber bands. Cover and set the red icing aside.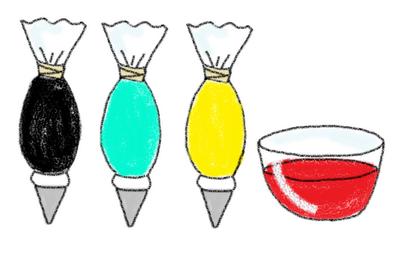 step three: decorate your cookies
Pipe an outline on the hearts with black icing and let set about 15 minutes. Pipe the turquoise and yellow highlights and let set. Thin the red icing by stirring in drops of water until the consistency of thick glue (if you take a spoonful, overturn it and let the icing fall back in the bowl, the lines should disappear in about ten seconds). Fill an empty decorating bag, close tightly with a rubber band and snip about 1/4-inch from the tip. Loosely pipe the red icing on the cookies and let flood to fill the entire cookie. Encourage the icing as needed with a toothpick. Let the cookies set overnight.
step four: prepare your fondant banners
Briefly knead the fondant until it is easily pliable. If the fondant is at all sticky, let it sit uncovered at room temperature for 15 minutes or until easily pliable. Using confectioner's sugar on your rolling pin and surface as needed to prevent sticking, roll the fondant about 1/8 to 1/4-inch thick. Cut out a double heart using the cookie cutter, then, use the knife to separate the hearts.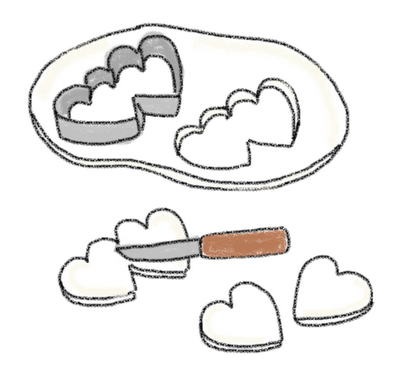 Use the pizza cutter to cut out the banner as shown, then use the knife to make a wedge at one end. Let the fondant stiffen, uncovered at room temperature, for several hours. When stiffened, write your names, date or message on the banner with the black edible marker.
step five: assemble your cookies
Dab light corn syrup on the back of the banner and gently press onto the dried cookie. Package in cellophane bags with matching ribbon or in little plastic packages.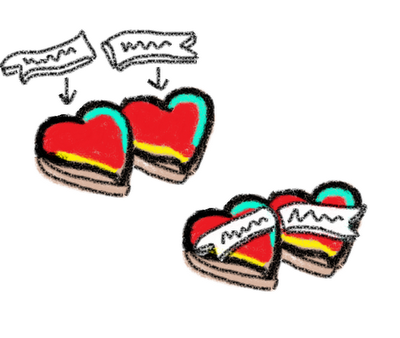 TIPS:
Create a document and play around with different fonts. Write your message in your preferred font in the document, then use that as a guide to write on your banner. The font shown is "Old English Text."
It takes some practice writing with precision, especially if your edible marker doesn't have a very fine tip. You may also want to write only one name on each banner, just the date, or a shorter message.