Disclosure: *This post may include affiliate links. As an affiliate, I earn from qualifying purchases.


"Strawberry patch"cupcakes are an adorable summer treat idea.
strawberry patch summer cupcakes
Despite the fact I've subscribed to Better Homes and Gardens for almost 15 years now, I'm a terrible, terrible gardener. (I get the magazine for the home and food sections, and skip right over the middle.)
I certainly wish I had extensive gardening knowledge, but seeing as how plants wilt and wither when I walk by, I couldn't in good conscience cause that kind of damage to the great outdoors.
So when I buy flower pots, it's not to garden. It's to serve cupcakes. Yes.
There are cupcakes in those flower pots up there. I don't even know if you can grow strawberries in a flower pot. Probably not. Oh well… Here are some strawberry patch cupcakes.
If you need more summer treat ideas, click here.
to make strawberry patch cupcakes
you will need:*
flower pots
cupcakes
disposable decorating bag

scissors

rolling pin
sealable bag

chocolate wafers

fondant
food coloring (red and green)
white sprinkles (optional)
toothpick
light corn syrup
2-inch leaf fondant cutter
1 1/2-inch daisy fondant cutter
*Find the flower pots, decorating bag, sprinkles (I have the rainbow mix and picked out the white sprinkles), fondant, and fondant cutters in the craft store. The flower pots are 2 1/2 inches tall with a 2 1/2 inch diameter at the top.
For food coloring, I used Americolor soft gel paste, Electric Green and Red Red.
For tips on finding cookie decorating supplies, click HERE.
To save some tedium, you may omit the white sprinkles and make indents in the strawberries with a toothpick.
Find chocolate wafers in the supermarket.
You'll find premade, white rolled fondant in the craft store, or make your own marshmallow fondant HERE.
step one: bake your cupcakes
Prepare cupcakes with your favorite recipe or store-bought cake mix. Let cool and place in the flower pots.
step two: frost your cupcakes
Place chocolate wafers in a sealable bag and crush with a rolling pin. Prepare chocolate buttercream frosting (or use store-bought). Fill the decorating bag with chocolate frosting, snip about 1/2-inch from the tip, and pipe frosting on a cupcake. Immediately coat the top with the crushed wafers. Repeat with all the cupcakes.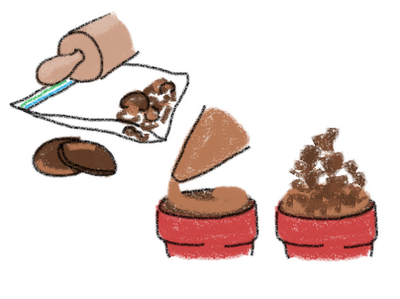 step three: make your strawberries and leaves
Prepare fondant or use store-bought. Take two chunks of fondant, add a few drops of food coloring and knead well. You'll need green and red fondant.
TIP: If the fondant gets sticky from overhandling, let sit at room temperature uncovered for 15 minutes until easily pliable, and use confectioner's sugar as needed to prevent sticking.
To make the leaves, roll out green fondant on a surface dusted with confectioner's sugar. Cut out leaves, then make divots in the edges using the tip of the leaf cutter. Set aside.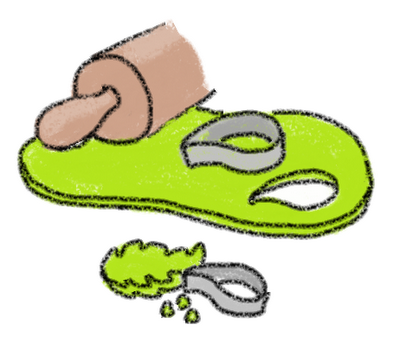 To make the strawberries, roll a ball of red fondant about 1-inch in diameter.
Pinch it into a strawberry shape (flatten one end, then roll the other end between your thumb and forefinger a bit.) Roll out green fondant, cut out a daisy shape, dab light corn syrup on the flat end of the strawberry, and adhere the green daisy to the top.
Impress white sprinkles in the side of the strawberry, using a dab of water as necessary to adhere.
TIP: Instead of sprinkles, just make dots with a toothpick.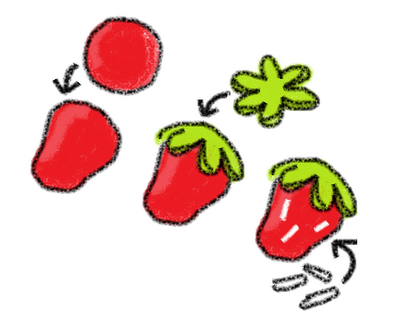 step three: assemble your cupcakes
Arrange the leaves and strawberries on the chocolate icing.