Disclosure: *This post may include affiliate links. As an affiliate, I earn from qualifying purchases.


More fun with crushed Smarties! I think this is as far as I can go with the whole "Smarties"/school thing. But methinks the kiddos will need some cheering up as school time approaches. (I've already declared my personal joy at the start of school when I made these Smartie pants cookies.) And as an extra bonus, I made you a printable for straw or lollipop stick flags so everyone will get the whole "Smarties"/school thing. Just tell them these are back to school "Smarties" marshmallow pops.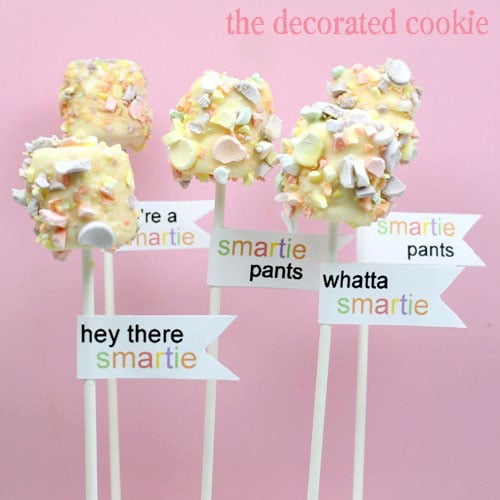 how to make back to school Smartie marshmallow pops
you will need:*
marshmallows

lollipop sticks or paper straws

candy melts (any color)

Crisco

Ziploc

rolling pin, mallet or hammer

Styrofoam block
*Find the lollipop sticks, candy melts and Styrofoam block in the craft store. Find paper straws at specialty stores, such as the Layer Cake Shop. If using the flag printable, you'll also need white letter-size cardstock or heavy paper, a color printer, scissors and a glue stick.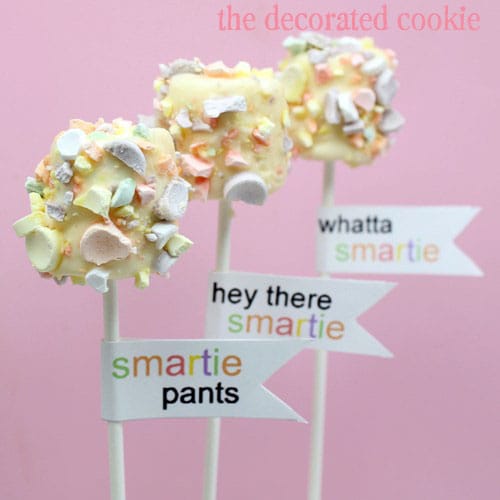 step one: crush your candy
Place a few rolls of unwrapped Smarties candy in a Ziploc and crush with a mallet, hammer or rolling pin. I put mine on a cutting board to save my counter. Set aside.
step two: dip your marshmallows
In a microwave-safe container (or on the stove-top in a double boiler), melt the candy melts according to the package directions. I usually work with one cup at a time, and microwave on 50% power for 1 1/2 minutes, then 30 second intervals until just melted, stirring well. TIP: Add 2 or 3 teaspoons of Crisco to the candy melts before nuking for easier dipping. Skewer a marshmallow with a stick or straw and dip to coat in the melted candy melts. Gently tap off the excess and immediately coat with the crushed candy. Prop in a Styrofoam block until well set.
step three: add the flags
If desired, print out the Smartie flag printable on letter-size paper with a color printable. Cut out the flags, using the gray lines as a guide. For each flag, fold in half and cut a wedge at the end. Unfold and glue the entire underside of the flag. Wrap around the lollipop stick and press to seal.