Disclosure: *This post may include affiliate links. As an affiliate, I earn from qualifying purchases.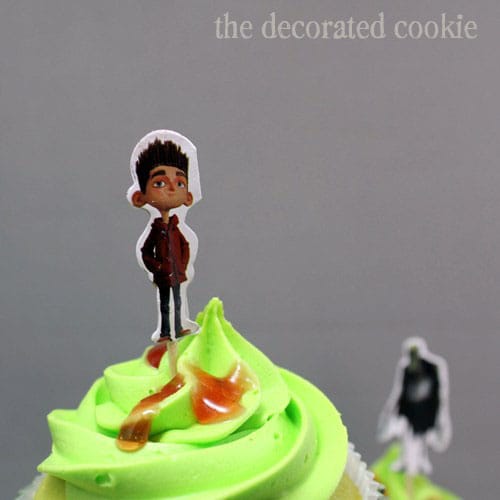 PARANORMAN cookies and cupcakes for Halloween
I know, it feels almost too early for Halloween, but the eerie chill you feel (right? that's what I was going for) is actually meant to celebrate the almost-release of the 3D stop-motion family film, ParaNorman, from Focus Features, opening August 17. Focus Features asked me to help spread the word via sweets, and how can I resist this awesome combination of kid fun, dessert and movies? They created an uber-fantastic, supernatural decorating kit so you could create your own themed desserts. I made ParaNorman cookies and cupcakes.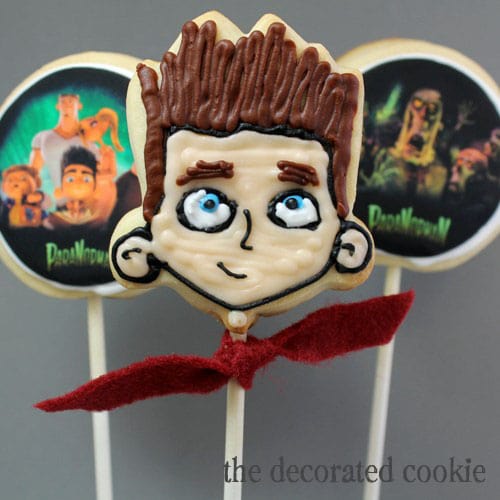 ABOUT THE FLICK:
Before you do anything, watch the hilariously creepy trailer:
Quoted from Focus Features: "The film ParaNorman follows Norman, a misunderstood boy who can speak with the dead and his adventures as he takes on ghosts, zombies and grown-ups, in order to save his town from a centuries-old curse. The film is rated PG and from the makers of Coraline. It promotes the positive message of embracing the qualities that make each of us unique and not to shy away from our gifts, like the tagline says, ;You don't become a hero by being normal.' Leslie Mann, John Goodman, Christopher Mintz-Plasse, Anna Kendrick, Casey Affleck and Kodi Smit-McPhee lend their voices to the film." Read more about the film HERE.
THE DECORATING KITS

Each kit includes: ParaNorman cupcake liners with character cupcake picks, edible frosting toppers, and a custom-made ParaNorman cookie cutter.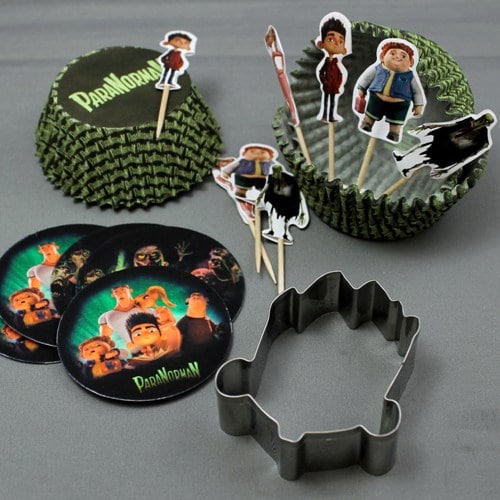 I made some cookies on a stick with the cookie cutters, and given the film's subject matter, I feel entirely OK about the whole head-on-a-stick thing. By the way, that red felt tie is supposed to represent Norman's sweatshirt. I also used the edible frosting toppers to make cookie pops. And I used the cupcake liners and picks to make some neon green cupcakes oozing blood.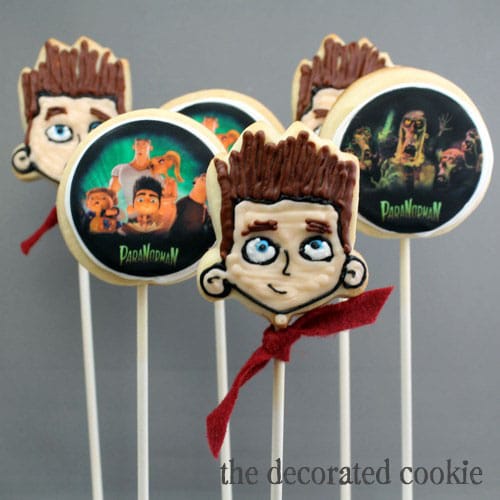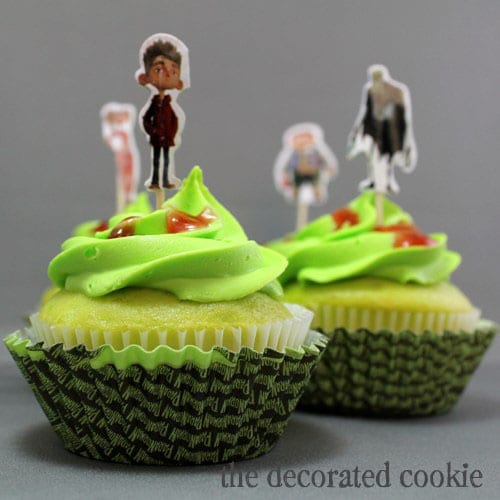 how to make Paranorman cookies
To make the cookie pops, I made my cookie dough, chilled, rolled out and cut out 2 1/2-inch circles for the frosting topper cookie pops and used my Norman cookie cutter to make Norman.
For cookie pop how-tos, click here.
I prepared my royal icing, divided and tinted using my Americolor Soft Gel Pastes (Bright White, Super Black, Peach, a mix of Sky and Royal Blue, and Chocolate Brown).
To make Norman, I prepped decorating bags with couplers and size 1, 2, and 3 tips and piped my decoration. For the circle pops, I outlined each circle with white and flooded with white icing.
(For basic cookie decorating how-tos, click here and to find supplies click here.)
Then I let the flooded icing dry overnight. I brushed the surface of the cookie with light corn syrup, then gently placed a frosting topper on top and smoothed with my fingers.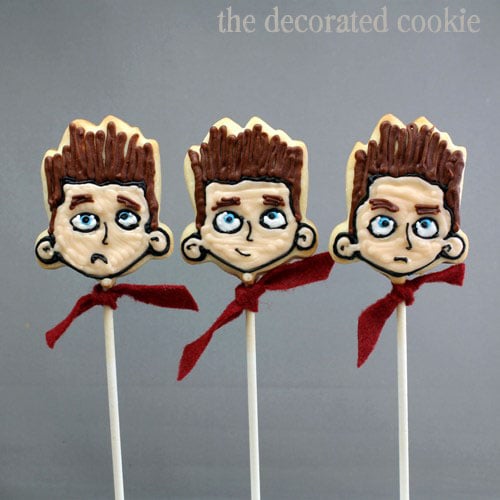 how to make Paranorman cupcakes
To make the cupcakes, I simply prepared white cake batter from a mix, and added some Electric Green Americolor Soft Gel Paste. I made some frosting, tinted it with the same Electric Green, and used a decorating bag with size 1M tip to pipe the frosting on the cupcakes. Then I put some strawberry preserves in a decorating bag, snipped the tip and piped "blood" on the cupcakes. Insert the picks, and that's it.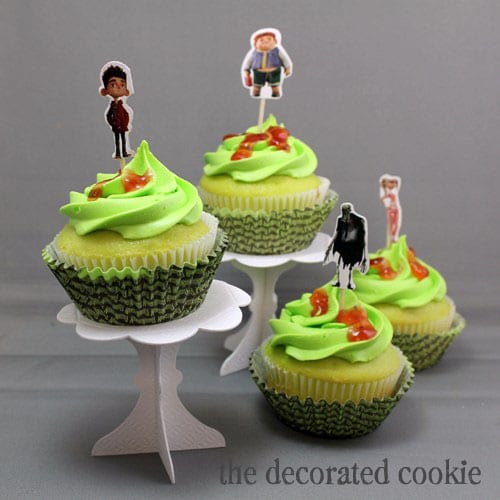 UPDATE: Congratulations to Melissa, Amber, Mikey, Stephanie and Carla! Their comments (numbers 5, 64, 65, 44 and 7) were randomly drawn to win and their prizes are on the way…
THE GIVEAWAY!!!
Leave me a creepy comment (a non-creepy comment works, too) here before
Sunday August 12, midnight EST
and FIVE of you will be randomly chosen to win a
ParaNorman decorating kit.
Winners must have a US address.
Winners have 48 hours to respond after being notified before another name is drawn.