Disclosure: *This post may include affiliate links. As an affiliate, I earn from qualifying purchases.


How to make bite-size tennis cookies in a mason jar, a fun gift for a tennis player.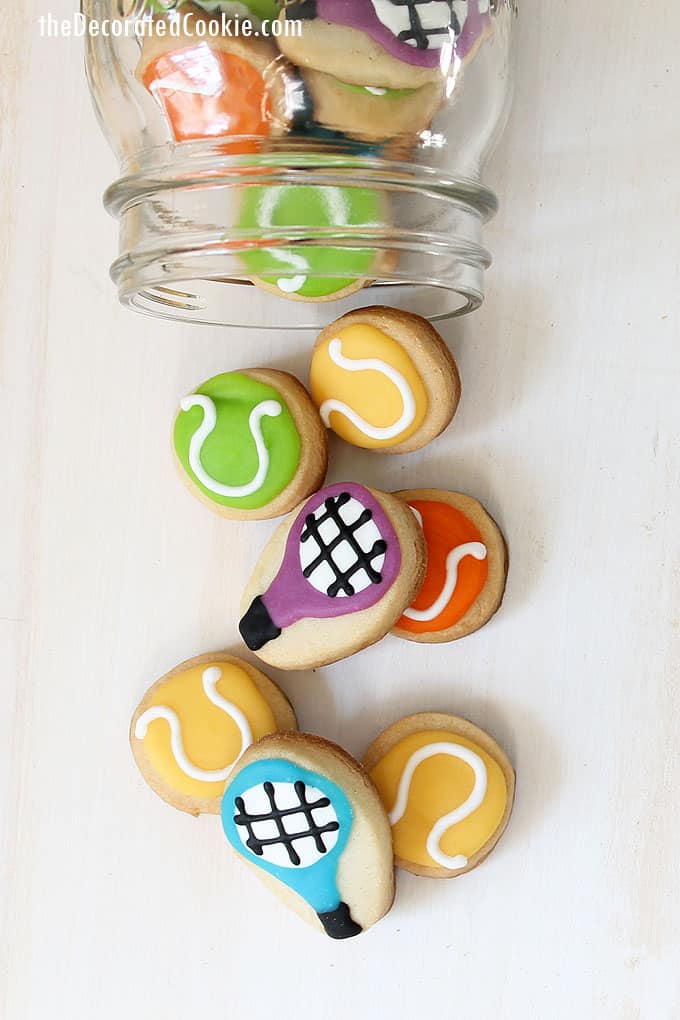 tennis cookies
A couple months back I made my mom bite-size cookies in a jar that pictured all her interests and hobbies. (Remember? All About Mom cookies.) She put in a request for tennis-themed bite-size cookies in a jar, and I couldn't refuse. So I made tennis cookies, of course.
We're all tennis players in my family. Or rather, in my case, used to be a tennis player. I haven't picked up a racket in years. I played competitively in high school, and I could have been good. Really good. Except I had this terrible habit of choking at the end. Sooo close then, "oops!" I didn't kick the habit, either, when I took up shooting pool years later. This choking thing is tough for one as competitive as I. (Don't ever mention the "Monopoly incident of '05 to my neighbors.")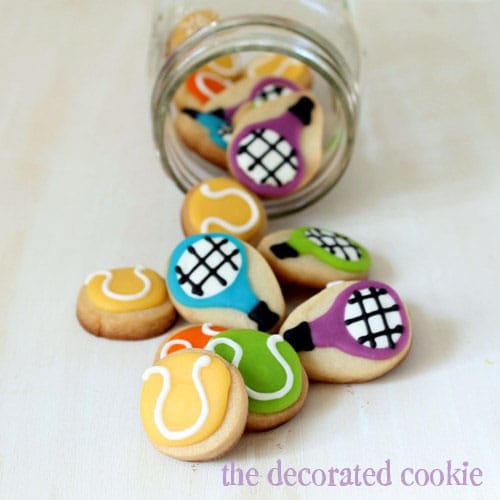 Since I was barely big enough to hold a racket, I and my siblings would walk the mile or so take lessons from the matriarch of a local family estate, an estate equipped with a court, of course. Thirtysome years later, she's STILL giving lessons and organizing games. My mom has continued playing all these years. She's giving these cookies to the terribly impressive tennis-playing matriarch.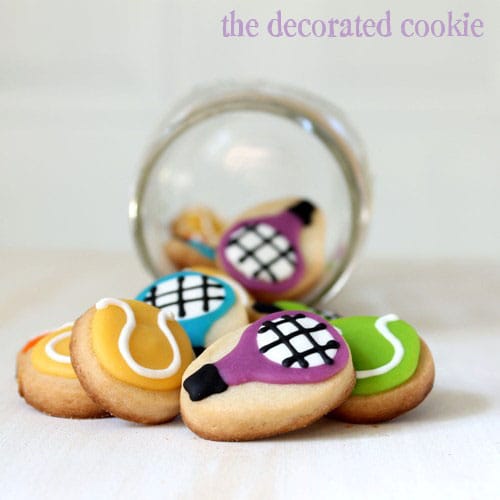 It's no secret I love bite-size cookies. So cute, so perfect for snacking, and so easy to fit into the best invention ever after my TV, the mason jar.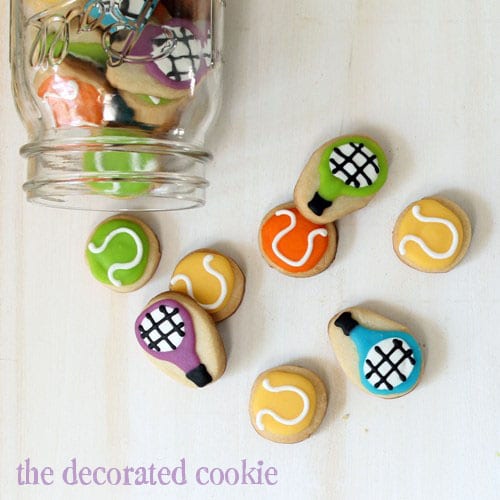 how to make mini tennis cookies
To make these, I just cut out little 1-inch circles and 1-inch ovals (pinched at one end) from my cookie dough, baked and let cool. Then I made my royal icing, divided, and colored with my Americolor Soft Gel Pastes (Orange, Egg Yellow, Electric Green, Sky Blue, Electric Purple, Super Black and Bright White.) I prepared decorating bags with couplers and decorating tips–sizes 1, 2, 3 and 4–and filled with the icing and tied the bags closed with rubber bands. Then I piped and filled circles for the tennis balls, using a 2-tip white to pipe the accent on top. For the racquets, I piped the racket and handle with different colors and black icing, using 3 tips. I filled the centers with white icing, then topped with the strings using a 1-tip black. I let the cookies dry well overnight and packaged in a mason jar. For tips on finding supplies, Find cookie decorating supplies HERE. For basic cookie decorating how-tos, click HERE.