How to bake banana bread in a jar. Mason jar banana bread makes a great homemade gift.
banana bread in a jar
Why banana bread in a jar? Because it's adorable. Right? But, more practically speaking… baking banana bread in a jar means you can give these as homemade gifts. Or, you have a convenient portion to throw in a lunch bag (carefully, the jars are glass) to bring to work. The little round slices are also cute if you pop the loaf out of the jar. For these, I used my best-ever banana bread with wheat germ and flax seed. If all that healthy stuff is just too much, feel free to use your own favorite recipe for banana bread. Or, try it with any other quick bread (that is, bread that does not require kneading or yeast).
I can't believe how perfectly this baked, too. Evenly baked and just the right texture for banana bread. Mason jars, you really are magical things.
can you bake in mason jars?
SAFETY NOTE: Baking in mason jars worked beautifully for me, even better than baking in a loaf pan as the smaller portions allowed for even baking. By baking at the at the same, relatively-low temperature and let the bread cool-to-the-touch at room temperature before removing from the jar, everything worked perfectly and I'm pretty sure I'm baking every quick bread this way forever. However, baking in glass–while it does NOT carry the risk of adding unwanted chemicals to the food, as plastic would–DOES carry the risk of breakage. So please be wary of this as you set out to bake in jars. Of course, if the jar breaks during the baking process, the bread can't be eaten.
The Ball Jars do not recommend baking in the jars because of possible breakage, but I do find these jars to be the highest quality. You do NOT want to use thin, imitation mason jars. Use the real deal. And again, do so at your own risk.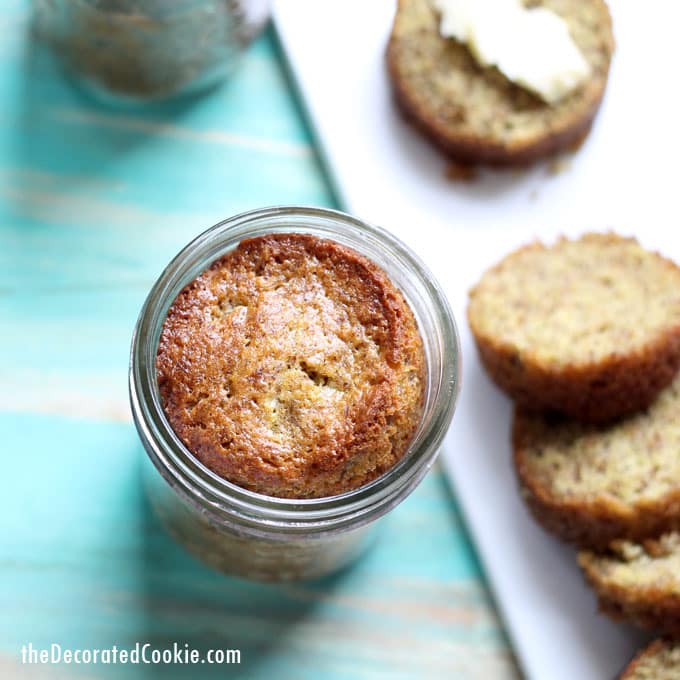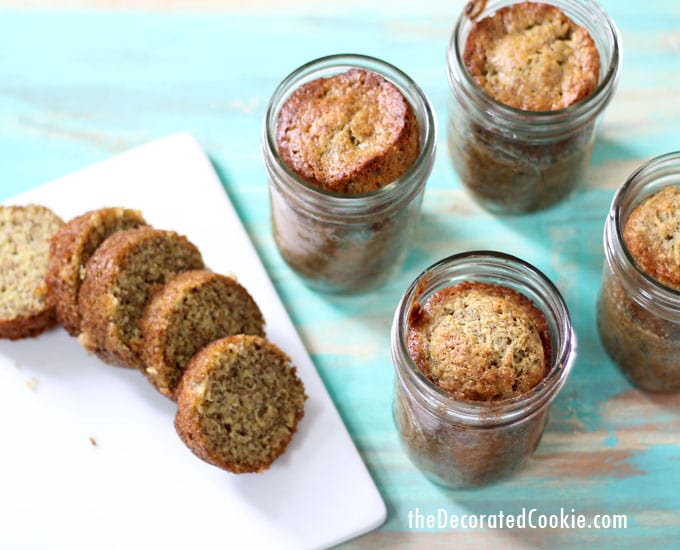 How to make banana bread in a jar
You will need:
half-pint-size mason jars (8 ounces, the small ones with wide mouths)
cooking spray
gallon-size ziploc (optional)
baking tray
parchment paper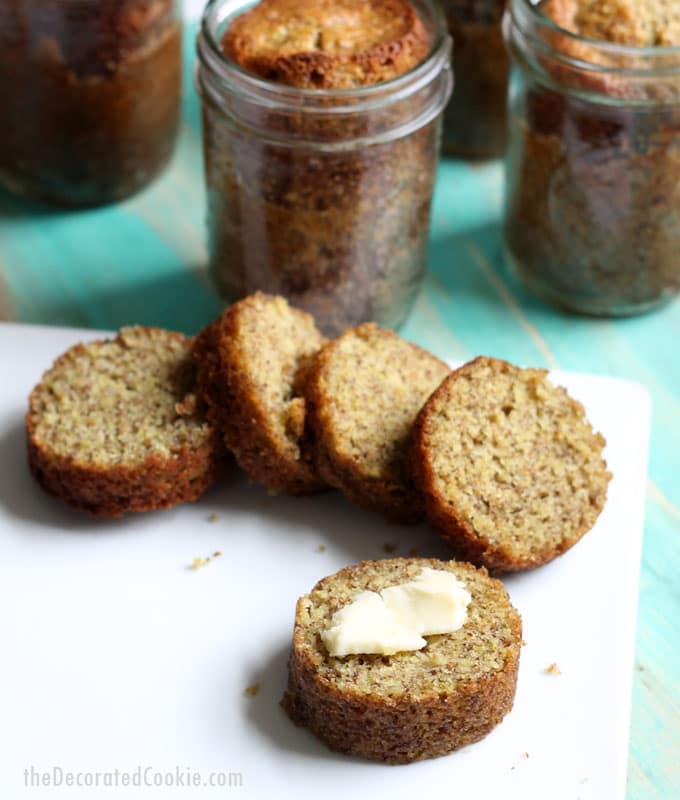 What to do:
Prepare your banana bread recipe (CLICK HERE for the banana bread recipe shown in the video). Grease the mason jars with cooking spray. If desired, pour the bread batter in a ziploc, snip the tip, and pipe to fill the jars. Or, you can use a spoon. (In retrospect, I think a spoon may even be better because you have less batter wasted.) Fill the jars half-way only. I was able to get five jars from my recipe. Line a baking tray with parchment paper. Place the jars on the baking tray, being sure they do not touch. Lower the middle rack in the oven down a slot. Bake the bread according to the recipe, but reduce the baking time. For my banana bread, which ordinarily takes 50 minutes, baking took 30 minutes at 350 degrees F.
When cool enough to touch, overturn and gently tap the mason jar. The bread should pop right out.
TIP: If you put lids on when the bread is a bit warm, the heat will seal the jars.
(Make sure you check out the SAFETY TIP above!)