Disclosure: *This post may include affiliate links. As an affiliate, I earn from qualifying purchases.


How to paint easy pine cone zinneas, a colorful home decor craft.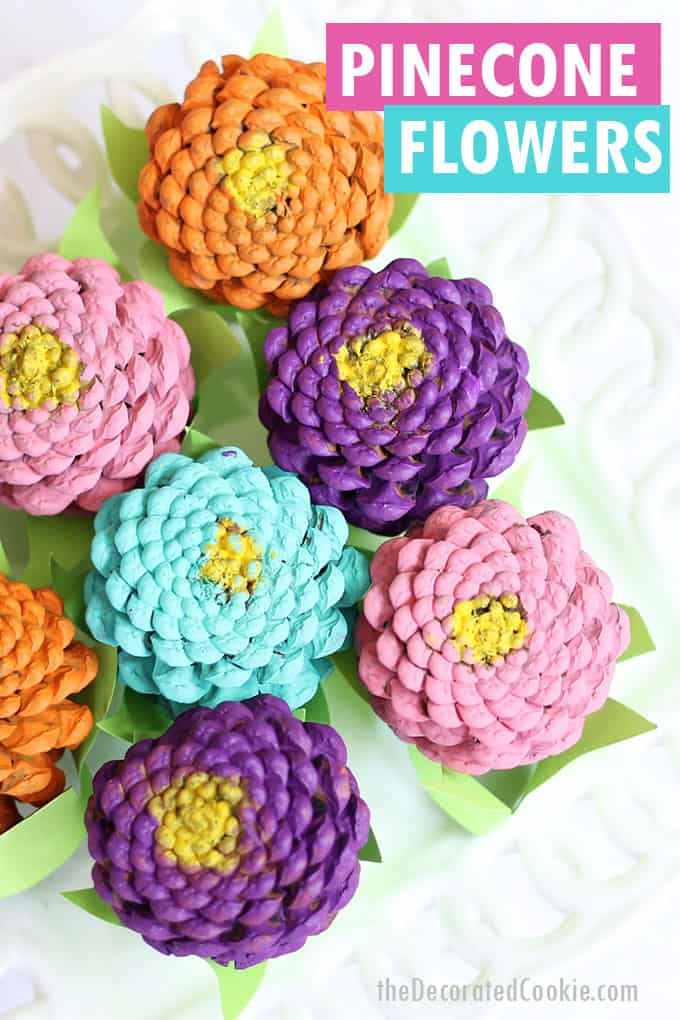 pinecone flowers
At least, I think they are Zinneas. Flower names and growing things are not my strongest talents. But even if they aren't easy to grow (for me), these pinecone Zinneas are easy to make, so I can get on board. And they make for a colorful and unique centerpiece, yes? Below, I also include instructions for making paper stands for each pine cone so you can arrange them on a cake plate.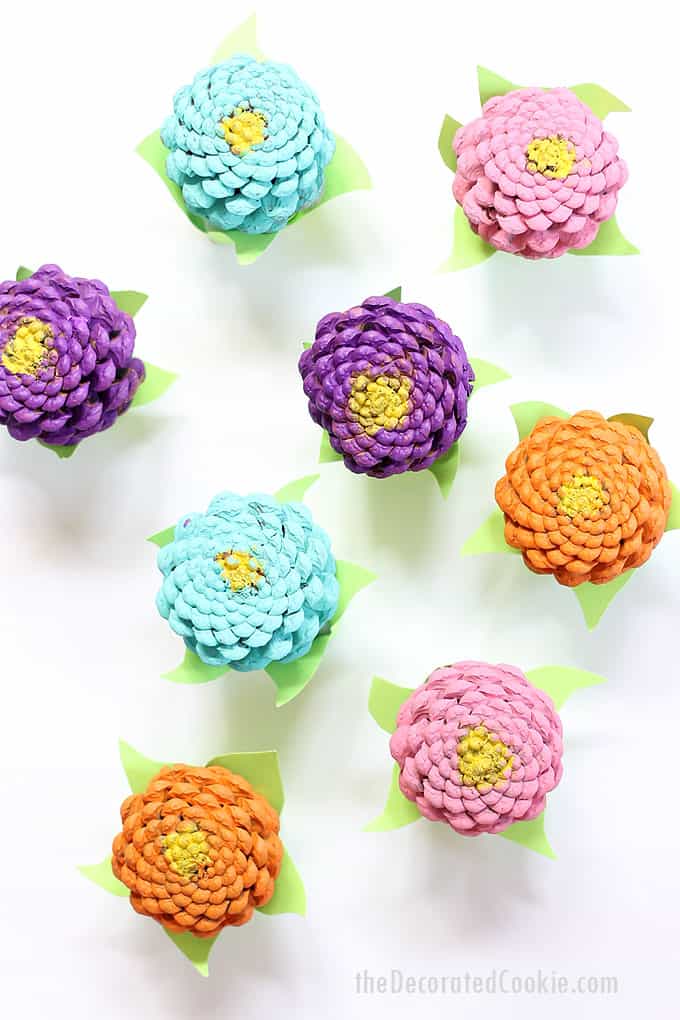 painted pinecones
To make pinecone Zinneas, all you need are some pinecones and paint. I purchased the pinecones from the craft store, rather than gather my own, because it was a time-saver and the pinecones would then be uniform in size. I used basic acrylic craft paint, also found at the craft store, along with a large, flat paintbrush and a smaller, flat paintbrush.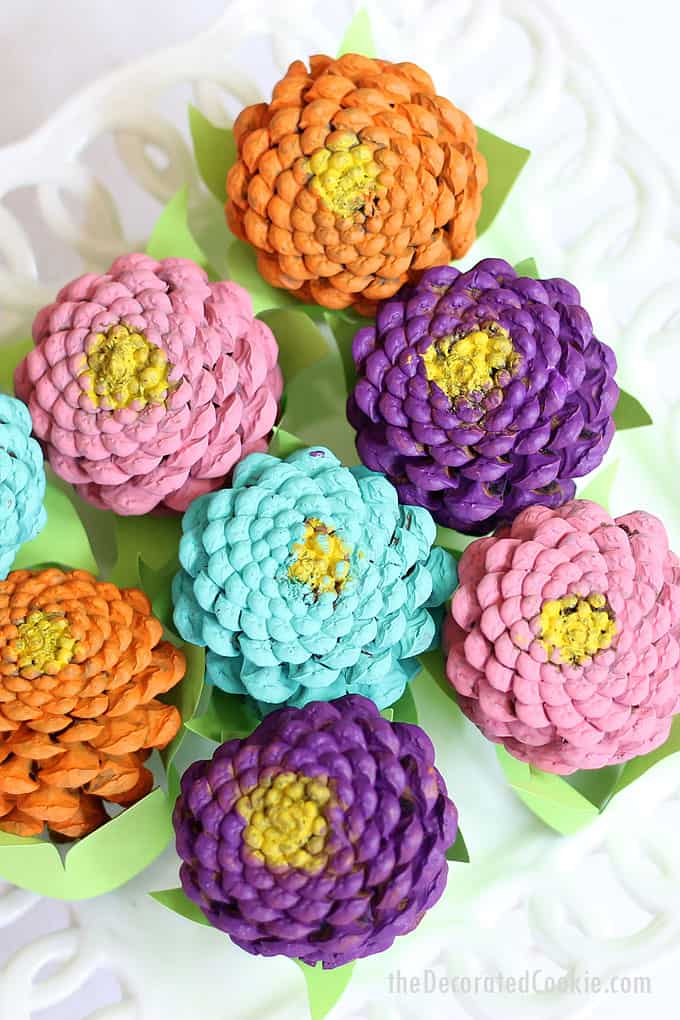 more flower crafts
If you like these flowers, maybe you'd like to paint flowers on wine glasses? Or make gerbera daisy cookies.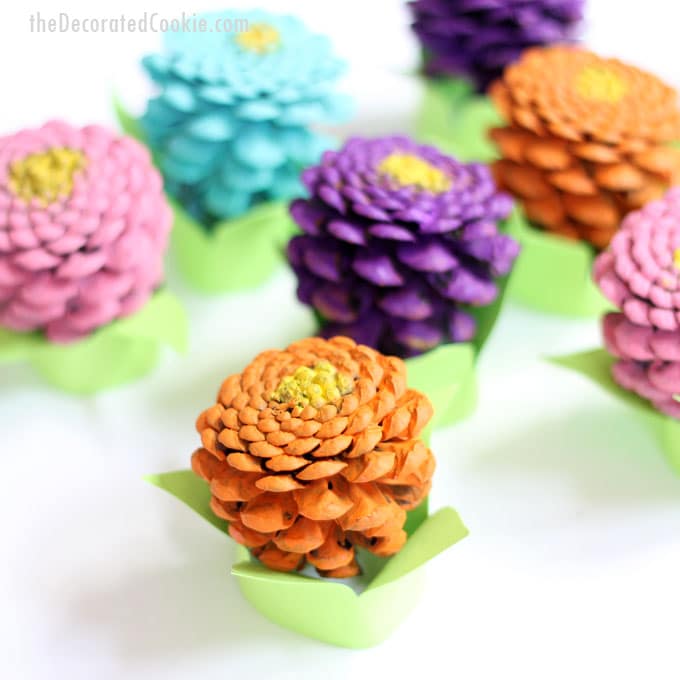 how to make pinecone Zinneas
you will need:*
pine cones
acrylic craft paint in yellow and other bright colors
paint brushes
*Find the above, including the pine cones, in the craft store. Here, I used two flat paintbrushes, one small and one large.
what to do:
Paint a small circle of yellow on the underside of a pine cone with the smaller paintbrush. With the larger paintbrush, paint the rest of the pinecone a bright color. Paint between the pine cone "petals" and underneath each. Let dry on a tray lined with wax paper. If needed, paint a second coat. Let dry and arrange on paper stands (instructions below).
how to make paper stands:
To make the paper stands, you'll need green cardstock (available at the craft store). Cut strips of the cardstock 6-inches by 2-inches. (If needed, adjust the size of the paper strips to fit your pinecones if they are of varying sizes). With scissors, cut out leaf shapes from the top of half of the strip. Loop in a circle and secure with clear tape. Fold down the tops of the leaves. Rest the Zinnea pine cone in the stand.