World's easiest chicken pot pie! This easy chicken pot pie recipe uses rotisserie chicken and other shortcuts for this weeknight dinner.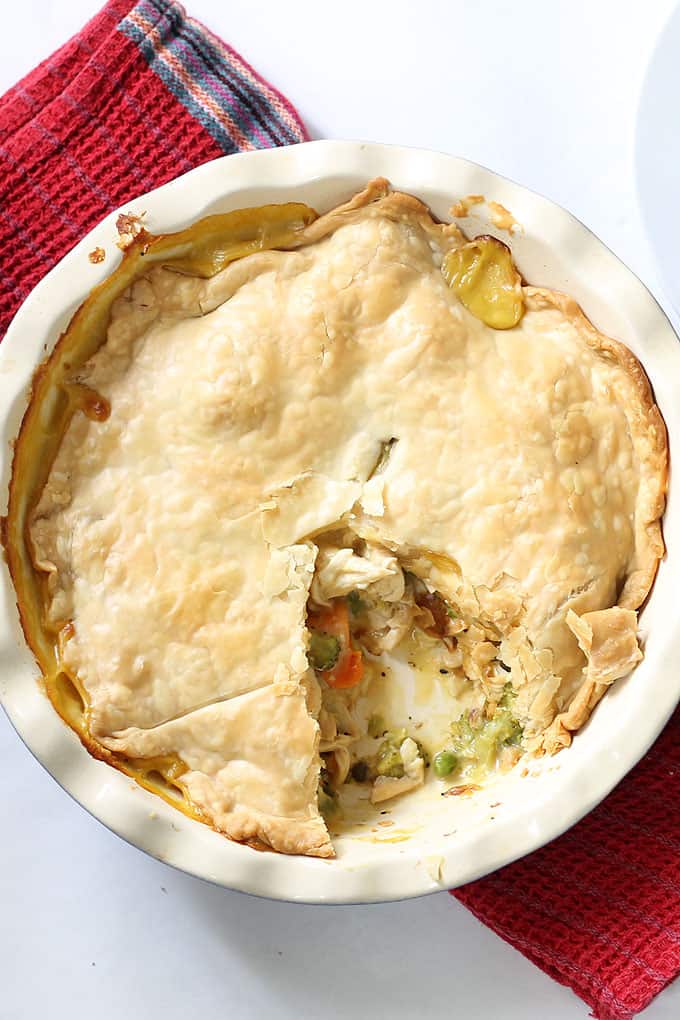 easy chicken pot pie recipe
What is a rotisserie chicken meal you ask? (I suppose, technically, I'm the one to pose the question.) It's a quick, weeknight meal you can make using rotisserie chicken as a shortcut. This easy chicken pot pie recipes uses all kinds of shortcuts, too. It's the quickest pot pie ever in the universe to make. Seriously. (And it's freeze-able.)
Need another rotisserie chicken recipe? Try chicken and kale enchiladas with easy homemade enchilada sauce made from spaghetti sauce.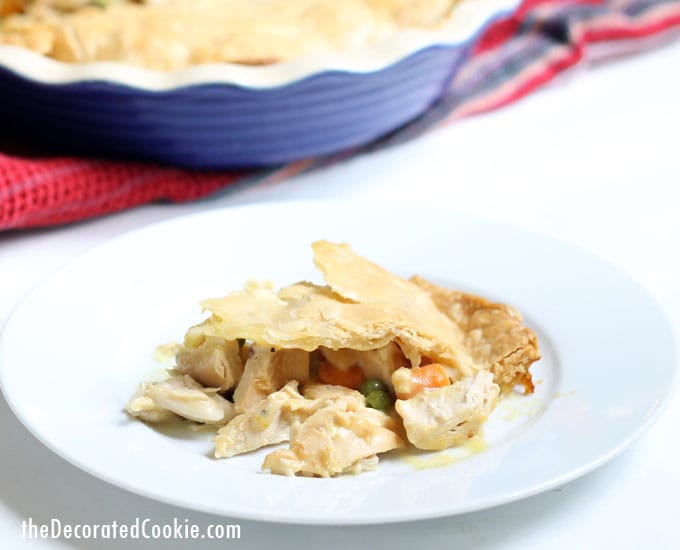 tips on making chicken pot pie
Some notes about the veggies in this easy chicken pot pie: You can use any you like, really. Here, I use fresh, chopped broccoli and carrots and some frozen peas. There is no need to pre-cook or thaw the fresh or frozen vegetables. To me, that's just an extra time-consuming step. This pie is in the oven for almost an hour, so the veggies will be nicely cooked without those extra steps.
Another note about the creaminess factor: I like pot pie full of the fillings. Really full. For a creamier pot pie, use less chicken and vegetables. You'll note that I have a range of amounts to add in the pot pie. The point of all this is that it's a versatile pot pie and you don't have to be so exact with your chicken and veggie measurements.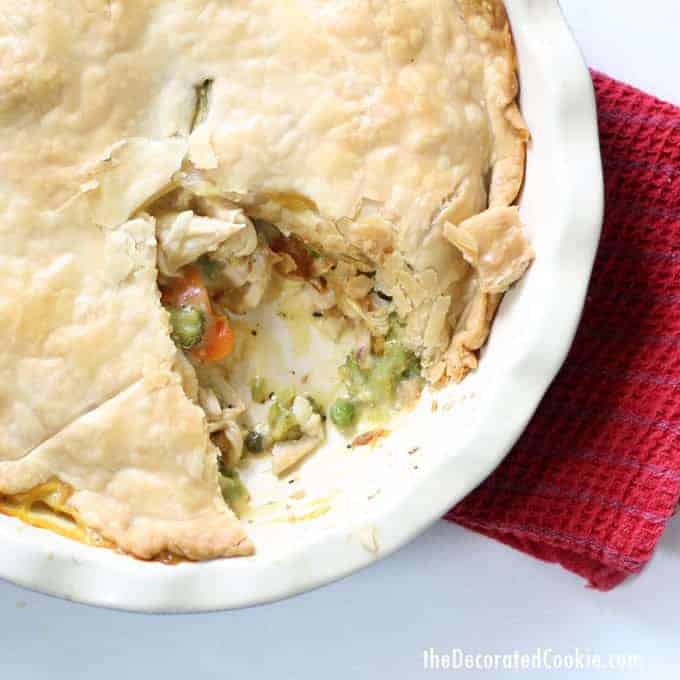 If you like this recipe, check out this smoky Chipotle chicken and kale pot pie. And for a lot more pot pie ideas, check out this roundup of 35 traditional and UNtraditional pot pies.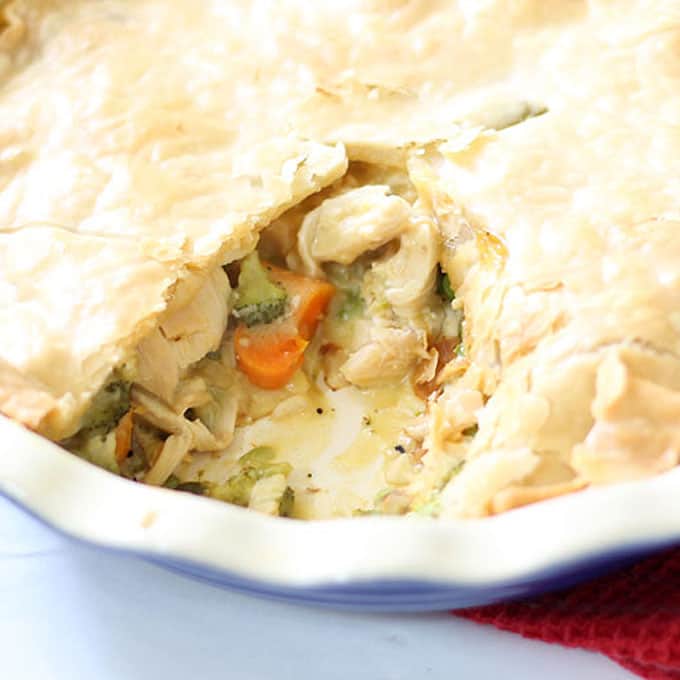 how to make easy chicken pot pie
you will need:
1 can condensed cream of chicken soup
1/2 cup milk
1/2 teaspoon garlic salt
1/4 teaspoon black pepper
1 1/2 to 2 cups cut-up rotisserie chicken
1 1/4 to 1 1/2 cups fresh or frozen chopped carrots, broccoli, and/or peas
1 refrigerated pie crust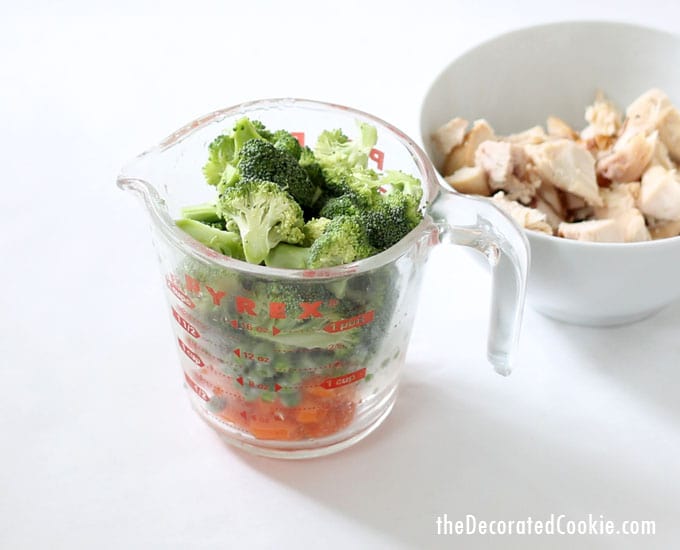 Preheat oven to 375 degrees F. Grease a pie dish and set aside.
In a large bowl, whisk together the soup and milk. Stir in the garlic salt and pepper. Add the chicken and veggies and stir to coat. Pour into the prepared pie dish. (For a creamier pot pie, use 1/4 cup less of both the veggies and chicken.) Top with the pie crust and cut slits in the center.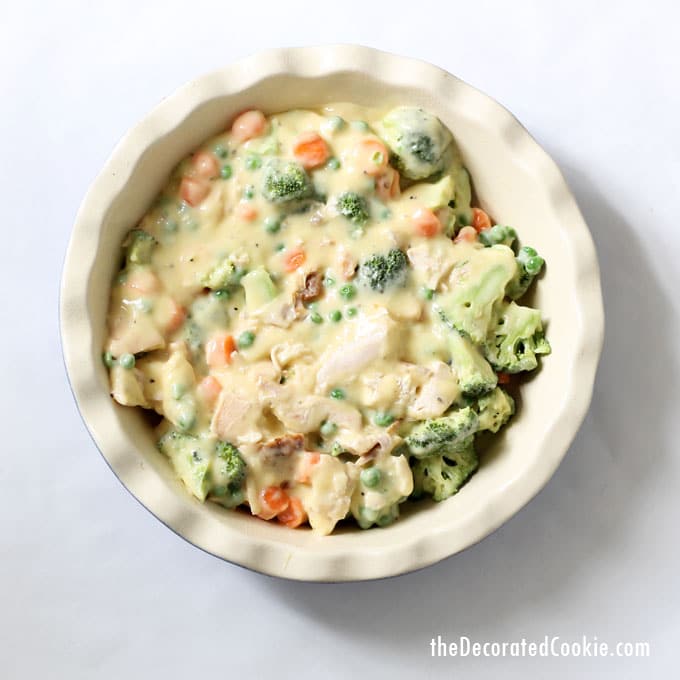 Bake until the crust is golden, 55 to 60 minutes. Keep your eye on the pie. If the edges start to brown too quickly, cover the edges with foil. (Or, use one of these pie edge covers. I have one. It's one of the few one-use gadgets I own that I love.)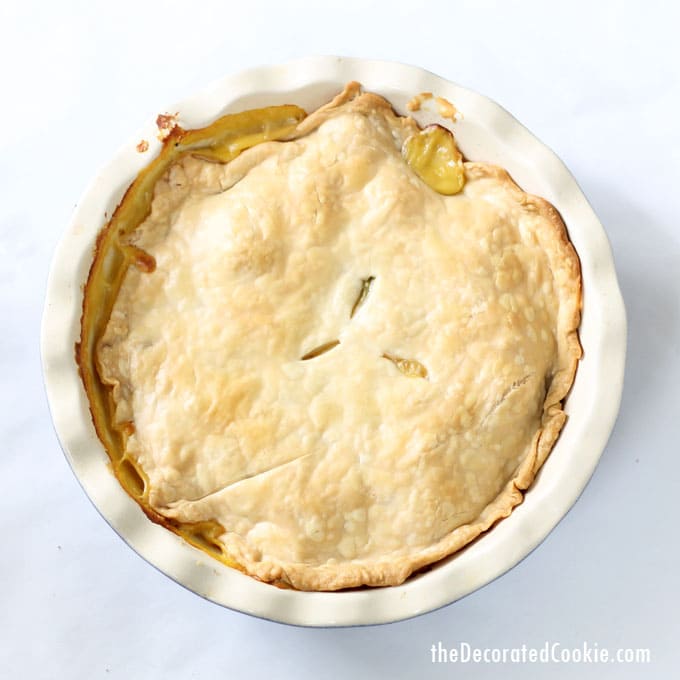 rotisserie chicken meal: easy chicken pot pie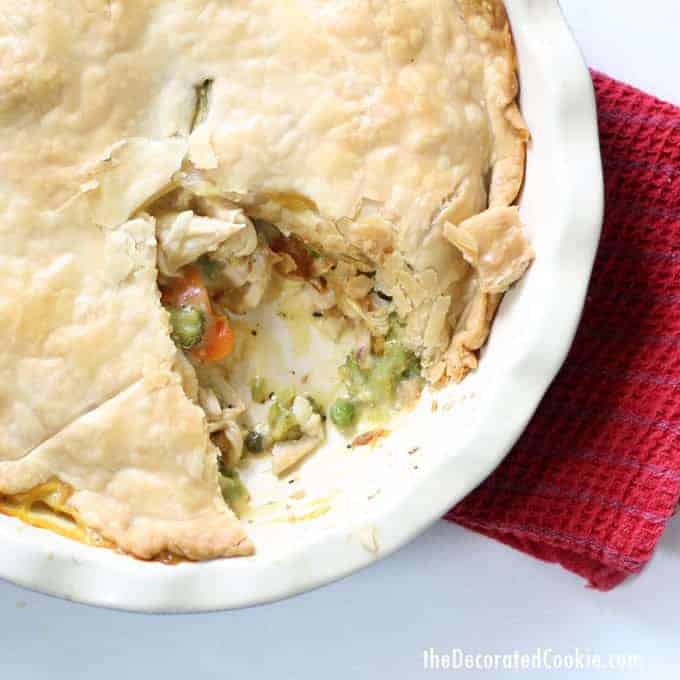 Ingredients
1 can condensed cream of chicken soup
1/2 cup milk
1/2 teaspoon garlic salt
1/4 teaspoon black pepper
1 1/2 to 2 cups cut-up rotisserie chicken
1 1/4 to 1 1/2 cups fresh or frozen chopped carrots, broccoli, and/or peas
1 refrigerated pie crust
Instructions
Preheat oven to 375 degrees F. Grease a pie dish and set aside.
In a large bowl, whisk together the soup and milk. Stir in the garlic salt and pepper. Add the chicken and veggies and stir to coat. Pour into the prepared pie dish. (For a creamier pot pie, use 1/4 cup less of both the veggies and chicken.) Top with the pie crust and cut slits in the center.
Bake until the crust is golden, 55 to 60 minutes. Keep your eye on the pie. If the edges start to brown too quickly, cover the edges with foil. (Or, use one of these pie edge covers. I have one. It's one of the few one-use gadgets I own that I love.)