Disclosure: *This post may include affiliate links. As an affiliate, I earn from qualifying purchases.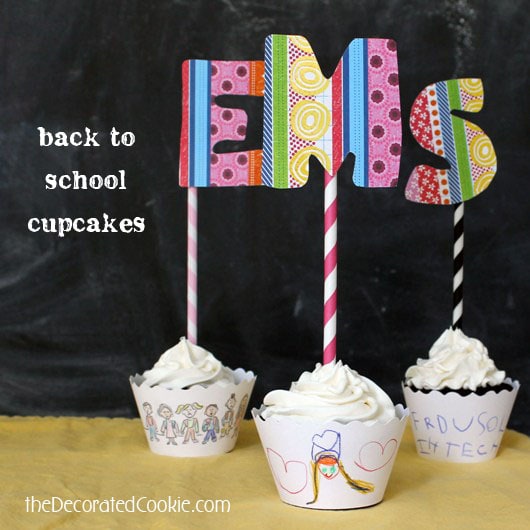 back to school cupcakes
I'm back partying it up with Bella Cupcake Couture again, this time for back to school, hosted by Carrie Middlemiss from Bella Cupcake Couture. This time, I made fun back to school cupcakes with cupcake wrappers kids can color themselves.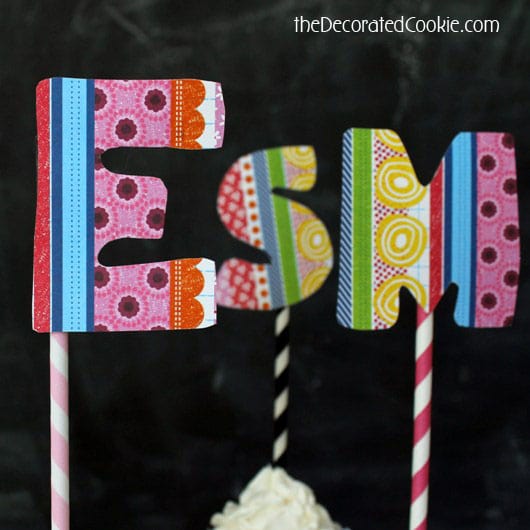 Ah, back to school. That mix of feelings at the end of a season and the beginning of another. I remember as a kid, spotting the first sign of Fall in the mall when they put out the plaid skirts and burnt orange sweaters. My heart sank every time.
Oh sure, I was a total nerd of academia, and I learned to love learning so much I have two totally (mostly) useless masters degrees, but I was one who lamented change, lamented the loss of summer freedoms. Now, however, it means (if the baby naps) getting more work done, so I am counting the days and hours and minutes until my daughter enters first grade.
I will miss the lax mornings and evenings, but gosh, my to-do list has gotten long the past few weeks. My six year old is different from the child version of me.
Funny how that works, isn't it? She's actually excited to go back. But this excitement is tinged with sorrow, understandably. As her natural state of being mimics the hours of a college student, she is most assuredly going to miss sleeping in.
But here is what she said when I interviewed her.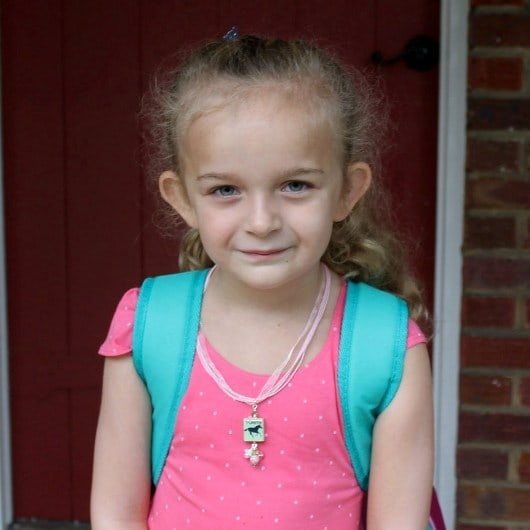 interview with an almost-first grader
WHAT IS YOUR FAVORITE CUPCAKE? "Chocolate with no frosting." (Anyone else know a kid who prefers the cake part?)
WHAT WAS YOUR FAVORITE PART OF THE SUMMER? "My birthday! Because we had fun bowling and the other party was fun because of the horses." (I'm the sucker mom who gave this kid two parties, a horse riding party on the Saturday before her real birthday and a bowling party on her actual day. Lucky, lucky, lucky kid.)
WHAT ARE YOU LOOKING FORWARD TO WHEN YOU GO BACK TO SCHOOL? "When I go back to school I want to play games and have lots of fun. I want to learn how to read so I can take myself to bedtime." (Yeeeeah, riiiight. I'll believe the take-myself-to-bedtime when I see it. And I hope I see it.)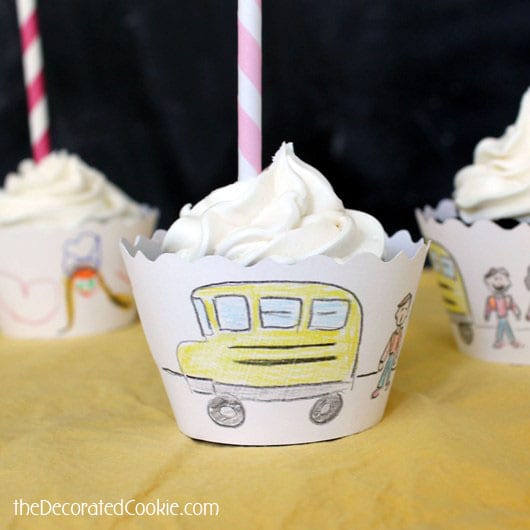 back to school cupcakes
These cupcake wrappers helped get us in the mood for school. Decorate your own cupcake wrappers? What a genius idea. Especially as my six year old is a drawing fanatic. She's rather prolific. And sentimental about keeping everything she creates. I have to hide a lot in the recycling bin. Don't worry, though, I'll save much forever.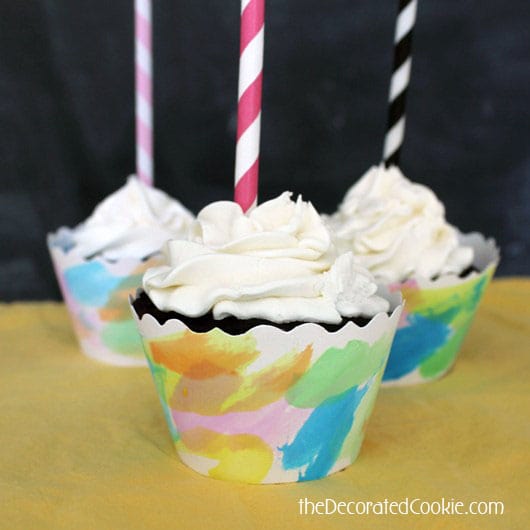 Kids' watercolor paints work well on these.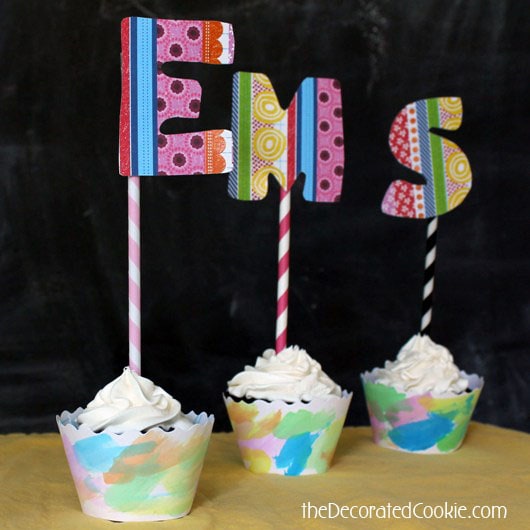 We both decorated cupcake wrappers to reflect our views of back-to-school. These are mine. See all the sad faces of the children. Except for the mohawk dude, he's angry.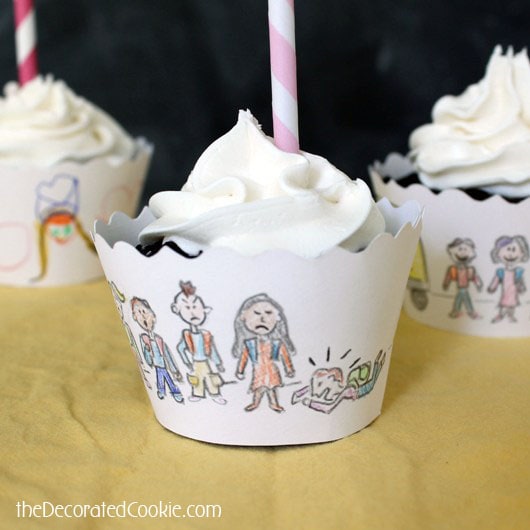 I didn't predict the sadness would cause my daughter angst. She made me decorate another wrapper with happy faces, "for the second day of school," as she put it.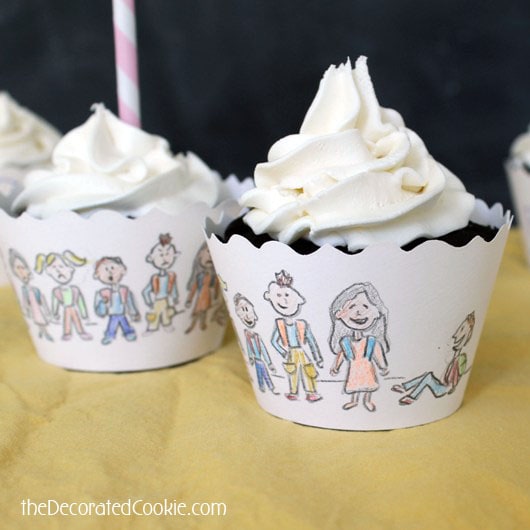 Here is my princess daughter full of love for her day at school.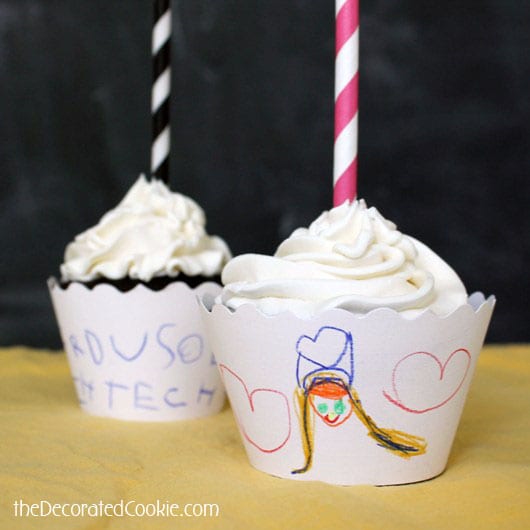 This one below is supposed to say "First day of school, I have a boy teacher and a girl teacher," only she ran out of room to write all that. Hopefully this year she will perfect her phonics and space issues.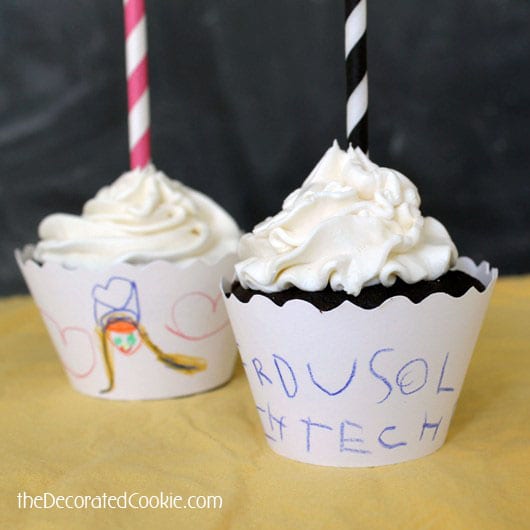 To make the cupcakes, prepare your favorite cupcakes. Prepare your favorite frosting. (If using store-bought frosting, you'll have to thicken with confectioner's sugar so it keeps its shape when piped.) Fill a decorating bag fitted with a size 1M tip with frosting and close with a rubber band. Pipe frosting on the cupcakes in a circular motion.
To make the cupcake toppers, trace letter cookie cutters on a piece of patterned cardstock. Cut out the letters and tape a lollipop stick or straw to the back.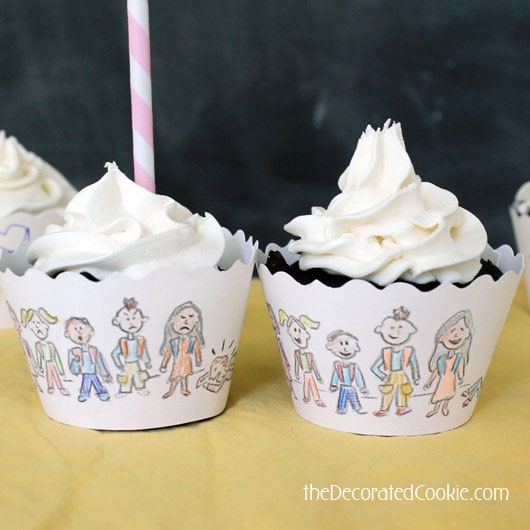 See how everyone who came to this party celebrated back-to-school with their cupcake wrappers:
Bella Cupcake Couture
Chronicles of a Foodie
Mesa de Vida