Disclosure: *This post may include affiliate links. As an affiliate, I earn from qualifying purchases.


A roundup of 29 panda bear treats and crafts AND panda marshmallow pops.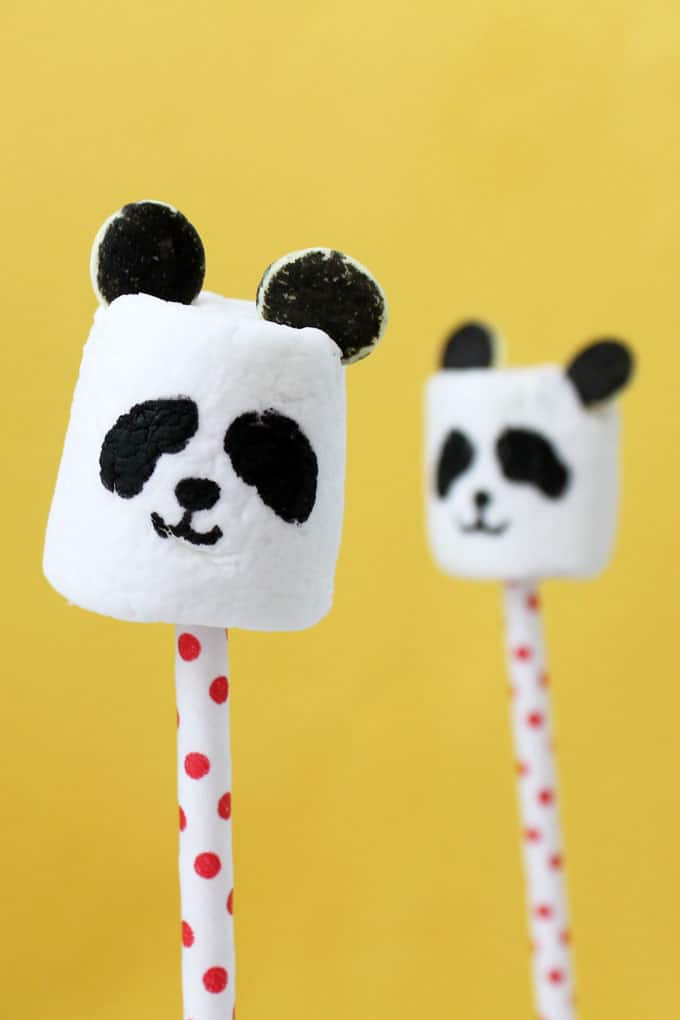 panda bear treats and crafts
I have big news out of Washington DC. We've been waiting, and it's finally happened. The panda cub was born on August 23rd at 5:32 PM. I will always remember where I was for this momentous occasion. (At IKEA, with my kids, a friend, and her kids. She got a text alert that said water broke at the National Zoo and we thought they meant a water pipe.) You see, pandas are big things here in Washington DC. Our zoo is committed to helping to research, conserve and breed the ever-so-rare and beautiful panda. You can learn more about the panda, and even watch the Panda Cam, HERE at the National Zoo's site.
Sadly, the panda's twin did not survive. And late last year, a six day old panda bear did not survive. So this birth is happy news for DC. I'm fortunate to live in this city that houses the Smithsonian. The Mall is flanked by wonderful museums of Natural History, American History, Air and Space, American Indian, Art… All free. Further north, in the heart of the city just miles from where I live and in the middle of the national park that runs the length of DC is the zoo. Also free. (OK, so you have to pay for parking, but I'm a zoo member, so I don't.) As mother to two kids, this is a very good thing. I know the zoo well.
For this week's Wednesday Roundup, I thought I'd give an ode to the panda. And I do realize that putting a panda head on a stick risks being interpreted all Lord of the Flies-like. Please believe me these are meant to be an homage, not Lord of the Flies-like. Here are 29 snacks, treats and crafts that celebrate the panda bear.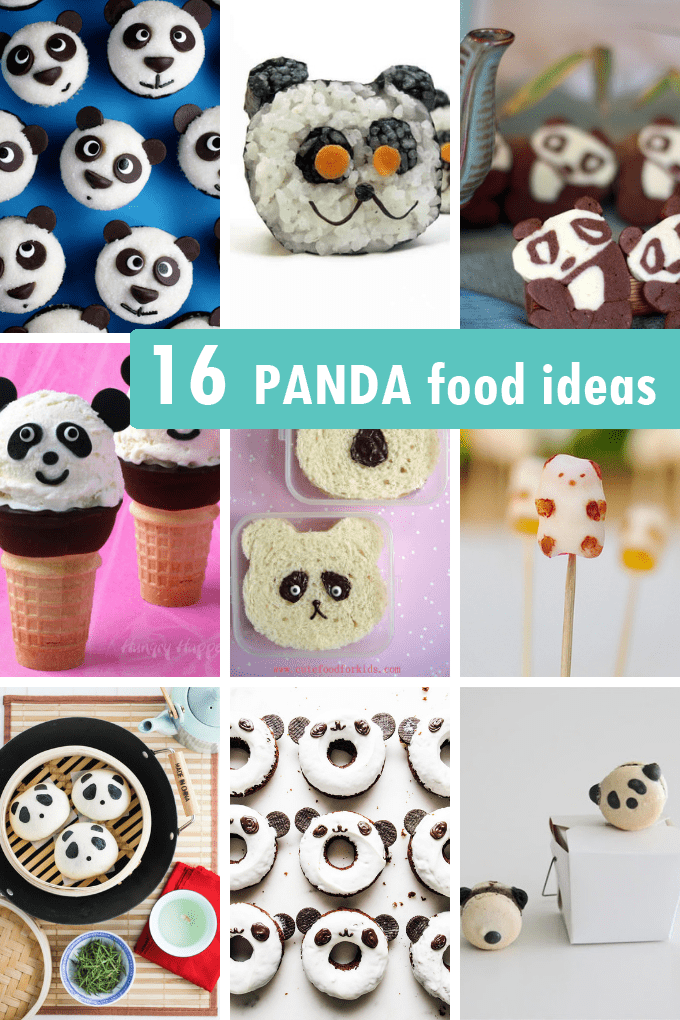 panda food ideas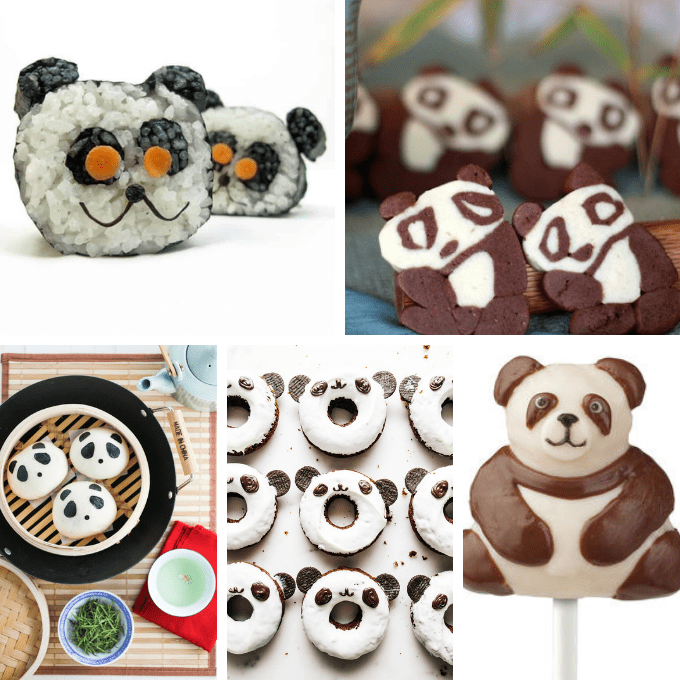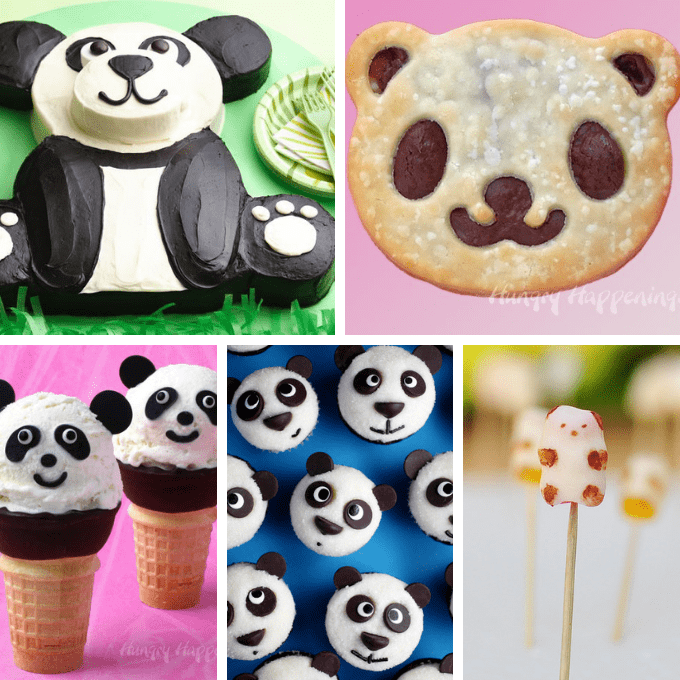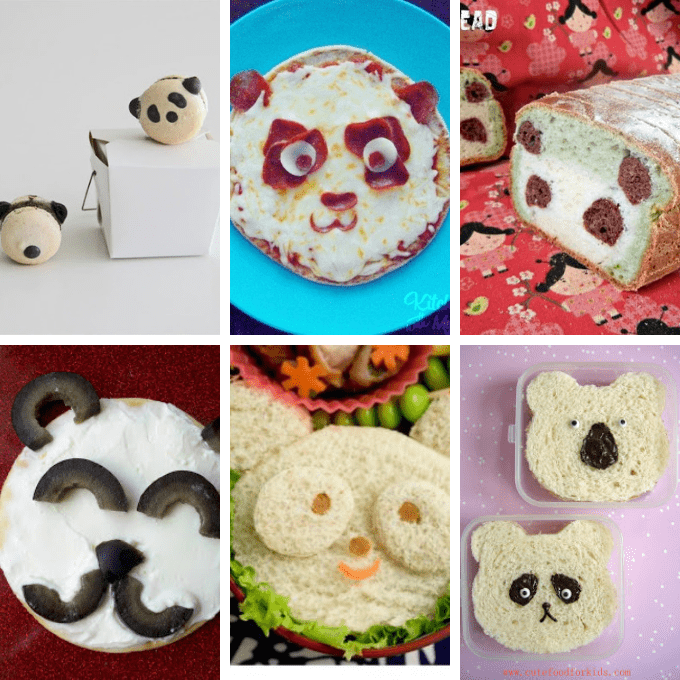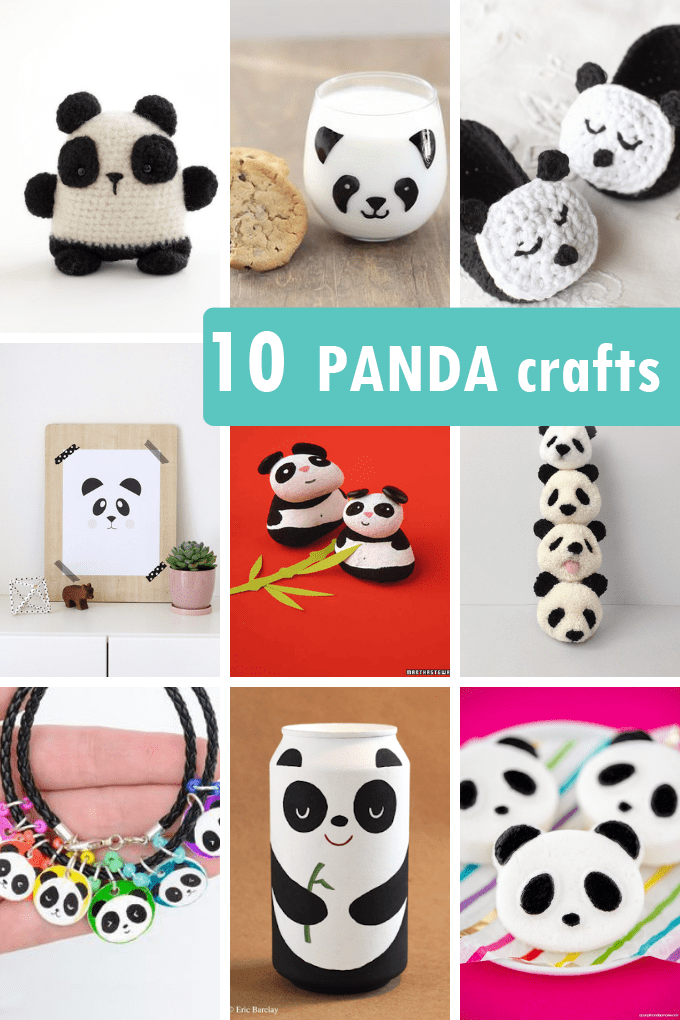 panda crafts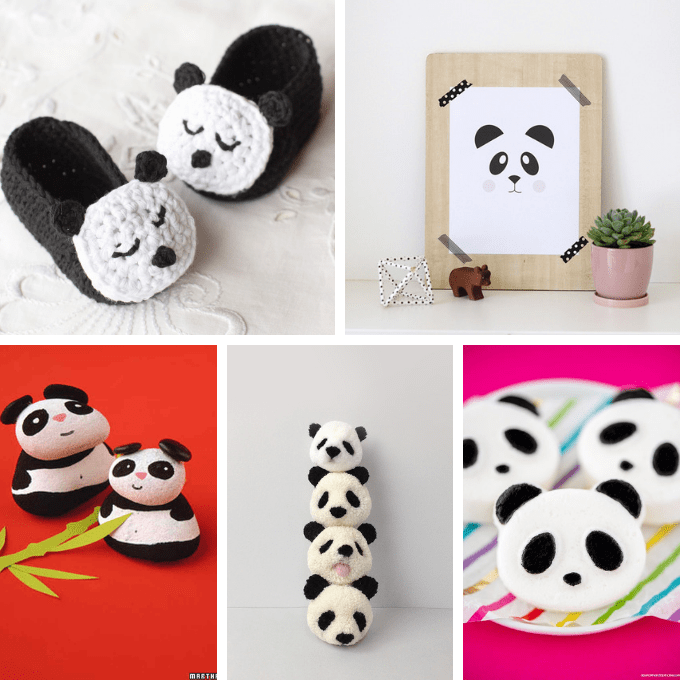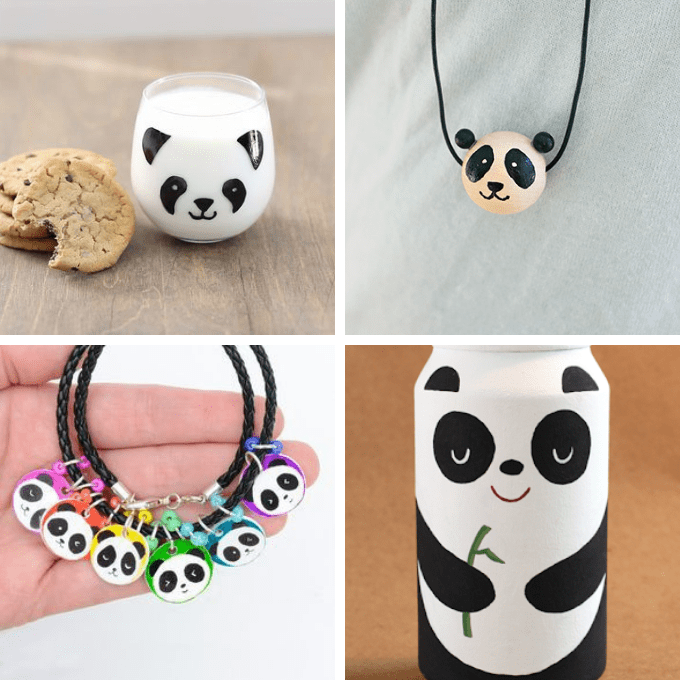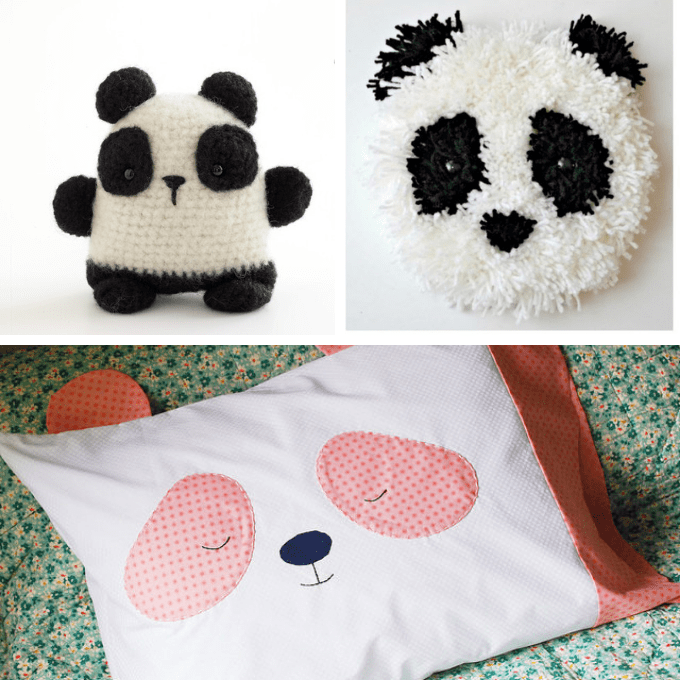 And lastly, make some easy panda bear marshmallow pops. How-tos below.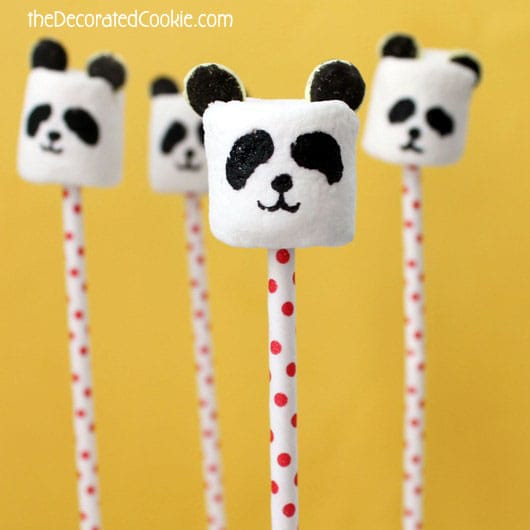 how to make panda marshmallows
you will need:*
marshmallows

jumbo confetti sprinkles

black edible writer

light corn syrup

sharp knife

lollipop sticks or straws
*Find the sprinkles, lollipop sticks and edible writer in the craft store. For more tips on finding the edible writers, click HERE.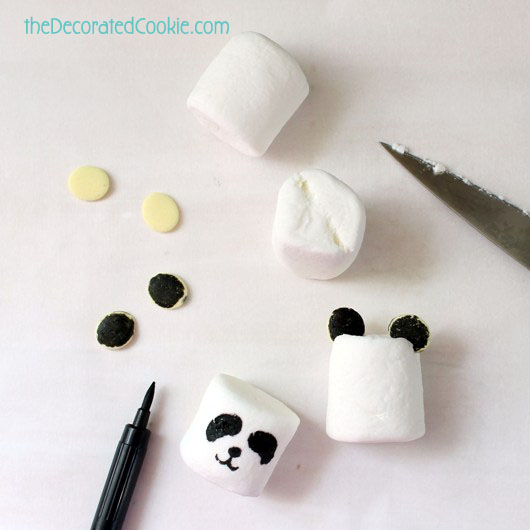 what to do: Color one side of the jumbo sprinkles black with the edible writer. The light colored sprinkles work best and yes, you will stain your fingers. Use the knife to cut slits at the top sides of a marshmallow. Insert the sprinkle "ears," using a dab of light corn syrup if needed to adhere. Gently squeeze the marshmallow around the sprinkles to secure. Use the writer to draw the panda face. Add a lollipop stick or straw. Or, here's a shortcut: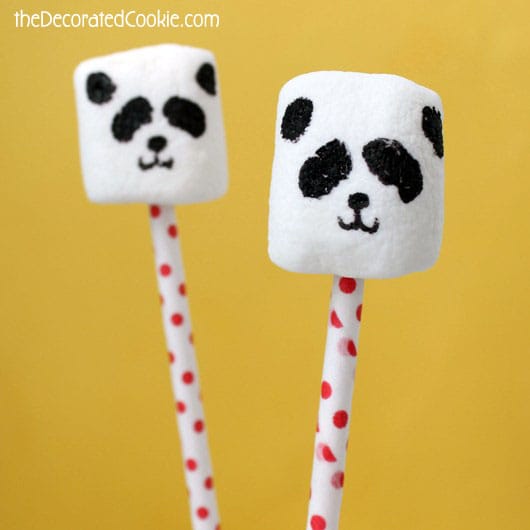 SHORTCUT TIP: Rather than a few minutes, take only a few seconds to make these by omitting the sprinkle part. Just draw the ears on the marshmallow, too.