Disclosure: *This post may include affiliate links. As an affiliate, I earn from qualifying purchases.


Easy Halloween marshmallow art: Use food coloring pens to draw bloody marshmallows.
bloody marshmallows
In a break from my usual schedule, this week I'm going to show you how to draw a different Halloween marshmallow every day. Monday was Jack O'Lantern marshmallows. Tuesday was zombie hand marshmallows. Today is blood! Specifically, some easy bloody marshmallows.
Drawing on marshmallows is the quickest, easiest, most interesting treat you can make for a party. For tips on buying and using edible writers, CLICK HERE. You'll also find links below to buying on amazon.
DAY ONE: Jack O' Lantern marshmallows
DAY TWO: Zombie hand marshmallows
DAY FOUR: Monster marshmallows
DAY FIVE: Spider marshmallows
how to draw bloody marshmallows
You will need:*
marshmallows
black and red edible writers
lollipop sticks (optional)
*Find sticks in the craft store. For edible writer resources, click HERE. Or, see below.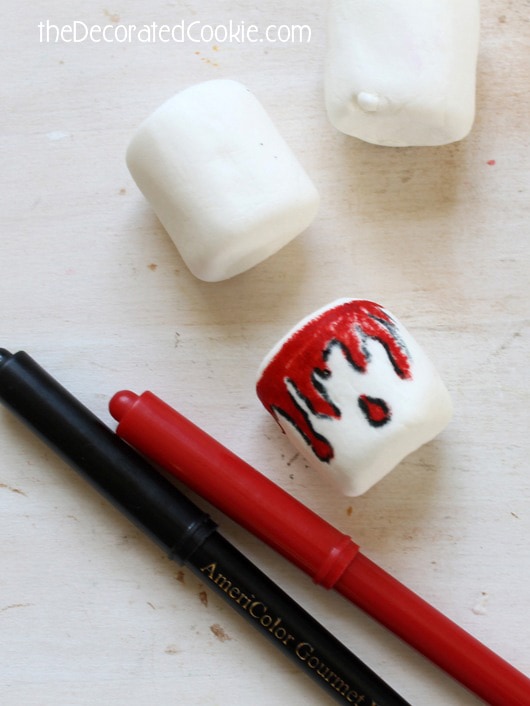 Draw the design as shown on the marshmallow. Skewer with a lollipop stick if you like. To draw a bloody marshmallow, 1. Draw the dripping blood as shown. 2. Use the black to outline the blood.