Sparkly, colorful snowflake cookies are a beautiful decorated cookie idea for winter and Christmas.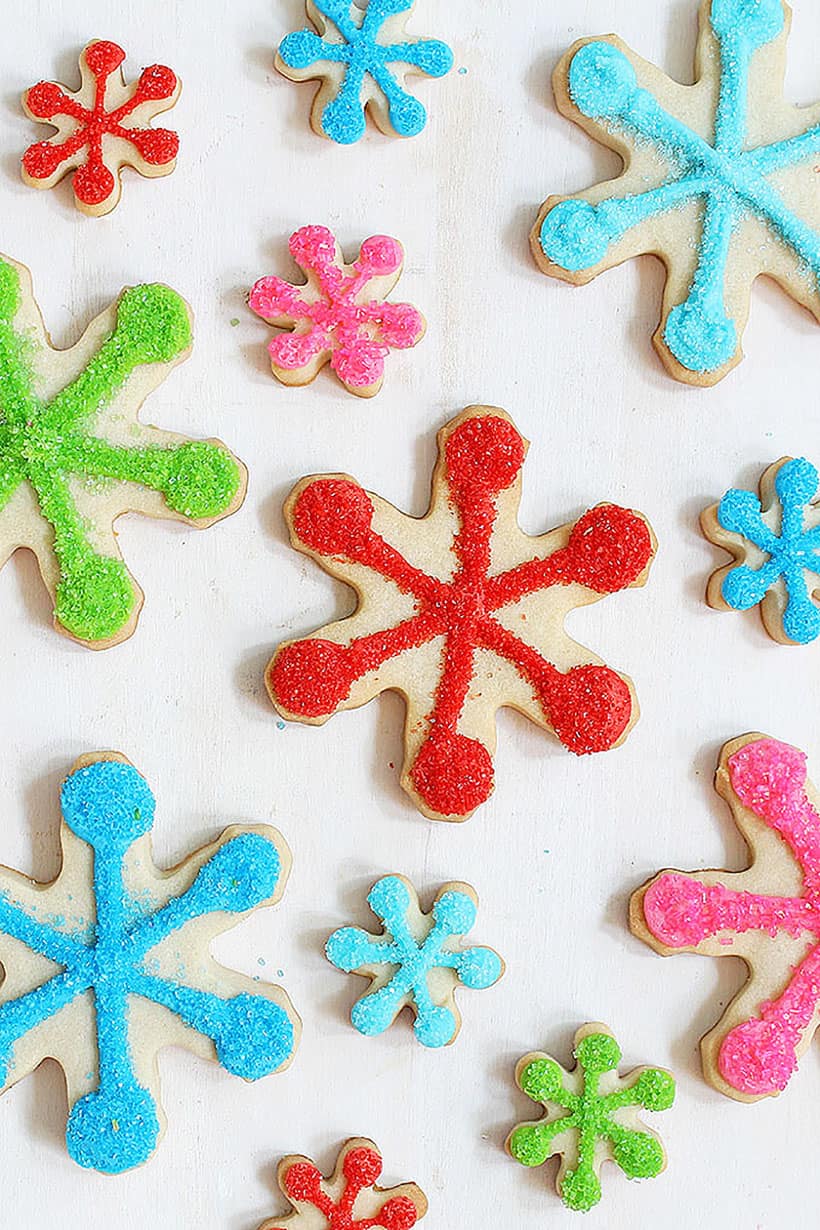 Christmas cookies
These sparkly, bright, colorful snowflake cookies are easy to decorate.
You may remember this Spring when I joined 18 other creative bloggers in the Let's Smell the Flowers cookie challenge at Haniela's. I made these carnation flower cookies.
Well, Haniela's invited me back for the holidays. This time, the challenge was to pick a Christmas card to use as inspiration for cookies.
Below is the collection of all the amazing Christmas card-inspired cookies. Scroll to the end for the links to the bloggers' posts! I chose to make bright and colorful snowflake cookies for Christmas.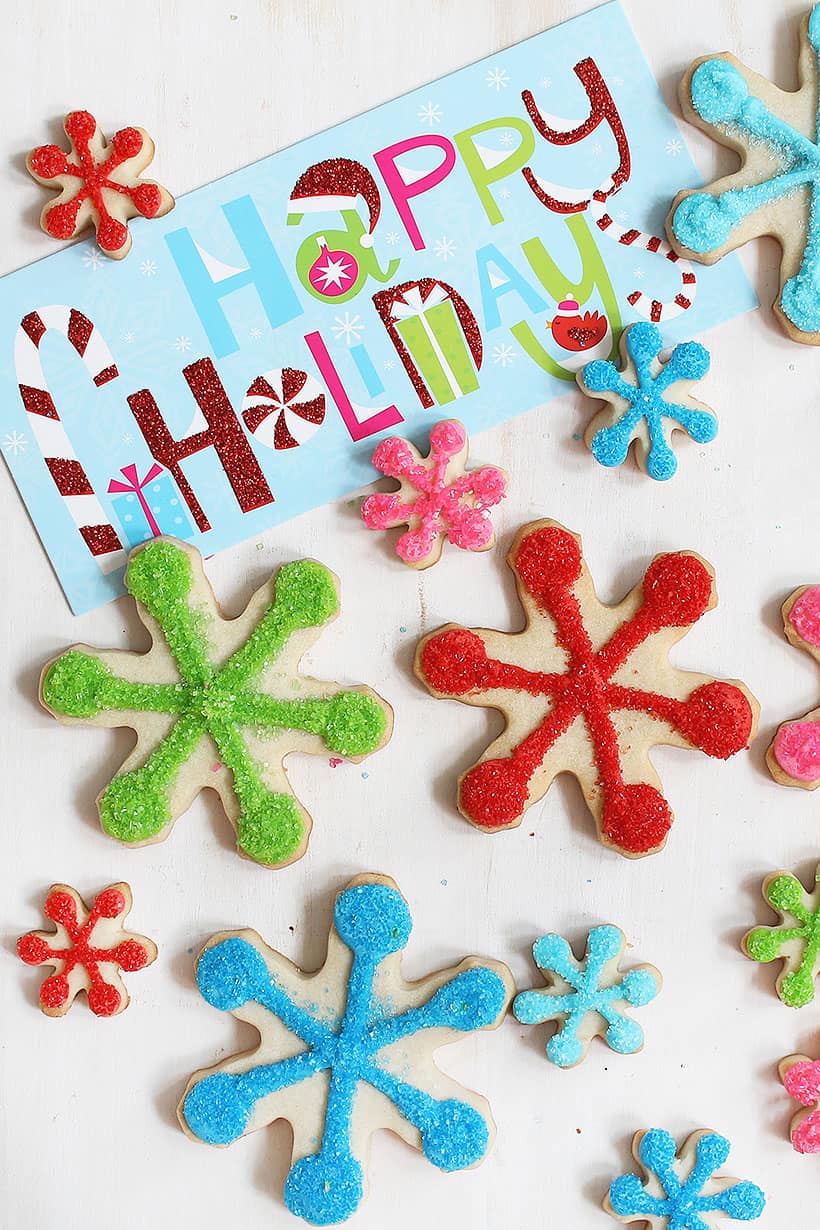 sprinkles as a cookie decorating tool
I wanted something with sparkle. Because I love sparkle. I've mentioned a jillion times on this blog how much I love sprinkles, not just for said sparkle, but because they are such a fantastic decorating tool for cookies.
They add dimension and interest to the simplest cookies.
And bonus, you needn't be a cookie decorating expert to decorate with sprinkles.
Sprinkles cover icing blips and errors, and they eliminate the need for two different consistencies of icing, because sprinkles cover the lines.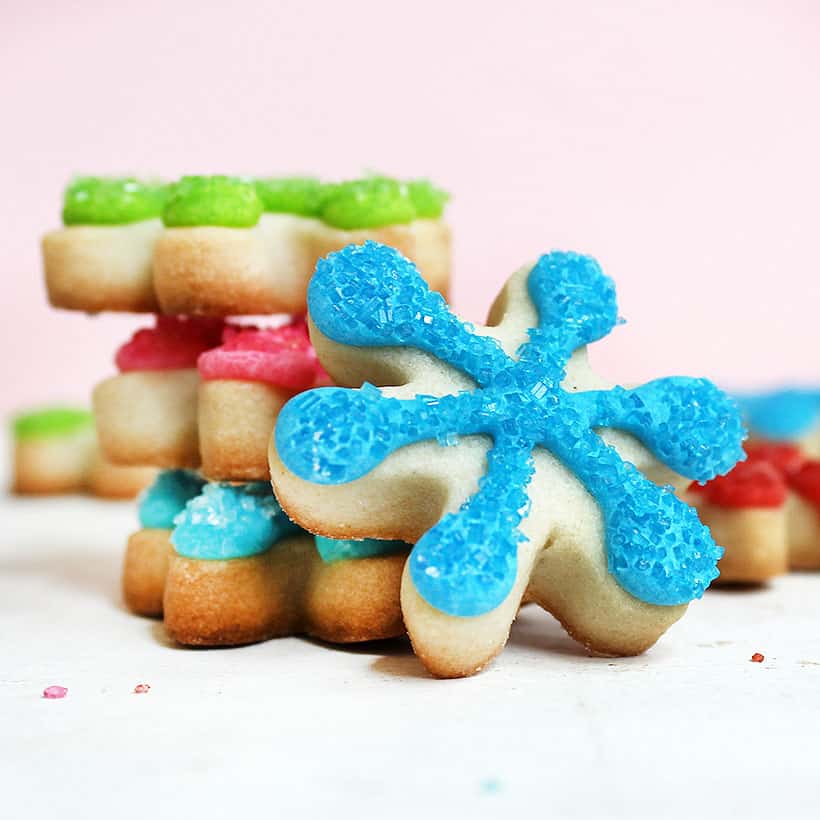 easy cookie decorating
While fun and challenging, after spending years at a cookie shop decorating intricate, crazy, and bizarre cookies that take much research and labor to craft (think major appliances, human organs, inside jokes, anything you can imagine drawn on a cookie, I've put on a cookie), I have entered into a way-too-long phase of simple, simple, simple.
You'll notice now the cookies I decorate are simple shapes, simple designs, simple colors and simple to re-create. Case in point: These super simple, bright, sparkly snowflake cookies.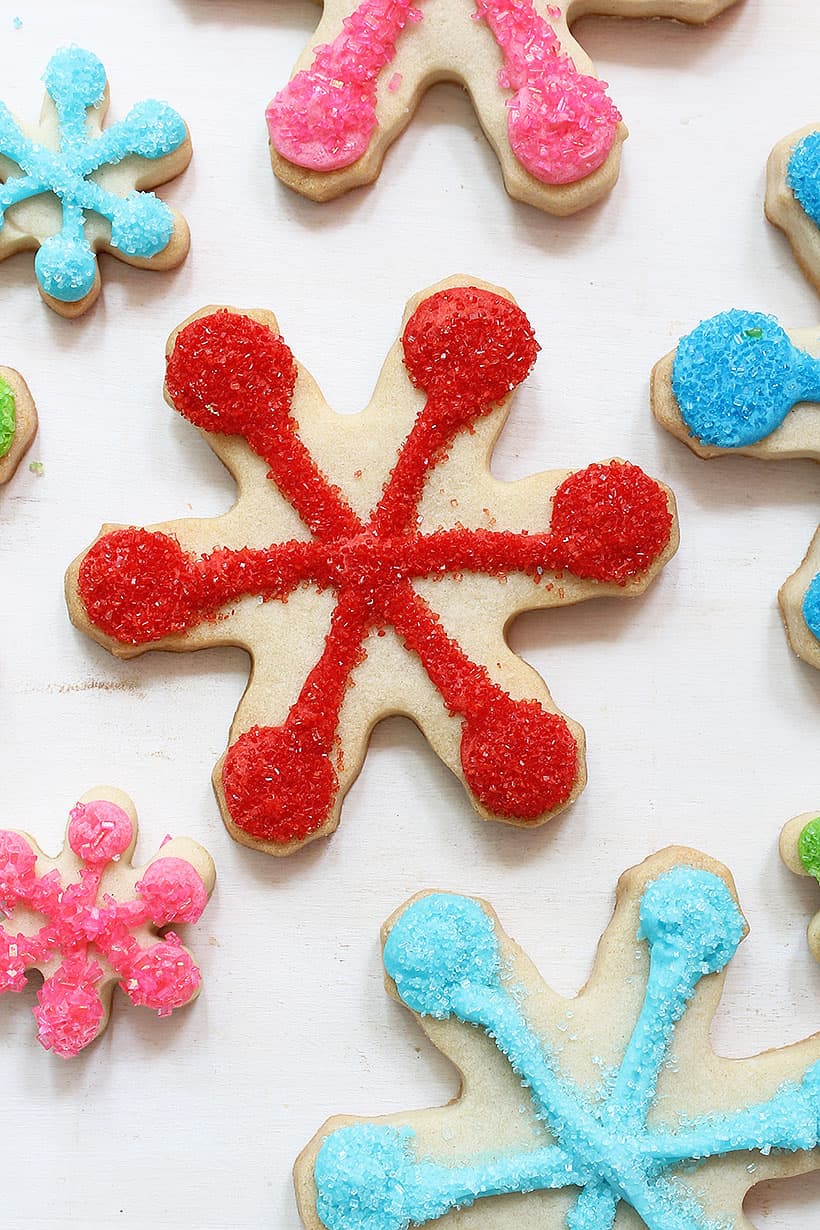 I found these cards at Target. (Oh Target, how do you never fail me?)
I love the touch of sparkle, the mod look and the dominant mix of colors.
These snowflakes are decorated merely with three lines and six big dots at the end of each spoke. That's it.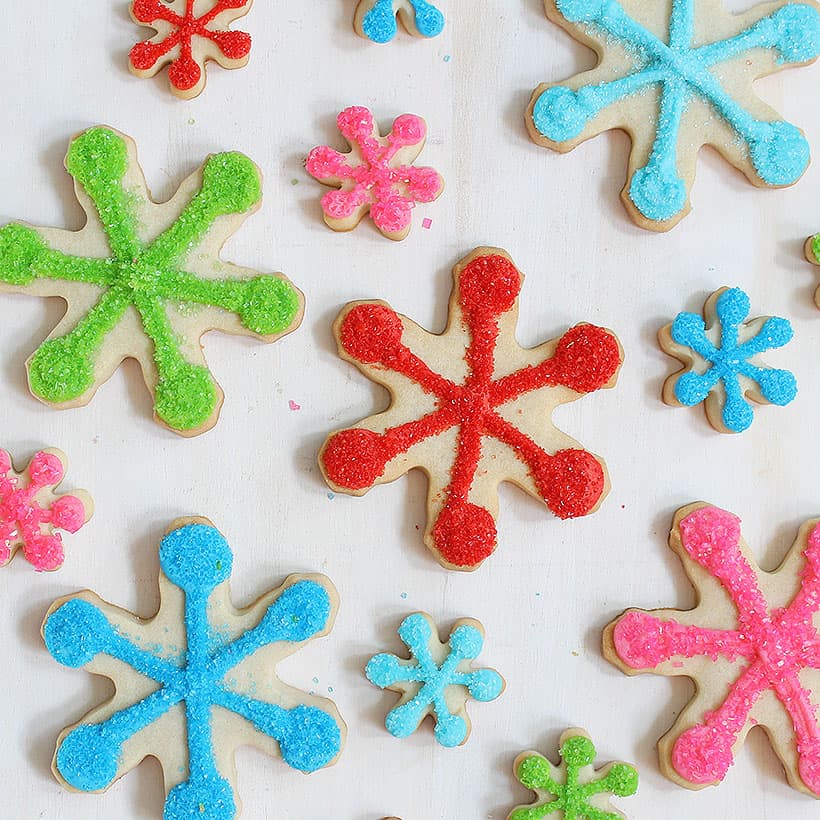 how to make simple, sparkly, colorful snowflake cookies
you will need:*
food coloring

coordinating sprinkles

snowflake cookie cutter(s)

disposable decorating bags

couplers

size "4" or "5" decorating tips

rubber bands
where to find supplies
For food coloring, I suggest Americolor Soft Gel Pastes. Electric Green, Red Red, Sky Blue and Electric Pink used here.
Find sprinkles or sanding sugar in matching colors at the craft store. You'll also find decorating bags, couplers and tips at the craft store.
You should find snowflake cookie cutters at the craft store this time of year, but here is a handy link for cookie cutter resources. My cookie cutters were 3 inches and 1 1/2 inches, but you can really use any size you prefer. Here are more resources for supplies.
For more cookie decorating recipes, click here. If you need vegan cookies and icing recipes, click HERE.
step one: make your cookies
Prepare the cookie dough according to the recipe, chill, roll out to 1/4-inch thickness, cut out your snowflakes and bake according to the recipe. Let cool completely.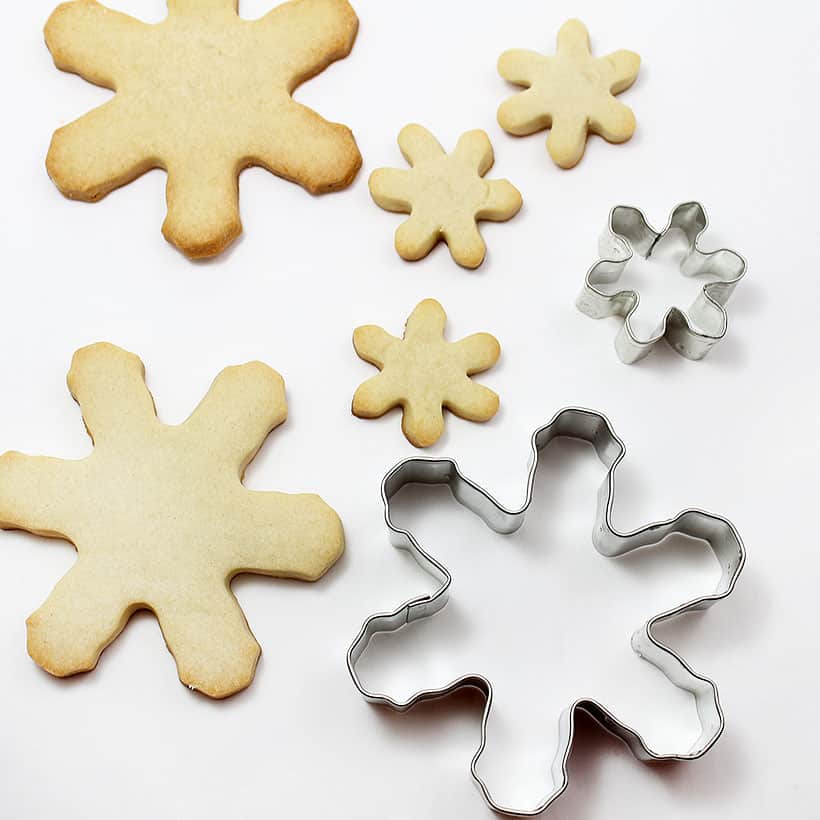 step two: prepare your icing
Prepare the icing according to the recipe, divide and tint your preferred colors.
Assemble disposable decorating bags with couplers and tips (sizes "4" or "5" depending on the size of the cookies), fill with the icing colors and close tightly with rubber bands.
step three: decorate your cookies
Work with one cookie and one color at a time.
Pipe three lines to make six spokes. I piped two or three lines side-by-side for each of the three lines to make them a bit thicker.
Then pipe six big dots at the end of each spoke. Immediately coat with a coordinating color of sprinkles.
Overturn to remove excess and rest on a baking tray until dry. Complete with the rest of the cookies and colors, and let dry very well, several hours at least, overnight preferred, before handling and packaging.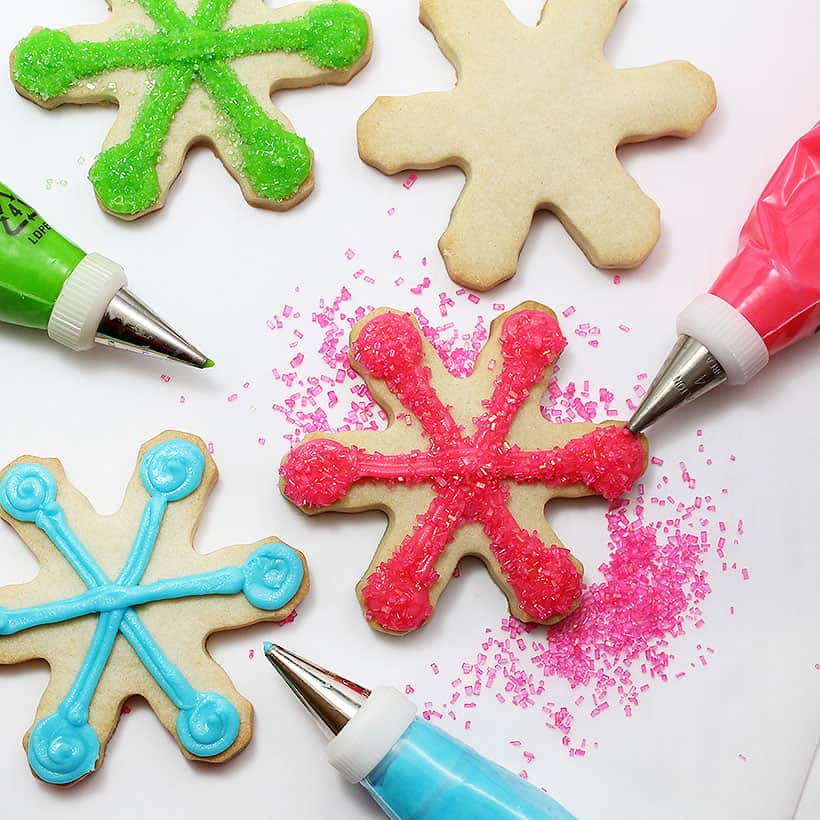 Christmas cookies collection
And now, here they all are. Be sure to visit and say hello to these crazy-talented ladies!! Thanks to Haniela for including me in the bunch!