Disclosure: *This post may include affiliate links. As an affiliate, I earn from qualifying purchases.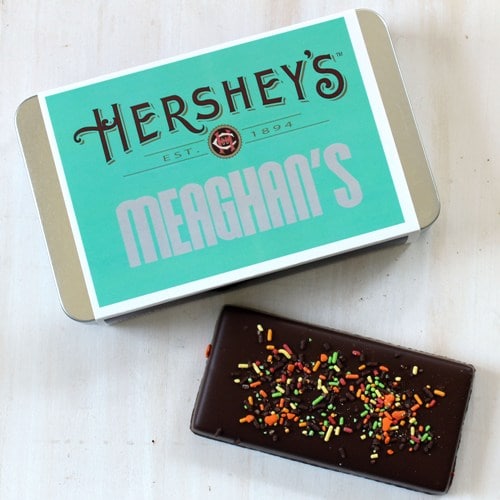 I've hinted about my trip to Hershey, PA and the awesomeness of it all, and I have more to come with actual sweet treats, but this is a quick recap of the said awesomeness. I was invited to join 11 other bloggers at Hershey's Headquarters for a few days to create a video and photo shoot of holiday treats in the test kitchens. Despite being 8 1/2 months pregnant, I could simply not say no. Touring the chocolate factory? Getting to work in the test kitchens with the sweet and wonderful Linda Stahl, Hershey's baking expert? Meeting some of my blogger buddies live and in person? Heck, I thought, they have a medical center across the street, and it's only a 2 1/2 hour drive. I'll be fine. Yes. I'll go. (Note: I was fine. Phew.) My only regret is I have no pictures of those I met, sigh, the most important part of the trip.
I'm thrilled to be part of Hershey's Cookie Headquarters. "The Baker's Dozen" is the blogging group at cookie headquarters that came together over three days. Videos and photo shoots are forthcoming, by the way, but in the meantime, want to see who I met? This group of women (and one dude, Hi Taylor!) was so collectively talented, creative, kind and enthusiastic, they just suck you in to their coolness. And everyone had such distinct personalities, specialties, interests and backgrounds. The only homogenous element was that we all blog about food! They are:
(Yay! finally got to meet my virtual pal! She's just as sweet and lovely in person.)
(Another yay and finally to getting to meet an online friend! As vibrant as you'd imagine!!)
(I'm envious of how on the ball and together Naomi is! She does it all!)
(Yes! got to meet the hilarious Shelly! We talked survival. Or lack thereof.)
(So funny and bold, we chatted cocktails.)
(So freakin' adorable, she was in on the very important cocktail convo.)
(We tasted way too much chocolate together.)
(Just like her picture… warm and smiley.)
Lindsay and Taylor of Love and Olive Oil
(We shared the bright and early, wake at 5 am, video spot the first day, with smiles and cat stories.)
(The very first blogger I met at Hershey, so I got off on the right foot!)
Sarah of Baking911.com
(So impressed by her story! I bow to her longevity in the field.)
And my new hero, Linda Stahl, Hershey's baking expert and Kitchens Manager. I wish I could hang out with her every single day.
We each prepared our different holiday treats ideas before arriving at Hershey. The teams in the Test Kitchens have this thing down to perfection. The lights, the cameras, the set-ups… all beyond what I've seen before, and thankfully, they were welcoming, patient and way-too-kind. They didn't even seem the slightest bit bothered when the shoot took hours, and I kept saying "oops, I stuttered… Oops, I hesitated…Oops, what was the line again?…Oops, can we shoot that once more?" It takes a professional to deal with an amateur. Plus, they kept telling me I should sit, because of the pregnant thing. (So it turned out to be an asset, not a liability.) This is a shot of my video shoot taken by Hershey's: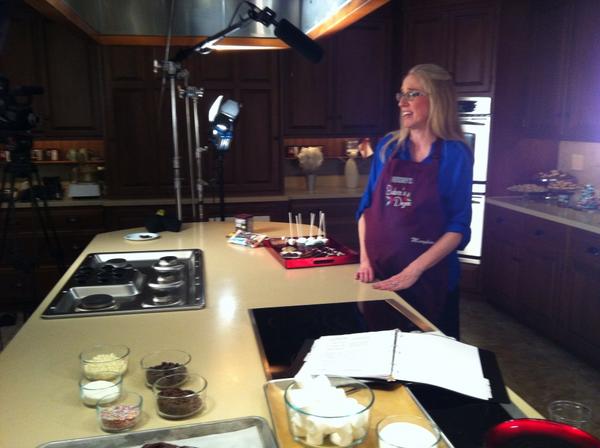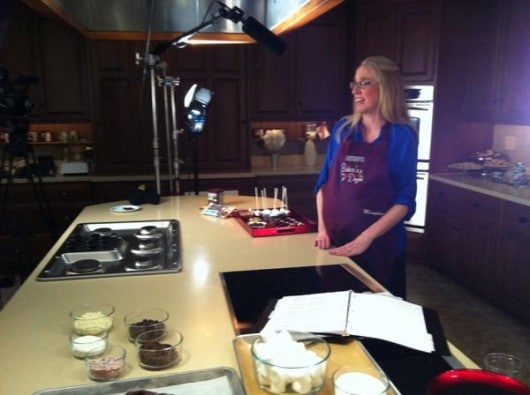 The Hershey team that organized the event was the nicest, put-together crew I could imagine. No detail was overlooked. They treated us like royalty, which I keep saying, but I can think of no better phrase. They took care of anything and everything. Our own rooms at the Woodside Cottages were a luxury with which I'm not overly familiar, not being one with piles of gold in the bank. There were even TVs in the bathrooms! (Dang, I forgot to turn mine on, just to turn on a bathroom TV.)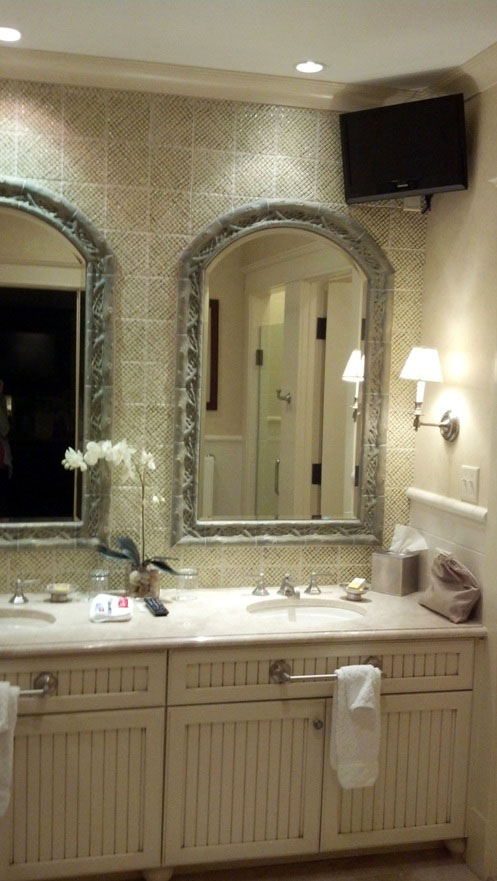 We had a yummy dinner at the Harvest restaurant at the Hotel Hershey, and then another yummy dinner at the Circular Dining Room, which we had to ourselves, by the way, and we were treated to a presentation by the Executive Chef on incorporating chocolate in savory recipes. We all even had treatments at the Hershey Spa. Me? I had the most relaxing, hour long cocoa facial. And yep, it's chocolate and it's edible. I left my cottage to walk up to the spa and there was a Town Car there. I waved to the driver and continued past before realizing he was there for me. Moi. Just to drive me up to the spa. See? Luxury.
We had a day to explore the Hershey town and factory. We made our own chocolate bars (mine is the first photo up there), tasted delicious chocolate in its purest, un-blended form, saw inside a cocoa bean…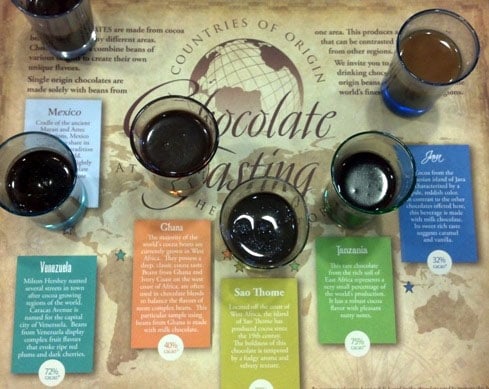 Milton and Kitty Hershey impressed me most. I hadn't the faintest idea how philanthropic this couple was. They essentially built the town of Hershey PA in the Depression to give the townspeople jobs. Unemployment went DOWN, not up. And unable to have children of their own, Milton and Kitty founded the Hershey Industrial School for orphaned boys, now co-ed, named the Milton Hershey School, and serving about 1800 students from underprivileged backgrounds from all around the country. All children are cared for by house parents, provided with food, board, clothes, supplies, education and even secondary education. Ever thoughtful, Mr. Milton left the school controlling interest in Hershey, so it will exist as long as the chocolate. Read more about the history HERE.
Know how many Kisses are made a day? About 80 million. A day. If you ever get a chance to tour Hershey's, I hope you do. What a wonderful place. Thank you Hershey's!