Disclosure: *This post may include affiliate links. As an affiliate, I earn from qualifying purchases.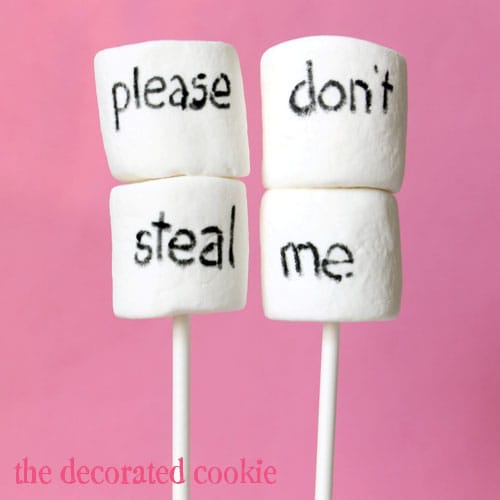 There is a new, damaging trend going on. Facebook pages are popping up claiming to be "recipe sharing" sites. These sites post photographs and full recipes, or photographs with all the step-by-steps shown, multiple times daily. These pages are garnering tens of thousands of "likes," in some cases hundreds of thousands, even over a million, in a matter of weeks. Readers extol the virtues of the site. "I LOVE your page!" over and over again. They ask questions about the recipes. The page owners answer them cheerily. They share! They love it! Yay community!! Everybody is awesome! The only problem is, these photos and recipes are stolen from food blogs without credit. We who create these recipes and how-tos, who spend hours and days and weeks creating and writing and photographing one post, are having our work taken in seconds. We celebrate reaching 5,000 or 10,000 Likes on our pages for the work we create over years. They get 100K in a week. From our work. But the trend gets worse.
When we, individually or a group, approach these facebook pages, we are met with hostility, anger, and threats.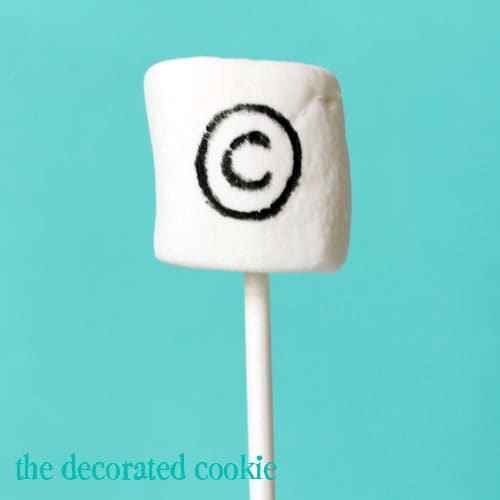 COPYRIGHT LAW SAYS WE ARE ON THE SIDE OF RIGHT
The law is the law. "Free and fair use" is grossly misinterpreted.

• When an individual creates a blog post or photograph, that work is protected by copyright law.
• NO, you don't need the little © symbol.
• It's not "free" to the world if it's on the internet. It's automatically protected, just as a passage in a book.
• Which means you can't post it on your page, pin it, share it, anything without permission.
However, we post our work TO be shared, and we need our work shared to get visitors to our site, so for this reason, it's generally accepted and actually encouraged that you share a photo (ONE) from our post with a link to the post and credit given. And pinning is OK, just pin to our page. Generally. Some bloggers don't even like you to do this, so when in doubt, ask. But I am fine with it. Where it used to be a good thing to be featured, I have faced more and more resistance over at my other site, Edible Crafts, where I search the internet for food crafts, post a photo and link to the original source. Before Pinning and facebook pages, sharing like this was how your site got traffic. Now, with the rampant stealing and violations, it's much more touchy, understandably. As a result, I rely heavily on submitted work, so there's no question. A fabulous and easy-to-read article on the ins and outs of copyright law can be found HERE at the Costco Connection.
Why do we have this pesky copyright law? To help those of us that create content.
There's a reason it's the law. We work our tushies off to come up with ideas and execute them. We are creating all these lovely ideas you keep pinning and sharing. We want our credit. We want your visits. This is not all about ego. OK, it's a little about ego. Say you come up with a great idea. Someone takes that idea. That someone then gets raves and accolades for your idea. Pretty much every human I know would be miffed by this. It hurts. It hurts a lot. We make very little income, we bloggers, and we rely on traffic to our sites for said little income. Bloggers are being wronged, our livelihood is threatened. If you share my entire blog post on your site, no one will visit mine! Why would they? It blows my mind when I approach someone for stealing my photograph or blog post and kindly request they link or remove it, and they respond not with apologies and correction, but with… crazy hostility.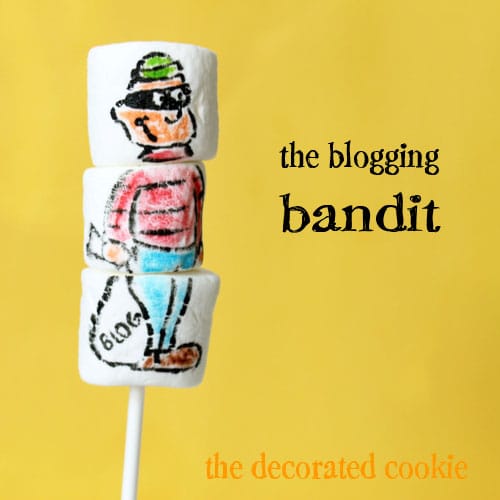 THE CYBER-BULLYING: What's happening
The bullying begins. Here's a scenario. I see my melting snowman cookie, or bluebird brownie pops or Frankenstein marshmallow pops on someone's facebook page. With all the how-tos to make them. And no link to me or credit at all. This page has 200K Likes. My photo gets a jillion shares and raves on their site. I get zero. I publicly request to the page owner that they remove the instructions and add a link to my blog. Oh, and thank you for sharing. Then I get screamed at, yelled at, threatened. They tell their readers how horrible I am for not wanting to share my work. They are the victims. We bloggers are attacking them all in the sake of not wanting to "share."
Thunk. My head hits the wall.
We WANT our work shared! We just want our work shared legally and ethically, not to make these pages money or to build their egos. These page owners shout from the top of their pages, angrily, "I never SAID I owned all these photos! I'm here to share."
Thunk. My head hits the wall. Again.
We aren't just angry about the implication these are yours. We're angry because you're using our photographs! Please share them. Please, we say, just share nicely.

But, they claim, it's FREE! I found it on the internet! I didn't even know the source!
It's NOT "free." A quick google search will give you the source, and if you don't know the source, don't post it.
And then… they are mean. Just plain mean.
Here are some very mild, personal examples, none of which compare to what my food blogging pals have endured, but it will give you a sense of the dynamic.
EXAMPLE 1. I commented on my own photo and blog post illegally reprinted on someone's facebook page. I requested credit be given and the instructions removed. Let me note here, I have the law on my side. I could have reported the page and had it removed before my warning. I thought I was being kind in not having the whole page taken down, considering my work was just one of hundreds being taken. This is the post I got on my own facebook page in response. It's since been deleted by the author, but I took a screen shot.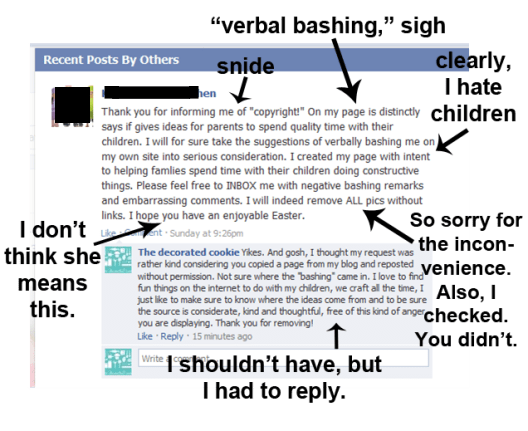 EXAMPLE 2. Someone informed me about a site selling decorating cookies. All well and good. The only problem is, she uses other cookie decorators' photographs to sell her own. This happens to me often. My photographs are used on facebook, etsy stores and online shops to sell other people's cookies. Sheesh, think of the poor customers ordering cookies with no real idea of what they will get in the mail. I confronted her, informed her that using photos that aren't her own is a violation of copyright. I received this threat:
"Anybody can make cookies like that. That's not your design. Stop emailing me before I file a complaint against you."
um, yeeeah, but that's my photo.
EXAMPLE 3. A woman solicited me before Sugarlicious hit the shelves. She requested a free copy of my book in exchange for a "favorable review on amazon" and she promised "I won't be disappointed." I ignored this, of course. Hello, blackmail. She responded to my silence by plastering my amazon page with 2-star reviews. This one hurt more than all of the above combined. I cried for a whole day. OK, two days. OK, a year later, I still get sad about that.
WAY WORSE EXAMPLES. This facebook recipe page phenomenon hits my food blogging friends more than it hits me, as I have primarily decorating how-tos on my site, not recipes. I'm horrified by the comments and threats they've received and the wars they have been fighting. Upon confrontation, these facebook page owners decry their plight to their hundreds of thousands of readers, that they can no longer share recipes (yes, you can, just legally), and all they want to do is share with the world. Why is that so wrong?! They are being "attacked" for their goodwill, they say. Their pages may even be removed! Gasp! Their readers respond with overwhelming support for the wrongdoers.
A very short list of the names we bloggers have been called:
b*tch
stupid
ignorant
cruel
haters
c*nt
f*cking idiots
trolls
vicious attackers
jealous
evil vultures
One facebook page owner urged her readers to leave hate messages on a fellow food blogger's site.
Another threatened the life of a food blogger I know.
Another threatened the child of a food blogger I know.
It took me about 30 seconds to find some examples. These are comments copied and pasted–and not edited–from just ONE of the offending pages against us for daring to raise the copyright violations:
"Some people are not happy unless they are bitching, it's alright for them but not you so F them and the horse they rode in on."
"Oh PLEASE put a spell on all those crazy complainers!!! I love your page and your recipes and if I had a voo doo doll that looked like those haters….I would poke them every time I could!!!!! LOL!!!!"
"For the people who is (sic) complaining of copyright act, remember your recipes are being used by many and that should make u proud."
(Um, it would make me prouder if you knew it came from me.)
"Do your research, there is NO SUCH THING as a copyright on a recipe."
(When you copy the instructions and the photograph, yes there is.)
"Hang in there…you are sharing recipes, not revealing state secrets………you have done nothing wrong."
(yes, you have)
"Wow there are some nasty people all over facebook, because its not face to face confrontation they get very bold and even nastier. Be strong, block the negative nasties and carry on!"
(hmmm, what a good idea)
WHAT YOU CAN DO
When you happen upon a facebook page posting nothing but photos and recipes with no sources listed, I WANT to tell you to leave a comment telling the page owners that they must link to their sources. But I won't tell you to do that. Because then you will be bullied, too, no matter how kindly you ask. Instead, I ask that when you come across a recipe printed on a facebook page, and there is an accompanying photograph, and this photograph is not credited, PLEASE leave the page. Please don't "like" this page. And please don't revisit it.
WHERE DOES THAT LEAVE THE BLOGGERS?
I have been creating content for my blog for four and a half years. In that time, I've been called a bad mother, a snob, uncreative, and lame. I have a pretty thick skin. I could always take it, given those comments were so few and far between, and my fellow bloggers and the vast majority of my readers are wonderfully supportive and nice. But this trend of late, of the massive amounts of anger and hatred in response to righteousness that I'm seeing out there is making me question the world at large. I am losing my will to get on my computer, let alone continue blogging.
I don't seek out my work being violated, though I respond when my keen-eyed readers send me the links. It is simply impossible to contain the harm anymore. There are too many sites that have stolen my work, my friends' work. It sucks more and more from me when I see this kind of negative behavior. By the way, I used to quote literature, and now I quote TV. The other night, watching Alias (I know, I'm behind, catching up on Neflix), Vaughn warned Sydney not to let the "darkness swallow you". Of course he was talking about evil international organizations threatening to take over humankind as we know it, not cyber bullies, but the phrase stuck with me.
So "Where does that leave the bloggers?" I don't know. I turn that question to you, dear readers. I'm not sure what to do anymore. Do I continue? Do I stop? What do you, as a reader, see going on out there? How do you feel about all this craziness? I need some hope here, folks, but I'll take whatever truths you have…
And thank you for listening!!
PS. Did you like my "bandit" up there? 🙂
MORE TO READ
As if I didn't wax on long enough… here are some must-read blog posts on this subject.
What Every Facebook User Needs to Know, by Amanda of i am baker.
Copyright-issues-and-why-they-cause-a-lot-of-drama-mama-its-all-about-r-e-s-p-e-c-t-and-props-lots-of-props, by Jasmin of 1 Fine Cookie.
Food Bloggers Fight Firestorm of Abusive Facebook Pages, by Susan of Rawmazing.